According to research fulfilled by GWI, 10.2% of the global population with internet access own cryptocurrencies. In Brazil, this number rises to 16.1%, obviously leaving the country above the global average.
This research shows similar results to the Finder report which points out that 14.% of Brazilians own cryptocurrencies. However, they show greater divergence in relation to the global numbers, 15.4% vs 10.2%, perhaps due to the difference in the dates of the surveys.
Going further, the GWI report also illustrates how cryptocurrency users are divided. Showing investor age and gender data.
Cryptocurrency adoption grew 38%
Due to a year full of surprises such as the adoption of Bitcoin by a country, as well as the rise of its price, both Bitcoin and other cryptocurrencies ended up trending in 2021.
As an example, we can mention the different use cases of NFTs that can be used by different industries such as games and art in general.
With this, GWI points out that cryptocurrency adoption has grown 37.8% compared to its last survey. In other numbers, today 10.2% of internet users, between 16 and 64 years old, have some type of cryptocurrency.
Brazil is well above the average with 16.1%, showing the interest of Brazilians in this technology and form of investment.
However, the highlight is Turkey, a country strongly affected by inflation in recent months. Due to this, the number of cryptocurrency users has risen by 86% in the last year.
This is a good example of how a global currency like Bitcoin, with pre-defined and limited supply, with markets open 24/7, can be used to protect your capital in times of crisis.
The profile of those who own cryptocurrencies
Going further, the survey also illustrates the profile of the cryptocurrency investor. For now, the industry is still dominated by men.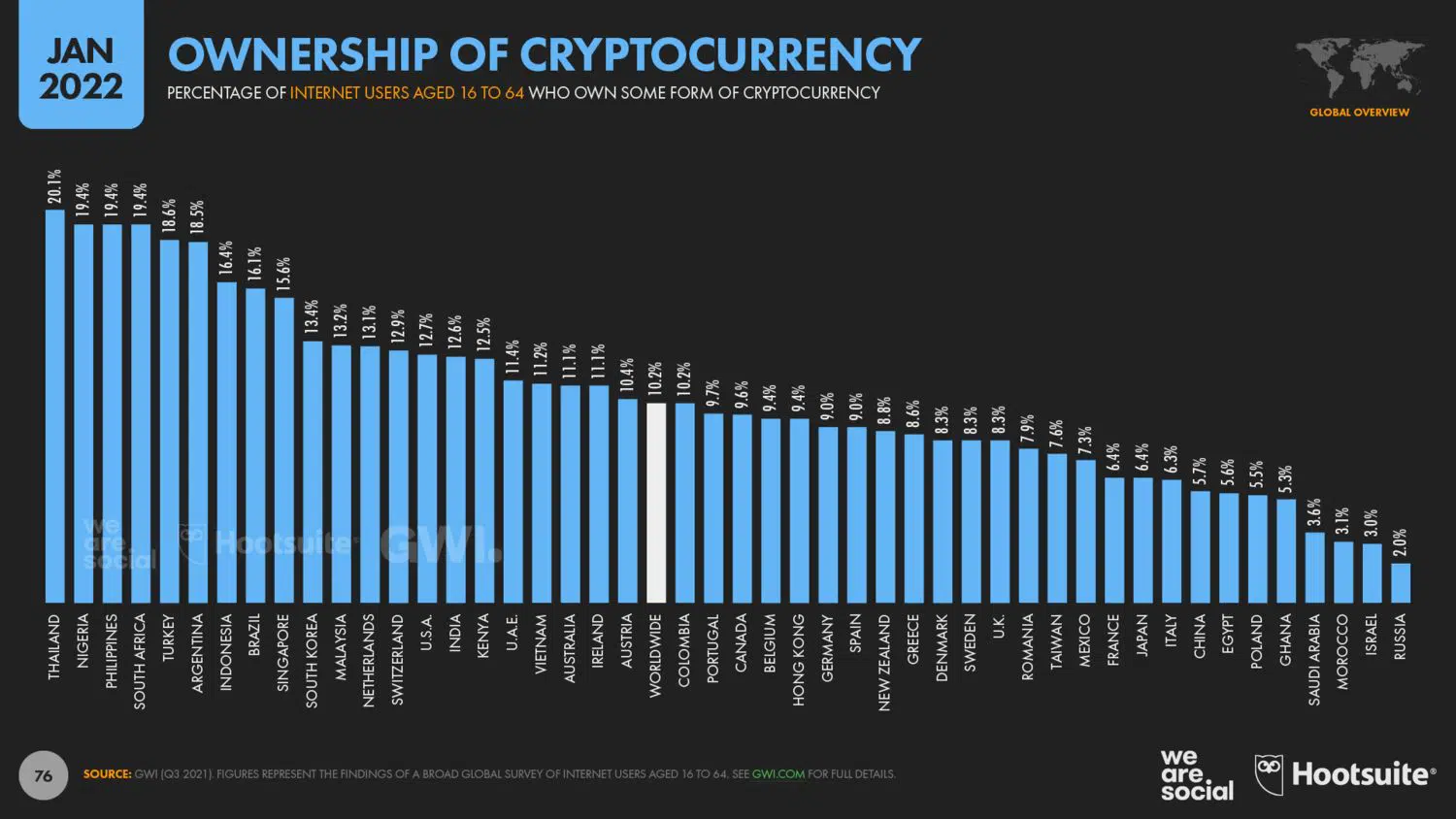 Regarding age, most investors are between 25 and 35 years old, followed closely by two other groups aged between 16 and 24 and 35 and 44 years old. Respondents aged between 55 and 64 make up the smallest number.
Finally, this strong growth continues to make Bitcoin and other cryptocurrencies stronger, making this investment category increasingly popular.




livecoins.com.br