Key facts:
According to Grayscale, the virtual worlds of the metaverse are already creating value in the real world.

Total fundraising grew to $ 8.2 billion in cryptocurrencies, thanks to Web 3.0.
Metaverses are a reality that can no longer be hidden. More than 50,000 people are inside it, interacting, playing games and making money. But that number may rise, as Web 3.0 is in its infancy.
According to a publication from the blockchain analytics firm Grayscale, the combination of innovations that are part of Web 3.0, based on personalization and greater interaction between internet users, has attracted potential netizens from all over the world who are already participating in metaverses.
Metaverses, or metaverse, are a set of interconnected and experimental 3D virtual worlds, where people located anywhere can socialize in real time to form a persistent internet economy, owned by the user, spanning the digital and physical worlds, as defined by the company itself.
"Users of the metaverses and virtual worlds of Web 3.0 have seen rapid growth in recent years. Today, there are about 50,000 users, 10 times more people since the beginning of 2020 ", indicates the report of the American company.
According to Grayscale, the virtual worlds of the metaverse already are creating value in the real and physical world, especially for developers, creators and users, who build economies of cryptocurrencies native to the internet.
The historical value invested in the sales of items on Web 3.0, such as virtual land, goods and services, has exceeded $ 200 million. By eliminating the centralized Web 2.0 companies that have historically controlled these online spaces, the virtual worlds of Web 3.0 have benefited from rapid innovation and productivity gains.

Grayscale Investments.
What's more, they claim that virtual worlds framed in cryptocurrencies have created a 'multi-million dollar' primary and secondary market for creators and owners of digital assets. This, after "eliminating capital controls and opening its digital borders to free market capitalism."
Grayscale says that, in the third quarter of this year, total fundraising grew to $ 8.2 billion in cryptocurrencies thanks to Web 3.0.
In detail, the segment of non-fungible tokens (NFT), earned USD 1.8 billion and games based on blockchain (such as Plant vs. Undead or Axie Infinity), meanwhile, attracted $ 1 billion in funding.
"Capital investment in the sector started to accelerate recently, but compared to the $ 10 billion that companies like Facebook plan to invest and the amounts that could be dumped from other companies and venture capitalists, metaverses are in their infancy." holds Grayscale.
The firm argues that metaverses compose a digital universe that "goes beyond" the Internet that is known today. They affirm that the vision of the future state of the web "has the potential to transform our social interactions, businesses and the Internet economy in general."
The metaverses, they need, continue to take shape, although already cryptocurrency-based networks and virtual worlds open in Web 3.0, they're taking a little glimpse of what the future holds.
The market opportunity to bring metaverses to life can be worth more than $ 1 trillion in annual revenue and can compete with Web 2.0 companies with a market value of $ 15 trillion today. This potential has lured companies like Facebook to turn to metaverses, which can serve as a catalyst for other tech giants and Web 2.0 investors to follow.

Grayscale Investments.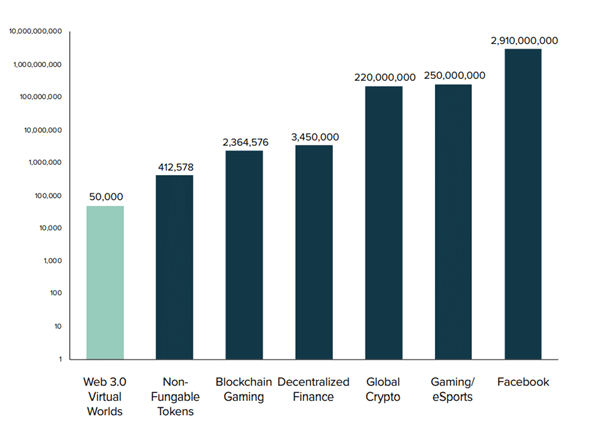 A virtual world in full development
What Grayscale says makes sense considering that there is evidence for the steady growth of metaverses. Magazines, bands, art, games and more are fitting into this new way of browsing and live the internet experience.
It was recently news that the century-old US magazine TIME will venture into metaverses, hand in hand with Galaxy Digital. Also, it became known that he will start holding ether (ETH), the native cryptocurrency of the Ethereum network.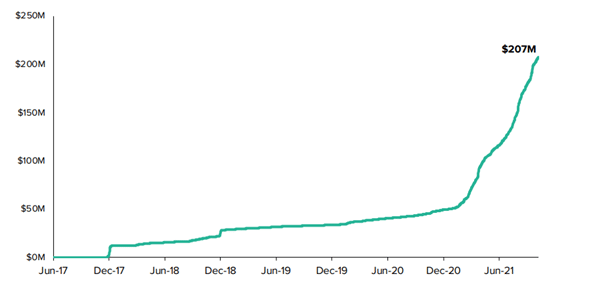 Also, it was known that the famous NFT Bored Ape Yacht Club project would form its own band, called KINGSHIP, and that at 10:22 PM, it would reach the Web3, in an ode to the prestigious Gorillaz band.
As if that were not enough, a country in America, Barbados, announced that it would have its own virtual Embassy in the metaverses, a fact reported by CriptoNoticias and that is scheduled for January 2022.
Facebook set the example
Something to consider is that the rise of metaverses It also saw its impetus with the announcement by Mark Zuckerberg, CEO of Facebook (now Meta), to move in just that direction.
From there, great demonstrations have been made. Satya Nadell's Microsoft also reported that it would walk the path of the Web3 creating your own version of the metaverse that suits companies.
"As companies accelerate their digital transformation, the metaverse can help people meet in a digital environment, make meetings more comfortable with the use of avatars, and facilitate creative collaboration from around the world," he commented in your moment.
And it is so much that is believed, that in Facebook's own metaverse it will operate with cryptocurrencies, as suggested by the CEO of the centralized exchange Binance, Chanpeng Zhao,
"Facebook, in all its cryptocurrency projects, whether with Libra or with the Novi digital wallet, is driving the crypto-asset sector forward," he said.
The metaverses already they are part of the daily life of people and companies. So it will not take long before we witness the arrival of a new form of virtual interaction, with which the world will surely be ruled.


www.criptonoticias.com