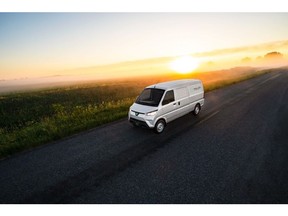 Article content
After successful initial 60-day pilot program, which began July 6, 2023, NYPA purchases EVs on Aug. 29, 2023, for upstate New York facility and is assessing additional locations
BREA, Calif., Sept. 21, 2023 (GLOBE NEWSWIRE) — via IBN – Mullen Automotive, Inc. (NASDAQ: MULN) ("Mullen" or the "Company"), an emerging electric vehicle ("EV") manufacturer, announces today the New York Power Authority ("NYPA" or the "Power Authority") has purchased Mullen's Campus Delivery Cargo Vans after successful completion of an EV pilot program at NYPA's 16-turbine hydroelectric facility in northern New York.
Article content
The 60-day EV cargo van pilot began on July  6, 2023, and concluded in early September 2023.  As a result, NYPA will purchase the initial pilot vehicles for fleet operations at its St. Lawrence-Franklin D. Roosevelt Power Project, NYPA's first active power plant, which opened in 1958. The Power Authority is assessing additional NYPA locations for Mullen's full lineup of commercial EVs, including Class 1 EV cargo vans and Class 3 EV cab chassis trucks.  
The Mullen CAMPUS is a highly efficient electric van designed for low-speed, closed campus use. The fully battery-operated vehicle (BEV) will be used by the Power Authority for campus transportation, providing cargo capacity and operator comfort. The Campus Delivery Van has all the same DNA as the Mullen ONE but was purpose-built to be an ideal delivery solution for micro-environments.
The New York Power Authority is the largest state public power organization in the U.S., operating 16 generating facilities and more than 1,400 circuit miles of transmission lines. NYPA is at the forefront of producing and bringing clean, reliable energy to the state of New York.  NYPA's strategic vision is to create a thriving, resilient New York State powered by clean energy. NYPA is leading the transition to a carbon-free, economically vibrant New York through customer partnerships, innovative energy solutions, and the responsible supply of affordable clean and reliable electricity. NYPA's strategic priorities include preserving and enhancing the value of NYPA hydropower assets; pioneering a path to decarbonizing its natural gas plants; being a leading transmission developer, owner and operator; partnering with customers and the state to decarbonize energy use; and reimaging the New York state canals system.
Article content
"It's great to see our EVs enter the Northeast market with the New York Power Authority, our nation's largest public utility, using our delivery utility model for campus transportation. Our EV cargo van is a perfect fit for large, closed workplace campus scenarios," said David Michery, CEO and chairman of Mullen Automotive.
About New York Power Authority
NYPA is the largest state public power organization in the nation, operating 16 generating facilities and more than 1,400 circuit miles of transmission lines. More than 80% of the electricity NYPA produces is clean renewable hydropower. NYPA finances its operations through the sale of bonds and revenues earned in large part through sales of electricity.
For more information visit www.nypa.gov.
About Mullen
Mullen Automotive (NASDAQ: MULN) is a Southern California-based automotive company building the next generation of electric vehicles ("EVs") that will be manufactured in its two United States-based assembly plants. Mullen's EV development portfolio includes the Mullen FIVE EV Crossover, Mullen I-GO Commercial Urban Delivery EV, Mullen Commercial Class 1-3 EVs, and Bollinger Motors, which features both the B1 and B2 electric SUV trucks and Class 4-6 commercial offerings. On Sept. 7, 2022, Bollinger Motors became a majority-owned EV truck company of Mullen Automotive, and on Dec. 1, 2022, Mullen closed on the acquisition of all of Electric Last Mile Solutions' ("ELMS") assets, including all IP and a 650,000-square-foot plant in Mishawaka, Indiana.
Article content
To learn more about the Company, visit www.MullenUSA.com.
Forward-Looking Statements
Certain statements in this press release that are not historical facts are forward-looking statements within the meaning of Section 27A of the Securities Exchange Act of 1934, as amended. Any statements contained in this press release that are not statements of historical fact may be deemed forward-looking statements. Words such as "continue," "will," "may," "could," "should," "expect," "expected," "plans," "intend," "anticipate," "believe," "estimate," "predict," "potential" and similar expressions are intended to identify such forward-looking statements. All forward-looking statements involve significant risks and uncertainties that could cause actual results to differ materially from those expressed or implied in the forward-looking statements, many of which are generally outside the control of Mullen and are difficult to predict. Examples of such risks and uncertainties include but are not limited to whether the vehicles purchased by New York Power Authority will be a success or result in any additional vehicle purchase orders. Additional factors that could cause actual results to differ materially from those expressed or implied in the forward-looking statements can be found in the most recent annual report on Form 10-K, quarterly reports on Form 10-Q and current reports on Form 8-K filed by Mullen with the Securities and Exchange Commission. Mullen anticipates that subsequent events and developments may cause its plans, intentions and expectations to change. Mullen assumes no obligation, and it specifically disclaims any intention or obligation, to update any forward-looking statements, whether as a result of new information, future events or otherwise, except as expressly required by law. Forward-looking statements speak only as of the date they are made and should not be relied upon as representing Mullen's plans and expectations as of any subsequent date.
Contact:
Mullen Automotive, Inc.
+1 (714) 613-1900
www.MullenUSA.com
Corporate Communications:
InvestorBrandNetwork (IBN)
Los Angeles, California
www.InvestorBrandNetwork.com
310.299.1717 Office
[email protected]
Attachment



financialpost.com