If you've studied statistics, you probably know the "normal distribution", also known as the "Gauss curve". When we work with 400 coins with acceptable trading volume, it is expected that 9 (2.2%) of these will show an astronomical return, well above average.
If you are one of those people who have to "see it to believe it", below we find the best performances in the last 3 months, filtering by the 400 biggest at the time.
Note that we have performances that exceed 100% in 3 months, while Bitcoin and Ethereum have dropped around 40% each. Even looking only at altcoins, their total market capitalization dropped from $1.35 trillion to $830 billion in the period (-39%).
That is, the performance of these 9 cryptocurrencies above was very out of average, although statistically expected. This is even more true in cryptocurrencies, given that the annualized volatility of altcoins is 80%.
The problem of after-the-fact analysis
If we look on social media, we are sure to find influencers and analysts who expected a strong pump from Dusk Network, Gala, Syscoin, or Kee3rV1. It is possible that someone predicted the rise of 3 of these altcoins. The secret? Law of large numbers.
In a universe of 5,000 opinion kickers, the "normal curve" tells us that 5 of them will hit the jackpot. This is even more true when these guessers post charts of 2 coins per week on average, generating 25 recommendations in 90 days.
And who "betted" on 30 altcoins?
A persistent myth in cryptocurrency is diversification, i.e. reducing risk by choosing an altcoin wallet. The trader who selected coins between #20 and #50 in the ranking, for example, had a negative return of 39% in 3 months.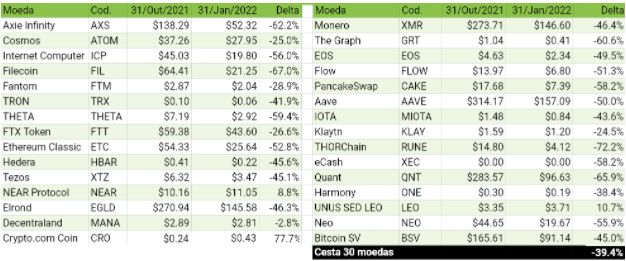 Not even the 78% rise in CRO was able to contain the bleeding, as only 3 currencies showed positive performance. In this way, it is clear that there is no risk diversification in altcoins, something even more evident in periods of strong rise or fall.
How did those who leveraged Bitcoin fare?
Therein lies the problem, as a leverage of 2x would be enough to cause a forced liquidation after a 46% drop. So, in this case, the altcoin basket was undoubtedly a better option.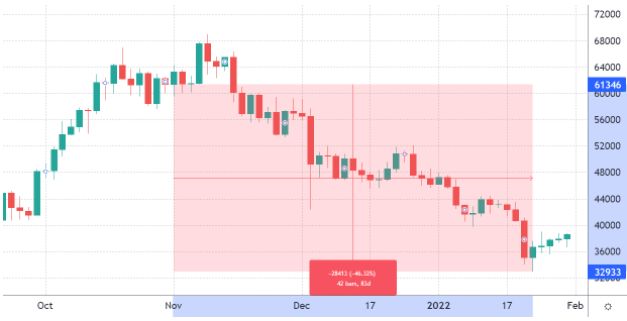 It is clear that leverage, even relatively low, is extremely dangerous. Therefore, it is not recommended for beginners or people with no experience in derivatives trading.
A viable alternative for those looking for more volatility to take advantage of a market rally is to keep 50% of the position in Bitcoin, without leverage, and allocate the rest to a basket of altcoins.
To make your life easier, some exchanges offer altcoin indices, making it possible to buy and sell a "basket" through a single asset. Avoid leverage, and make regular purchases every month!




livecoins.com.br