Key facts:
The decentralized bitcoin exchange that captured the investment is called CryptoMate in honor of mate.

It is a company created nine months ago by an Argentine entrepreneur named Alan Boryszanski.
An Argentine company born just nine months ago opened February earning USD 1.5 million in an investment round. The company, which is called CryptoMate in tribute to cryptocurrencies and the Argentine mate, allows you to buy bitcoin (BTC) and ether (ETH) in a decentralized way on its platform.
The startup, which is based in Buenos Aires with 15 employees, obtained the fund in an investment round in the United States. Given this, communicated: «We continue betting on the decentralized ecosystem and adding technology. More and more people and business models can benefit from the new economy of cryptocurrencies.
CryptoMate is a startup, that is, a fast-growing technology company, emerged in the cryptocurrency industry. It differs from most exchanges because It allows its users to buy and exchange cryptocurrencies without intermediaries, and also has a "virtual intelligent assistant" called Charly Mate.
This "assistant" o bot It is an artificial intelligence system that helps those interested in their first steps in the world of cryptocurrencies for free. It is possible to interact with him in Spanish or English on the Telegram instant messaging network, where he can be found under the name @Charly_Mate.
Through that bot, the company points out: "We educate those who want to start in the crypto world and help them make better decisions, invest and manage correctly." CriptoNoticias was able to check that Charly Mate's bot on Telegram gives options of cryptocurrency topics – such as DeFi or wallet – and when clicking on the one of interest, it redirects the user to a website with the relevant information.
Under this line, it also has other digital communities aimed at fostering decentralized finance (DeFi), such as a Telegram and Discord group. Alan Boryszanski, the co-founder of the company, stated in this regard: "We seek to be the leading decentralized ecosystem in Latin America, introducing, connecting and guiding the entire region to the new crypto economy."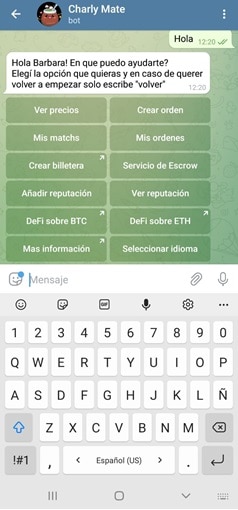 "Decentralized exchanges have become a billion dollar industry. They are proven models for financial inclusion. But they are also complex systems, serving those who already own cryptocurrencies or have access to developed channels to acquire such assets. CryptoMate helps any person or business to benefit from the new crypto economy."

Alan Boryszanski, co-founder of CryptoMate.
CryptoMate's business model works thanks to the transaction fees, interest on advance liquidity in cryptocurrencies and the processing of card purchases or international transfers. The organization intends to achieve in the short term a monthly volume of transactions greater than USD 1 million.
The founder also highlighted: "Just as the SIM card payment system allowed the African continent to bypass banks in its financial evolution, CryptoMate is creating the same for the world of decentralized finance."
The creator of CryptoMate is also one of the founders of the Lemon Cash bitcoin exchange.
Alan Boryszanski, who is one of the creators of decentralized bitcoin exchange CryptoMate, has been in the cryptocurrency industry for a long time. In fact, he is also one of the founders and CTO of Lemon Cash, another Argentinian exchange.
His role at Lemon Cash was exercised from October 2018 to March 2021, as specified in his account. Linkedin. Two months later, in June 2021, he founded the company CryptoMate.
Last December, Lemon delegated part of the functions of his company to El Salvador, thus removing it from Argentina. As CriptoNoticias reported, this move will allow the AFIP not to know the cryptocurrency data of its users.


www.criptonoticias.com