Asian stocks were poised to climb Monday after a gauge of global equities extended its one-year high and the S&P 500 rose to the cusp of a bull market. Oil rallied on a supply cut from Saudi Arabia.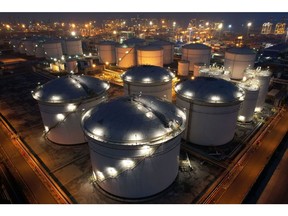 Article content
(Bloomberg) — Asian stocks were poised to climb Monday after a gauge of global equities extended its one-year high and the S&P 500 rose to the cusp of a bull market. Oil rallied on a supply cut from Saudi Arabia.
Article content
Crude jumped about 2.5% on the pledge to make an extra 1 million barrel-a-day reduction in July, which trims Saudi Arabia's production to the lowest level for several years.
Article content
Equity futures for Japan, Australia and Hong Kong all rose more than 1%, suggesting early advances in shares around the region.
Contracts for the S&P 500 were little changed in Asia after further gains Friday that were fueled by big tech, options positioning and bets for a Federal Reserve rate pause this month. Nasdaq 100 futures fell 0.3%.
A mixed jobs report shaped the wagers on the Fed, with signs of labor-market slackening in May despite a pickup in hiring. That bolstered the argument from Fed Chair Jerome Powell and other officials that they should take more time to assess incoming data and the evolving outlook before raising rates again.
Article content
Two-year Treasury yields, which are more sensitive to imminent central bank moves, jumped 16 basis points to 4.5% Friday. Australia's three-year government bond yields jumped about 10 basis points following the move in Treasurys and ahe ad of a central bank rates decision Tuesday.
The euro, the pound and the Australian dollar edged lower while the yen weakened to around 140 versus the greenback. A gauge of dollar strength was fractionally higher.
As stocks rose in the US on Friday, Wall Street's "fear gauge" plummeted to pre-pandemic levels. The Cboe Volatility Index, or VIX, dropped below 15 from an average of 23 in the past year.
Broadcom Inc. climbed after predicting that sales tied to artificial intelligence will double this year.
Article content
"The impressive run for equities continues to drive retail investors into the market," said Mark Hackett, chief of investment research at Nationwide. "Investors have spent much of the past three years obsessed by the Fed, inflation, and payrolls, though volatility around Those reports have settled, reflecting a less emotional market. This is bullish, as less reactivity is a sign of a healthy market."
The stock advance doesn't mean the market isn't facing headwinds, according to Quincy Krosby, chief global strategist at LPL Financial.
Among the risks, she cites the potential ramifications of the deluge of Treasury notes — approximately $1 trillion — to be auctioned as the US department replenishes its general account following a debt-limit deal. financial markets, she noted.
Article content
Key events this week:
China Caixin services PMI, Monday
Eurozone S&P Global Eurozone Services PMI, PPI, Monday
US factory orders, ISM services, Monday
ECB President Christine Lagarde appears in European Parliament, Monday
Rate decisions in Australia, Poland, Tuesday
China forex reserves, trade, Wednesday
US trade, consumer credit, Wednesday
Canada rate decision, Wednesday
EIA crude oil inventory data, Wednesday
Eurozone GDP, Thursday
Rate decisions in India, Peru, Thursday
Japan GDP, Thursday
US wholesale inventories, initial jobless claims, Thursday
China PPI, CPI, Friday
Some of the main moves in markets:
Stocks
S&P 500 futures were little changed as of 8:28 am Tokyo time. The S&P 500 rose 1.4% Friday
Nasdaq 100 futures fell 0.2%. The Nasdaq 100 rose 0.7%
Nikkei 225 futures rose 1.3%
Australia's S&P/ASX 200 Index futures rose 1.1%
Hang Seng Index futures rose 1.1%
Article content
Currencies
The Bloomberg Dollar Spot Index was little changed
The euro was little changed at $1.0699
The Japanese yen fell 0.2% to 140.19 per dollar
The offshore yuan was little changed at 7.1107 per dollar
The Australian dollar fell 0.2% to $0.6600
Cryptocurrencies
Bitcoin fell 0.2% to $27,185.14
Ether fell 0.7% to $1,890.56
Bonds
The yield on 10-year Treasurys advanced 10 basis points to 3.69%
Australia's 10-year yield advanced nine basis points to 3.73%
Commodities
West Texas Intermediate crude rose 2.5% to $73.53 a barrel
Spot gold was little changed
This story was produced with the assistance of Bloomberg Automation.
—With assistance from Rita Nazareth.


financialpost.com