The Axy Miner platform, a possible Bitcoin cloud mining scheme, has caused confusion for a Brazilian website. That's because, she put on her website a pricing tool that was created by Cointrader Monitor, associating the image of the popular tool without him knowing.
As this tool can be implemented by any website for free, the allegedly fraudulent page is causing confusion for the Bitcoin price website.
Some customers looking for easy earning on Axy Miner confused Cointrader Monitor, thinking that this site was also an easy earning scheme.
Thus, co-founder Wagner Silva issued a statement this Wednesday (26), where he explains that he has nothing to do with the possible financial pyramid that has been using the image on his website.
"Announcement: The Cointrader Monitor Widget is a code that is offered free of charge for developers to incorporate the Bitcoin Brazil Price information on their web platforms. Its use does not require registration and can be consumed anonymously.
As with other platforms, the platform being served under the domain "axyminer.com" has incorporated the Cointrader Monitor Widget code to make the Bitcoin Brazil Price information available to its users.
That said, the Cointrader Monitor website makes it clear that it does not have any commercial relationship with the individuals or legal entities that control the platform served under the domain "axyminer.com". In addition, Cointrader Monitor administrators do not have any contact with the administrators of the aforementioned platform. More information about the widget: https://cointradermonitor.com/como-usar-o-widget".
In this way, it became clear that the Axy Miner created a mess with the use of the Cointrader Monitor image, the latter a serious tool and already known by the Brazilian cryptocurrency community.
Is Axy Miner a new cloud mining financial pyramid attacking in Brazil?
The business model offered to Axy Miner's customers is similar to that of many others that have already collapsed in Brazil: "cloud mining".
These schemes hit the market promising quick and easy earnings, with people hoping to earn on investing and recommending new investors. That is, these models are based on financial pyramids to work and when new investors fail to enter, the business ends.
To get the attention of potential investors, Axy Miner even offers BRL 50.00 in a free Bitcoin mining robot, so that their solution can be tried. However, it is not possible to know if the withdrawal of this amount is easy, since it depends on the indication of new people.
Furthermore, the alleged cloud Bitcoin miner promises returns of up to 10% a day, which is a bold proposition for an equity market. This platform does not make it clear who its owners are, there is no support or registration with the CVM in Brazil, facts that draw even more attention to a new and imminent coup against investors.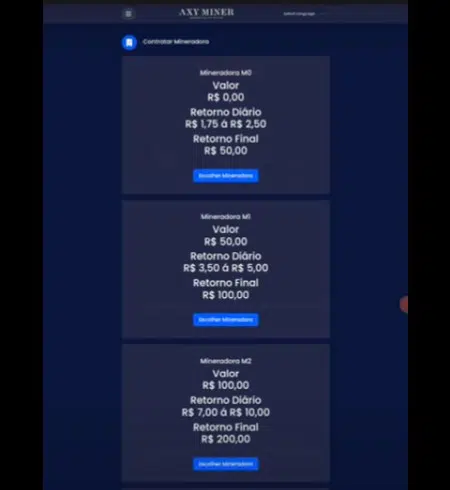 As there is no contact for assistance, the Livecoins he was not able to speak with those responsible for Axy Miner to explain the confusion created and how it is possible to obtain as much return in a short time as they promise.
Cloud mining companies are already well known in the market and the end of these businesses always leaves thousands of investors at a loss.




livecoins.com.br