At the end of last year, a situation began to worry some users of the Metamask wallet, who got a fright when they noticed that their wallet balances disappeared.
The situation, which had apparently been caused by a bug in Metamask's front end, returned to claim "victims", with investors flocking to the site. Complain here to notify other users of the problem.
Since last week there have been reports of the problem happening to Metamask users. The most common complaint is that the balance in the wallet simply disappears after a few minutes.
"Cowardice with investors"
One of the users also claims that the only amounts that "disappeared" from Metamask were the largest he transferred and that "minimal amounts" continue to appear normally in his balance.
"It is cowardice with the investor, especially in my case." declared the investor angry with Metamask in his post in the advertisement here.
The investor also stated that he wants urgent action from Metamask and that he has had cryptocurrencies "stolen" three times by the platform. He states that he wants the problem solved and the "return of the assets you worked so hard to gather."
This is not the only case reported by investors, with newer ones dated this Wednesday, 26.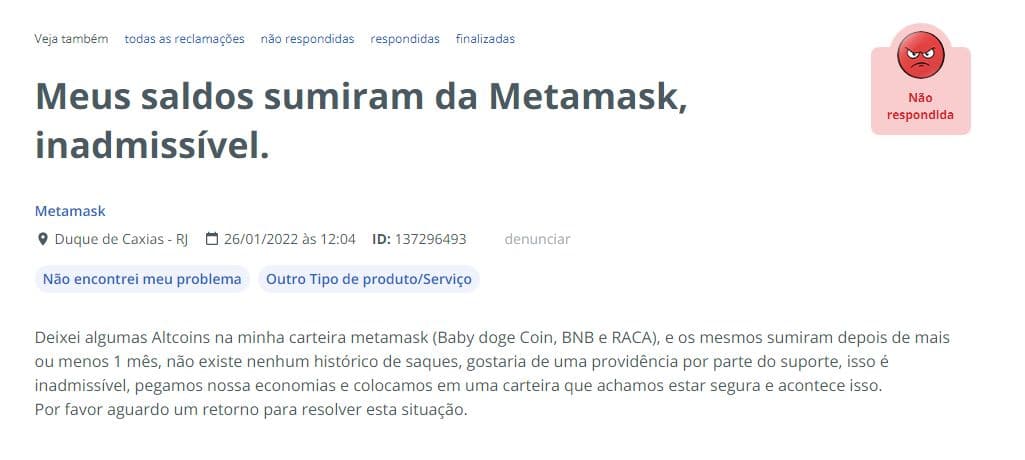 And also some older ones, from the beginning of this week.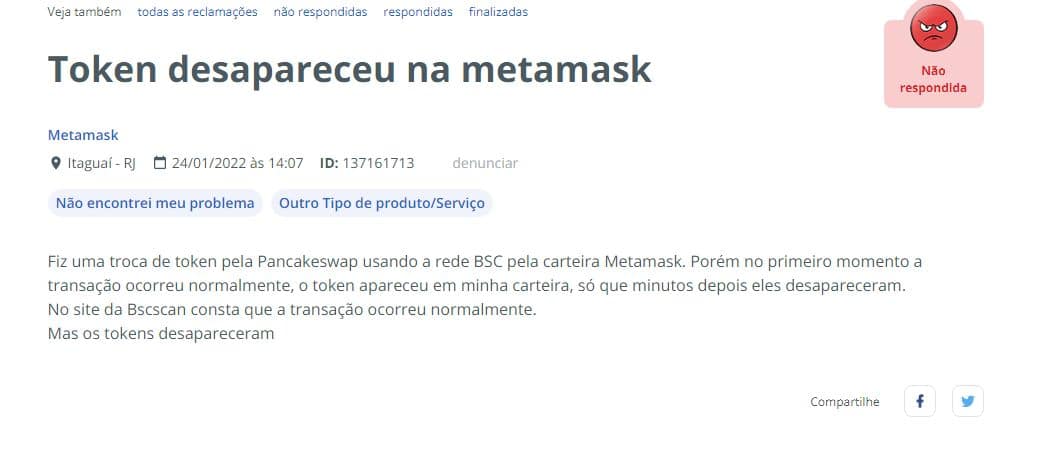 With that, it seems that the problem continues to happen with some frequency, affecting and worrying investors.
Metamask disappearing with the balance, what is the solution?
Unfortunately this is a problem that can scare many people, but Reclame Aqui is not the best choice for those who want to solve the situation.
Metamask is a widely used wallet and it is not a company like Nubank or any other that the "manager" will return the amount that has disappeared from your balance.
However, it is worth mentioning that it is quite difficult for something to simply disappear from a Metamask wallet for no reason and most of the time it is even a user error, which may have sent values ​​to the wrong network.
In this specific case, however, it is just an interface bug, which is automatically corrected when the network is decongested.
One solution is to check if you sent the sextions to the wrong network, but to the right address. You can also use network scan tools (BCS Scan or Ether Scan) to verify that the coins really aren't where they should be.
Another possibility is to import your wallet to try to check the real balance. For this you can import your account into another wallet.




livecoins.com.br