Key facts:
The course consists of two parts, one on the basics and the other focuses on practice.

The promotion is valid only for residents of El Salvador.
El Salvador has quickly become a pioneer in the use and adoption of Bitcoin. Great news for all financial markets, but what does this mean for people living in the country? It means that in addition to using local money, they can use Bitcoin to make all their purchases and transactions.
This change is being made quickly throughout El Salvador and this is where it comes in MegaAcademy with his Basic Cryptomones Course. With this course, you support the process of training Salvadorans so that they learn to trade crypto safely.
The team of MegaAcademy firmly believes that cryptocurrencies are the best alternative to Fiat money and that knowing about them will stimulate the use and adoption of these in a safe and conscious way by the user. Its purpose is to teach the basic concepts of crypto in a didactic and enjoyable way.
Why take a cryptocurrency course?
Currently, academic training and structured knowledge are the best help to understand technology because they give you the opportunity to know and take advantage of all its benefits. Therefore, taking a cryptocurrency course is key before investing.
Do you know these terms? Blockchain, ICO, trading, P2P, KYC, wallet, whitepaper, stablecoins. You have probably heard of them or some are familiar to you. However, you should have 100% mastery of these concepts to negotiate in a highly competitive market, where any mistake can cost you large sums of money.
Knowledge about the crypto subject can offer you great advantages when making transactions or investing. In addition, it will allow you to avoid possible situations of risk or fraud.
The experts of MegaAcademy want to boost the adoption of cryptocurrencies in El Salvador and to achieve this they are offering their Basic course of Cryptocurrencies, totally free during this week.
How can I purchase the course for free?
Get your coupon to claim the Basic MegaAcademy Cryptomones Course for free by following these simple steps. Promotion valid only for residents of El Salvador:
To get your coupon is to really want to learn about cryptocurrencies, after this the other steps are simple.
If you are already eager to learn, the next step is to follow MegaAcademy on their social networks by clicking on the images:
Instagram: @ megaacademy.es
Once you are connected to the networks write a message. In this way, it will be validated that everything is in order and they will send you a one-time-use coupon with which to claim your course, and that's it! That's how easy you can start your Basic course of Cryptocurrencies with MegaAcademy, totally free!
What does the course have?
The MegaAcademy Basic Cryptocurrency Course It consists of two parts, the first is focused on the basic concepts and the second part focuses on the practice, thus managing to get you started in the world of crypto.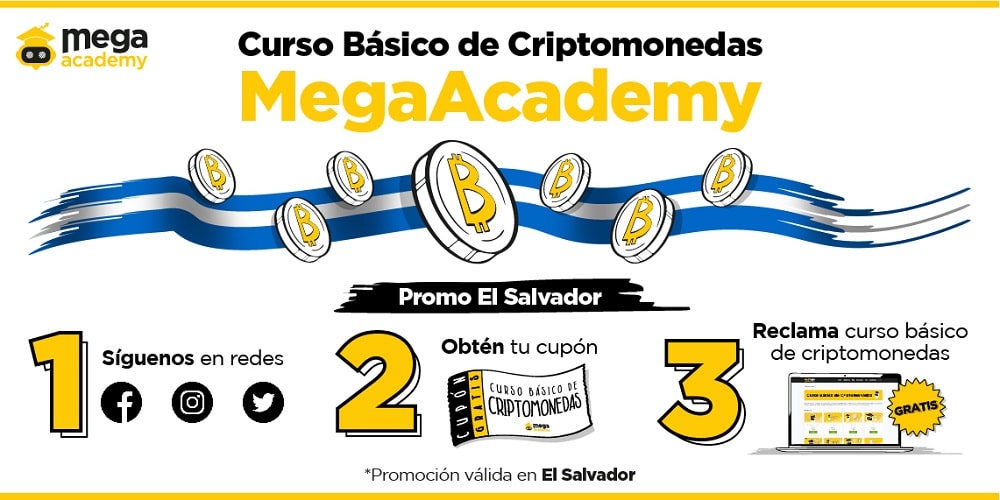 This course has 8 modules:
The first module will present the origin of cryptocurrencies, the concept of tokens and how these digital assets work.
Blockchain technology is covered in the second module.
In the third module, exchanges will be exposed: what are these institutions, their operation and main characteristics.
Wallets, their different categories and how to choose one according to your needs is the topic discussed in the fourth module.
The fifth module shows the core elements of cryptocurrency trading, their uses and how to exchange them for FIAT money.
The sixth module describes the particularities of an ICO, DAO, DAICO and the concepts of whitepaper and roadmap in the crypto world.
The different tools available to use and get the most out of your cryptos are shown in the seventh module.
In the last module we will talk about the identification and prevention of risks, in order to take care of your digital money.
The lessons are presented in short videos and have additional elements for users such as a virtual forum, downloadable material, as well as a frequently asked questions and answers section.
The basic course in cryptocurrencies from MegaAcademy, will provide you with the appropriate knowledge and tools to adopt the use of crypto. As you progress, you will be able to start making your first movements with cryptocurrencies in a practical and safe way.
MegaAcademy is an educational project developed by CCoins.io, who will soon launch their All-in-One Multifunctional Cryptocurrency P2P platform, which is projected as the most advanced in the market.
MegaAcademy, The Crypto Experts!
---
Disclaimer: The content and links provided in this article are for informational purposes only. CriptoNoticias does not offer legal, financial or investment recommendations or advice, nor does it substitute the due diligence of each interested party. CriptoNoticias does not endorse any investment or similar offer promoted here. click here for more information.




www.criptonoticias.com