A millionaire NFT investor fell into a phishing scam this Thursday (30). At the total 16 NFTs were stolen, eight from the Bored Ape Yacht Club collection, known as BAPE, six from the Mutant Ape Yacht Club and one from Clone X.
These collections are currently the most traded on platforms like OpenSea. Also, last week BAPE's NFTs outperformed CryptoPunks in relation to the minimum price. Today, the cheapest NFT in the BAPE collection is 60 ETH, equivalent to 1.28 million reais.
With this, it is estimated that the collector lost more than 10 million reais, or 500 ETH. A bad way to end the year 2021.
Lost his entire NFT collection
According to reports from other collectors, the owner of these 16 NFTs, Todd Kramer, would have fallen into a phishing scam, that is, he authorized access to his wallet from a smart contract, which posed as an honest decentralized application (dApp). .
After that, the hacker managed to move Kramer's million dollar NFT collection. It didn't take long for the millionaire investor to ask for help from people connected to the NFT market, such as those responsible for OpenSea.
"I was hacked. Help me please"
In addition, moving these NFTs to other portfolios can be seen in block explorers. It took the hacker about 10 minutes to move these 16 NFTs.
just a rough night
Today it's common for collectors to use their NFTs as their profile picture on social media like Twitter, probably for show. With that, some members joked about the loss of Kramer.
– This is yours?
— It's not anymore
— Kind of mocked how he doesn't respect property rights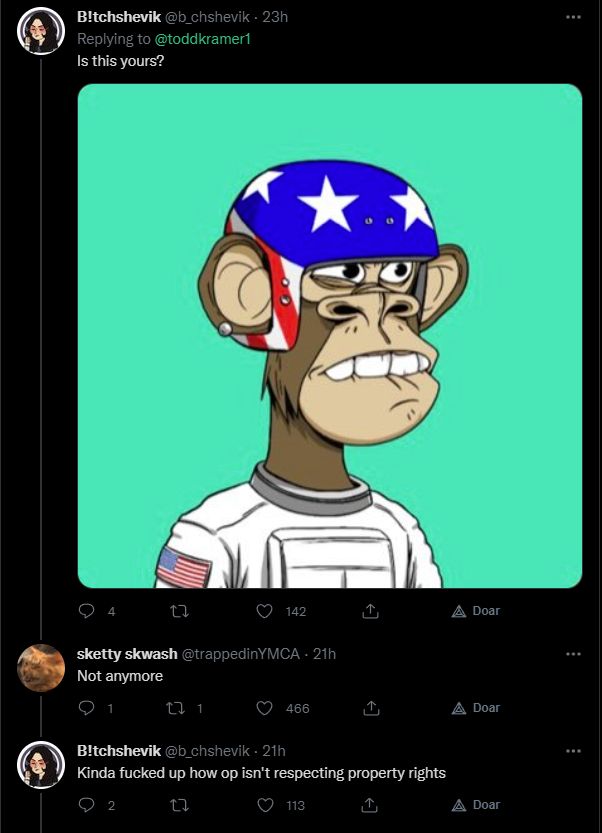 Despite this, the millionaire investor pointed out that his entire collection was frozen and that he was waiting for OpenSea, an NFT exchange, to return them to him.
"Update. All monkeys are frozen. Waiting for the OpenSea team to catch them. lessons learned. Use a hardware portfolio. I never knew there were so many troll accounts, kindness prevails and the community is really great. i know #wagmi, just a rough night"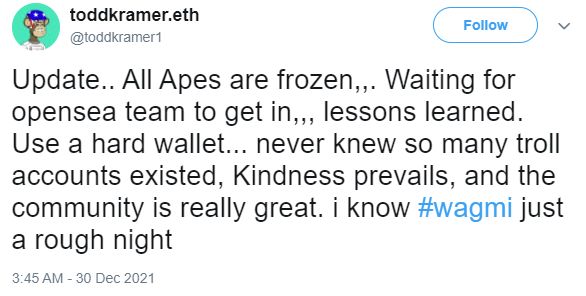 Finally, the victim remembers the importance of using more secure hardware wallets by signing transactions in a secure environment. As for the freezing of NFTs, although it was used for good, it shows how much power these platforms have.
In recent days, fans of another NFT collection have been hacked and are waiting to be repaid.




livecoins.com.br