Key facts:
European residents can redeposit to Binance with SEPA bank transfers.

In principle, it is a trial period for selected customers.
This article contains referral links. Know more.
The cryptocurrency exchange Binance announced the reopening of operations with the SEPA (Single Euro Payments Area) payment methods for its users, after six months without being able to make deposits in this way. The measure came into force on Wednesday, January 26.
As reported by the company in a release, this new option arises from a pilot program launched in conjunction with the payment processor Paysafe. Not all users can participate in these testsInstead, Binance selects them based on criteria that were not made clear by the exchange.
The intention is that, in the future, deposits and withdrawals with SEPA are fully enabled for all Binance users on the continent, it is detailed in the text.
What does SEPA mean? These are the acronyms in English to refer to the Single Payment Area in Europe. This is a region where you can perform cashless payments between people, businesses and organizations with the same security and efficiency than when operating within the same country.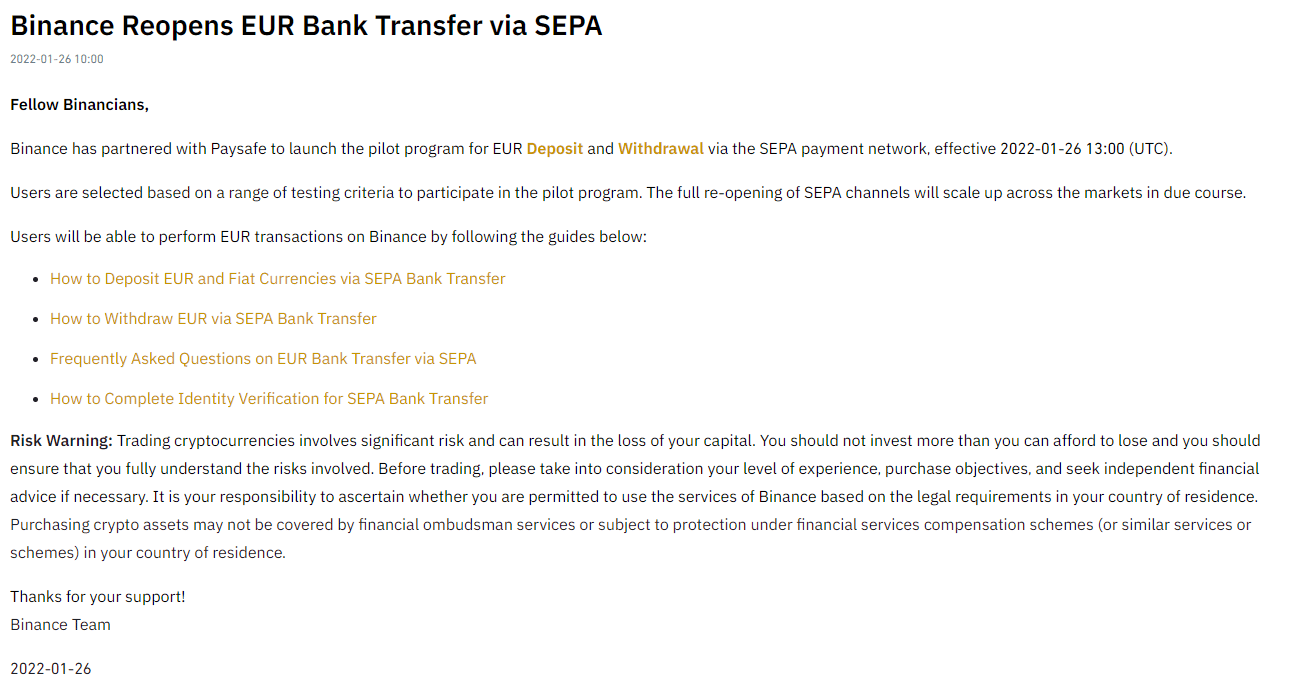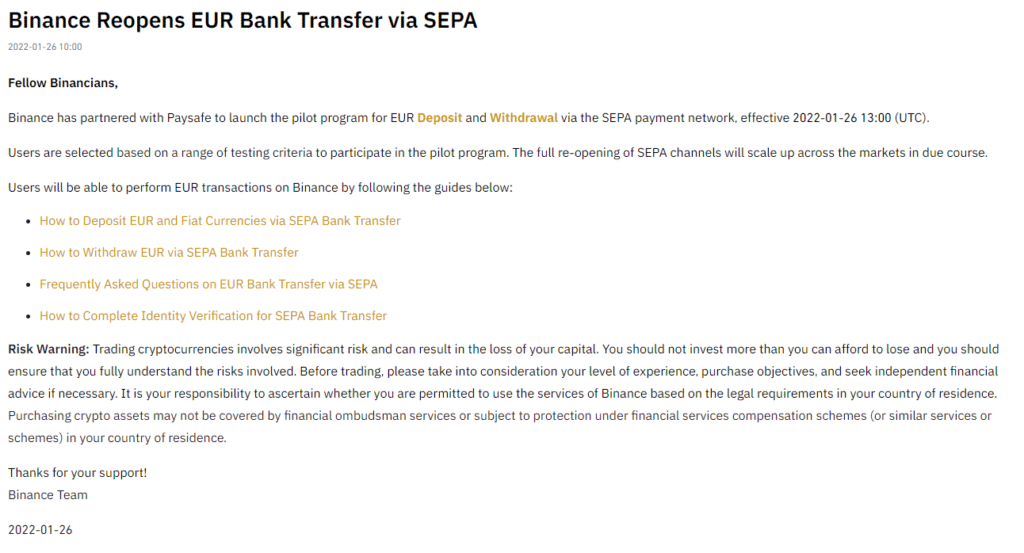 This payment system has existed since 2008 and covers the 27 member countries of the European Union, along with Iceland, Liechtenstein, Norway, Switzerland and Monaco. SEPA methods include bank transfers, card payments and direct debits, according to a Article of BBVA.
Why had Binance suspended SEPA payments?
In July 2021, CriptoNoticias reported on Binance's decision to "temporarily" suspend deposits via SEPA transfers. Yes, withdrawals from the exchange to these bank accounts were still enabled since then, anyway.
At that moment, the company was going through a stage of constant pressure from regulatory bodies in several countries. In fact, in the middle of last year Binance had problems operating in nations such as Singapore, Thailand, the United Kingdom, Japan and Malaysia, among others.
For this reason, the cryptocurrency exchange house —one of the most used in the world— decided to take quick measures to adapt to the requirements of each government. Obviously, this implied suspending some methods of operation for its users, such as deposits with SEPA.
Everything seems to indicate that Binance's negotiations with European regulators have advanced and that there are open doors to resume normal operation. For now, the testing period that began on January 26 is a first step for exchange users to have more possibilities when accessing their services.


www.criptonoticias.com