Bitcoin trading is up and the currency daily has closed above $60,000 for 22 days in recent history, 15 this October.
Only in the last days of October, the consolidation of support in this price range was so strong that on the 27th alone, the price closed at US$ 58,000. Thus, the price of Bitcoin closes October with an appreciation above 40%, a return that impresses in just 30 days.
It is worth noting that every day Bitcoin closed with its quotation above US$ 60 thousand are in the months of 2021, a year in which it marks a strong breakout of historical highs in this market.
By the end of 2021, with just two months left, optimistic analysts like "Plan B" believe that the currency could reach $100,000, something that would cost more than half a million reais each Bitcoin in Brazil.
Of course, this market trading is a movement that must be analyzed with due care, but it would not be impossible to see this movement when looking at the last few months.
What does Bitcoin price mean daily closing above $60K for 22 days?
In a year in which inflation raises fears around the world due to an increase in its rates in several countries, investors are still looking for assets to protect themselves from the devastating effect of this economic metric.
In practice, Bitcoin manages to show that it has increasingly been a solid store of value in the market, even with its short-term volatility and not only in countries like Brazil, but worldwide. thousand only proves that there is an interest in buying this currency, even close to its historic high.
In Brazil, for example, the inflation expectation for October 2021 is 1.2%, according to the preview released in recent days. the finance expert Daniel Carraretto then he even shared with his followers about the performance of assets and their returns in the month, in which Bitcoin ended up being the biggest highlight, followed by the Dollar.
Those who had income linked to the CDI even had a return of 0.52%, which ends up not being real if the rise in inflation exceeds this value. In other words, protecting purchasing power in Brazil is a difficult task, with Bitcoin being an alternative that gave investors happiness in 2021.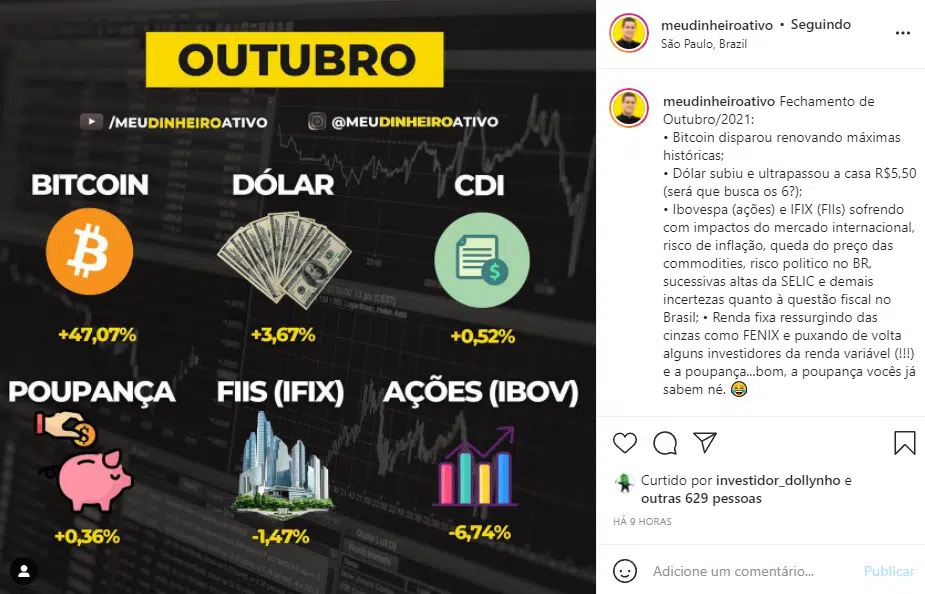 livecoins.com.br