The fall of Bitcoin continues, taking all the altcoins in the market to the ground, with games like Axie Infinity being some to suffer this "domino effect".
What draws attention is that last Friday (3) Bitcoin was trying to break support at US$ 59 thousand, when the brutal drop hit the market.
Last Saturday (4), the market had already been scared with Bitcoin approaching US$ 40 thousand, with a downward movement of 20% in just 24 hours. This fall marked 2021 as one of the most severe of the period, a devaluation that may be correlated with the traditional investment market.
Even with the drop, Sunday (5) closed on a high and saw a recovery of Bitcoin in search of US$ 50 thousand, closing the daily at US$ 49,300. The long-term trend seen by the 200-period moving average is still in perspective by traders now, as it was once broken but rebounded.
If the 200-period moving average is broken again, traders should find good buying options according to the indicator. Mayer Multiple. This indicator gives a view of good times for buying and selling Bitcoin, which can be important for buying if the market continues to fall.
Anyway, the market on Monday (6) follows a new drop of approximately 4%, with Bitcoin quotation at US$ 47,500.00. Thus, extreme fear takes over the market, according to data from "Crypto Fear & Greed Index".
For this indicator, the market in fear may represent good buying opportunities, which should keep traders on the lookout for new entries.
With Bitcoin in decline, Axie Infinity and NFTs games fall with altcoin market
Since early October 2021, the NFT game Axie Infinity has seen its main token, the AXS, trade above $100 per unit. In early November, this was quoted on the market at US$ 164.00, being the current historical high of the currency of the main NFT game ever created to date.
But with the fall of Bitcoin, Axie Infinity now loses US$ 100.00, even being quoted at US$ 98.00 in some brokers, a drop of 16% in 24 hours.
This case shows that the scenario may not be good for altcoins, including NFTs games, which are registering a much greater drop than Bitcoin. While Bitcoin dropped 3.44%, the GameFi sector on average lost 17% this Monday.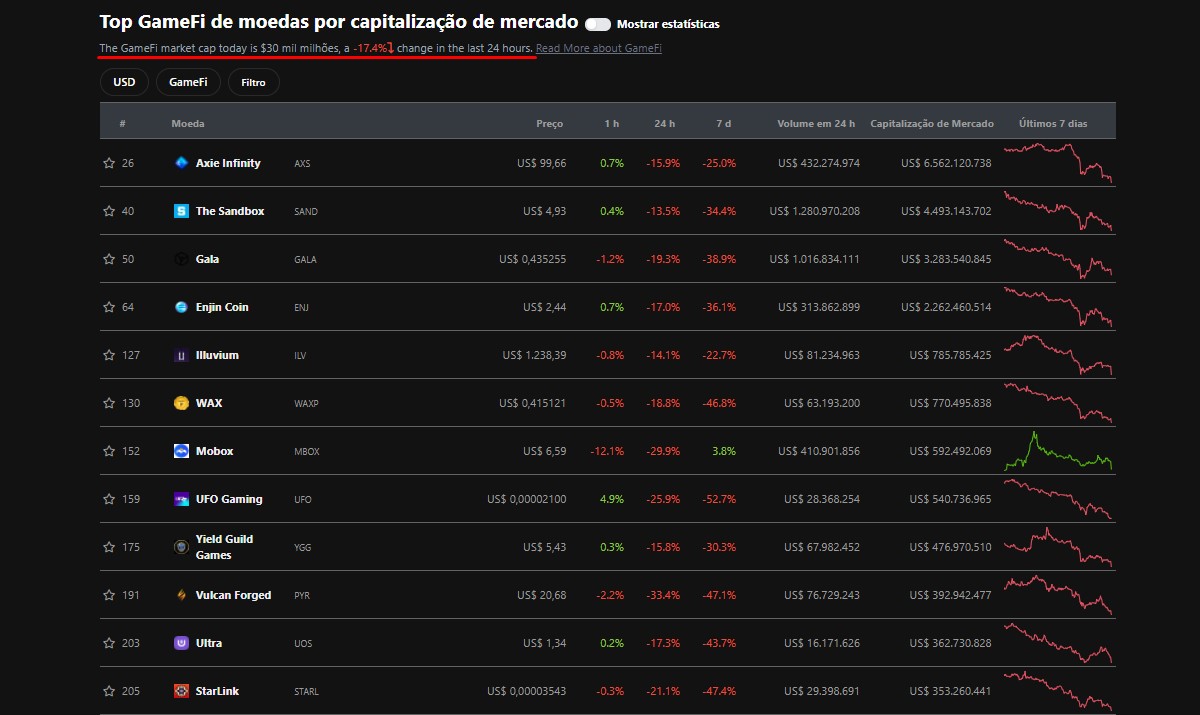 It is worth remembering that the cryptocurrency market saw Bitcoin register a dominance of only 40% with the emergence of numerous altcoins, which took people's investment out of the main currency.
Now, with the drop hitting the market sharply, projects that did not have many fundamentals, such as Shiba Inu, for example, should suffer more from devaluations, and others may even disappear altogether.




livecoins.com.br