"Moonvember," as many call the month of November in relation to Bitcoin, has been a tricky time for cryptocurrency so far, particularly in the past 7 days and after bitcoin hit its latest record high of $67,000.
The month was shaping up to be a great time for cryptocurrency, even justifying the moniker "Moonvember," with hopes the coin actually hit the moon. Some even believed that we would have a brilliant year-end, perhaps even breaking the $100,000 mark.
But since the currency hit a record high of $67,000, it has failed to be held at support levels consecutively, giving a much redder backdrop to the price.
Support
This is the first time Bitcoin has dropped below $60K since Oct 28th. With this, many begin to worry about the possibility of taking profits while the currency is still at a high level. For others, this is another common currency price movement, which never goes up in a straight line.
What we can expect is that, in the short term, the value of US$ 57 thousand proved to be an important support and an essential barrier for the price to remain in a "fighting area" with the house of US$ 60 thousand.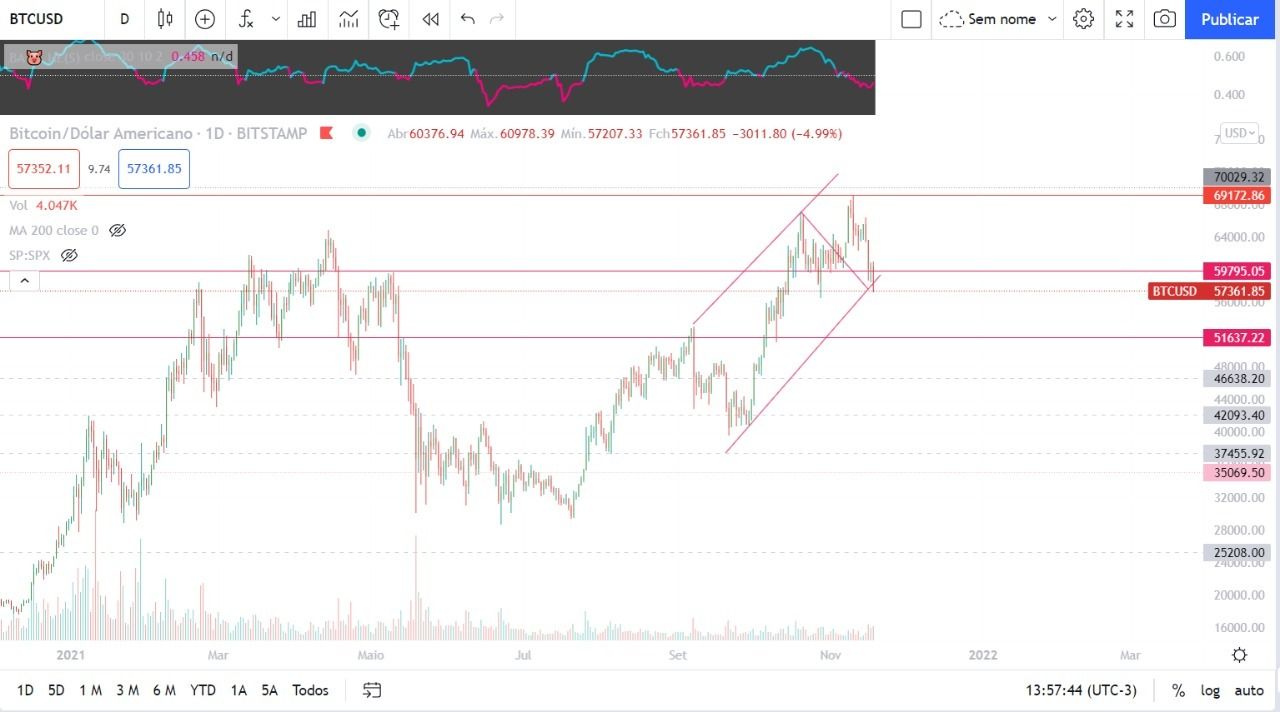 The downward movement can have different reasons, some believe that the movement comes from the pressure to sell whales that bought in 2017 and now have the opportunity to take profits.
However, Bitcoin has been above that record for some time now, and probably those who just wanted a profit window should have already made the sale.
More fall?
The most obvious reason is the same as always after the currency hits a record price: The sentiment shifts from Greed to Fear. It is not uncommon for many investors, retailers or institutional, to take advantage of moments like this to realize their profits, especially those who are betting on the short and medium term for their negotiations.
the analyst William Clemente noted this week that latency flow (Bitcoin market capitalization divided by annualized latency) remains low near historic highs for BTC/USD.
High latency indicates that older coins are being spent. "Seeing the idle flow currently so low means that the older coins remain relatively dormant." That is, whales, at least those of long standing, are still confident that the currency remains with the possibility of a rally in the near future.
As always, investing in Bitcoin and any other cryptocurrency requires great care and price studies.




livecoins.com.br