Key facts:
CriptoNoticias will be present at LABITCONF and Adopting Bitcoin in El Salvador.

Spain targeted cryptocurrency exchanges, such as Binance and Coinbase.
Bitcoin in Spanish speaking is a weekly newsletter from CriptoNoticias in which we review the most important news related to bitcoin, cryptocurrencies and blockchains in the Hispanic world.
---
Bitcoin week has arrived in El Salvador. And while we wait a few very busy days in the first country with the cryptocurrency having legal tender, we will review what happened in Spanish-speaking countries in the last 7 days.
Among the most outstanding events, we have taxes in Argentina, inflation records in Chile, hundreds of cases of identity theft with the Chivo wallet of the Salvadoran government or the beginning of the debates to regulate bitcoin in Panama.
For the complete summary, below we bring you the most important news from the Spanish-speaking world related to bitcoin (BTC), cryptocurrencies and blockchains, like every week:
Argentina
We start this week's tour with taxes on bitcoin. Specifically, in two provinces of Argentina: Córdoba and Tucumán, where citizens must report their BTC holdings and pay taxes on those funds, considered as gross income.
Meanwhile, with Argentine bonds performing poorly, one of the options people have now is exchange those bonuses for BTC. The opportunity is provided by the company Fidustrade, as we reported in CriptoNoticias.
Another novelty that Argentines have is the international Visa card launched by Lemon Cash. With it, they will be able to pay for their purchases using cryptocurrencies. In addition, they will receive as a reward 2% of each expenditure in BTC.
The adoption of cryptocurrencies in the South American country has reached Patagonia, with a lot of impact in areas such as Neuquén, San Martín de los Andes or San Carlos de Bariloche.
Chile
In Chile the news is not so good, because while bitcoin is rising like foam, the South American country seems to follow in the footsteps of the United States. According to data from the National Institute of Statistics, annual inflation reached 5.8% this year, despite the fact that the Central Bank of Chile's forecasts were 2% to 4%.
Colombia
Colombia's attorney general, Francisco Barbosa, announced an alliance between his country and Honduras to combat crimes with cryptocurrencies. To reach this agreement, Barbosa met in Tegucigalpa, the Honduran capital, with his counterpart from the Central American country, Oscar Fernando Chinchilla.
We are still in Colombia, home of the real estate La Haus. This company, which also has a presence in Mexico, included bitcoin as a means of payment for their homes in both countries.
Cuba
Paying for an Audi car with bitcoin in Cuba? Yes, it is possible, because an owner of one of those vehicles, the A4 model, is selling it. Now, the price is 1 full BTC, which at the time of writing this newsletter equates to about $ 65,500.
The Savior
Frauds associated with the Chivo de El Salvador wallet are becoming increasingly common. According to a count made public last week, more than 750 cases of identity theft with Chivo have already been reported.
Moving on to more positive notes, we are left with the $ 30 bonus in BTC that the Salvadoran government has given to those who use Chivo Wallet. Those who received the bond last September and did not spend it, have seen that bond revalue, with the rise in the price of bitcoin.
This weekend, CriptoNoticias arrived in El Salvador. We will be there on the subject of Bitcoin week, which will feature two major events dedicated to the world of cryptocurrencies: LaBitConf and Adopting Bitcoin. This medium will be there to tell you everything you need to know about both events.
Spain
Spain again faced a crime this week, with the theft of a bitcoin ATM in Barcelona. Captured on video, the thieves hoped to seize a sturdy loot, although this was not the case.
Binance, Coinbase and other cryptocurrency exchanges entered Spain's 'gray list'. It is a group of companies that offer investments without authorization from the National Securities Market Commission (CNMV) Spanish. This list, however, also includes a company with investments outside the world of cryptocurrencies.
Speaking of exchanges, one of Spanish origin gave something to talk about, thanks to the launch of a MasterCard card with which its users can pay using bitcoin and other cryptocurrencies.
Mexico
Although Chainalysis research places Venezuela as the country with the highest use of cryptocurrencies in Latin America, a Finder study points in another direction. According to the Australian firm, it is Mexico. However, the Finder data includes only two other countries in the region (Colombia and Brazil), while Chainalysis analyzes information from more than 150 countries in the world and takes into account practically all Latin Americans.
Although it is not the country with the most use of these digital assets in the region, Mexico does want a large part of the money invested in this market go directly to your tax collection. So much so, that according to the Taxpayer Defense Attorney (PRODECON), cryptocurrencies should have an Income Tax (ISR) of 20%.
Panama
In Panama it begins to debate bills to regulate the use of bitcoin and cryptocurrencies. Last week, the Committee on Trade and Economic Affairs of the National Assembly agreed to the analysis of the proposals presented by the deputies for this purpose.
Peru
NFT collectibles reach the depths of Peru. Specifically, the Alto Mayo Forest, whose protection will have a new ally: a collection of 20 NFTs that seeks to promote this natural reserve of about 182 thousand hectares.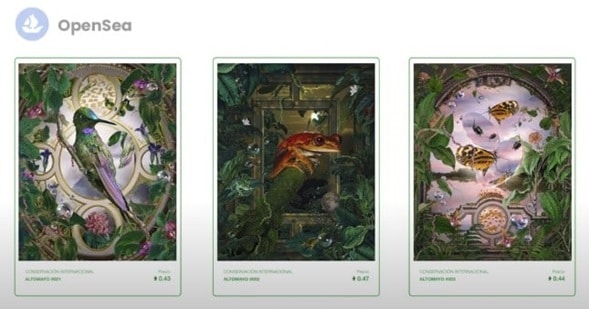 Venezuela
We close our tour once again in Venezuela. On this occasion, the passage through Venezuelan territory will be brief and will be related to one of the trends of the moment: games Play to Earn (or play to win).
Plant vs. Undead, one of the most popular games to earn cryptocurrencies, it ranks fourth among the most visited websites in the country. Behind him he leaves pages like those of some of the main social networks and banking. Only Google, Facebook and YouTube surpass it.
Events of the week
Among the events related to bitcoin, cryptocurrencies and blockchains in the region for this week, the following stand out in the CriptoNoticias calendar:
Monday, November 15: First day of "LABITCONF 2021" in El Salvador.
Tuesday, November 16: "Adopting Bitcoin (A Conference on Lightning in El Salvador)" begins, an event organized by Galoy.
Wednesday November 17: Continuation of "LABITCONF 2021" and "Adopting Bitcoin".
Thursday, November 18: "LABITCONF 2021" and "Adopting Bitcoin" continue in El Salvador.
Friday, November 19: Closing of "Adopting Bitcoin".
Saturday, November 20: "LABITCONF 2021" ends in El Salvador.
Merchants that accept cryptocurrencies in Spanish-speaking countries
Navarro Law Firm (legal assistance in Spain).
Decoblind (Window covering in Chile, which offers 10% discount for purchases with cryptocurrencies).
Hatillana Cup (pizzeria in El Hatillo, Venezuela).
Do you know or do you have a small business that accepts bitcoin and other cryptocurrencies for its products and services?
We invite you to share the information with us through [email protected] We will report on the adoption of cryptocurrencies of that business in any of the Spanish-speaking countries.


www.criptonoticias.com