Bitcoin's fall continues this Friday (21), with the digital currency registering a 10% loss in just 24 hours. With the new slide, Bitcoin is going through a delicate moment in its price at the beginning of 2022, after a promising 2021 that registered good upward movements.
The new correction, however, is the result of a new pessimistic wave of investors around the world.
In addition, the move by the Central Bank of Russia to ban cryptocurrencies, including mining, may have heightened fears about the future of the market.
Bitcoin crash continues and 10% loss in 24 hours draws attention
After a session that showed promise at the beginning of last Thursday (20), when Bitcoin reached $ 43,500.00, investors believed that the fall would calm down.
But the dream was short-lived and the price of Bitcoin ended up turning to fall, which continues this Friday. The loss was also felt by traders, who are hoping to understand more details about the move.
As of Friday morning, each Bitcoin is trading for $37,900.00, a loss of around 10% in just 24 hours. The low reached US$ 37,700.00 in some brokers, showing that the selling pressure is still present.
The cryptocurrency market cap followed the movement of the largest coin, also falling by 10% in the same period. This shows that the entire industry has been rocked by fears over fundamentals after a new country suggested a ban.
What actually caused Bitcoin to crash?
To understand what caused Bitcoin to crash, it is important to understand that Russia is one of the biggest countries, with numerous mining facilities and a high trading volume. Thus, one of the fears is that the departure of this country could take mining power from the network and that local people will stop using the decentralized network.
In addition, stock markets operate lower in the United States, with Nasdaq, for example, falling 1.30% last Thursday. In other words, there is a fear with variable income investments present in the market, which can also have the feeling with cryptocurrencies.
In this way, the world market followed the shakes in world exchanges and the banning of Bitcoin by a new country, registering an extreme fear in its sentiment, according to a famous index.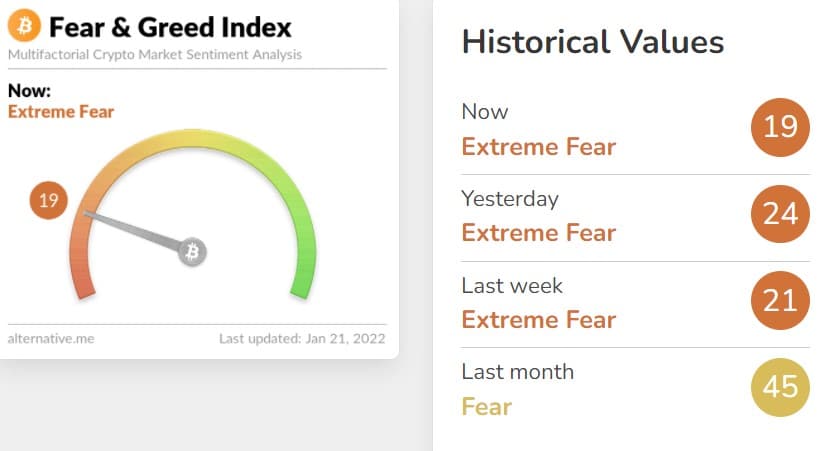 This weight on the shoulders with Bitcoin also caused a drop in altcoins, which are correlated with the largest coin. Ethereum, for example, plunged 12% in 24 hours, while Solana lost 14% and Avalanche 13.5%, some of the most striking cases among major currencies.
Despite negative sentiment around the world, the market is now monitoring whether the decline continues or whether a new support will form at $37,000.




livecoins.com.br