Brazilian artist Isabelle Parra was the first woman to create an NFT collection at Stacks, platform that works with smart contracts on the Bitcoin network.
In conversation with the Livecoins, the artist who created the Belle's Witches collection, narrated a little more about her experience, lived mainly from the beginning of 2021.
Helped by her data engineer and Bitcoin enthusiast husband, Isabelle is an Audiovisual artist with a degree in Audiovisual, working as an Illustrator, where she stated that this world of cryptocurrencies is new for her too.
Essentially, Stacks uses the Bitcoin network as the ultimate security layer for smart contracts on its platform. However, Stacks is not the only platform that facilitates NFT transactions in Bitcoin. RSK, for example, is another smart contracts blockchain that acts as a bridge to connect Ethereum to Bitcoin.
My husband started to buy and explain to me the details
According to Isabelle, her husband is interested in the technology part, being able to help her find the NFT market, which was not a reality for her.
"Since I'm from the art side, it's not something I'm always seeing and reading. I'm an illustrator, graduated in Audiovisual, but I've always had this facility with art, I've done makeup, scenography, things like that".
So, she says that her husband was already seeing and buying some NFTs, such as the Stacks Punks collection, which was quite successful among fans of that blockchain.
She recalls that among artists, this subject of digital arts began to gain more strength in 2021. Even so, the field of technology was still cloudy for her, who saw the support of her husband, who explained details and bought some arts as fundamental. for her to understand better about the subject.
For Isabelle, artists still do not understand the potential of NFTs, as there is not much talk, with few materials found on the subject.
She recalls that it is essential that artists understand the details of technology, in order to be able to publish their art on platforms. A strong point for her was the support of the Stacks community, which is very united and always helping new artists to publish their art.
"I really liked this part, it helped me a lot, I really liked the Stacks community, I don't know what it's like in the others, Ethereum, or anything, because I've never been to others".
"It was great to create an NFT", says the first Brazilian woman to publish art on the Stacks network
According to Isabelle Parra, when she read about the NFT market and her husband explained some details, she saw a very promising scenario in digital arts.
She recalled that making her collection was a very cool process, since in addition to selling the mints, the artist also earns income from future sales made by the secondary market.
"It's not like an art gallery, where you put your art there, sell it once and it's gone. I think it is more valued, in addition to being a much greater disclosure of my work, it reached a lot of people. I really like NFT, for the artist it helps a lot, but that's not how I see it here in Brazil, there's a lot of misinformation. It's been a very good experience."
Isabelle narrated that she was unpretentious in pursuing the creation of her NFT, when she saw an ad for Stacks Art looking for artists to publish their work. So she sent an e-mail, believing it wouldn't even be answered, but within hours she received the platform's feedback.
Thus, she was chosen to create her NFT, starting to imagine what her collection would be like. As she was the first Brazilian woman to publish a work there, Isabelle wanted a more feminine art, which she already had in mind.
Parra recalled that she had already done an illustration of a "Fire Witch", which had already been lied to by her husband in a wallet, so she continued the work.
"I thought about witches and I will continue this theme, I will continue to do it".
The artist recalled that she was one of the first to publish a collection on Stacks (STX), with 5,000 unique witches available to be lied to. Each brazilian witch it costs 20 Stacks, which according to the currency quote on the market would be something close to R$210.00 today.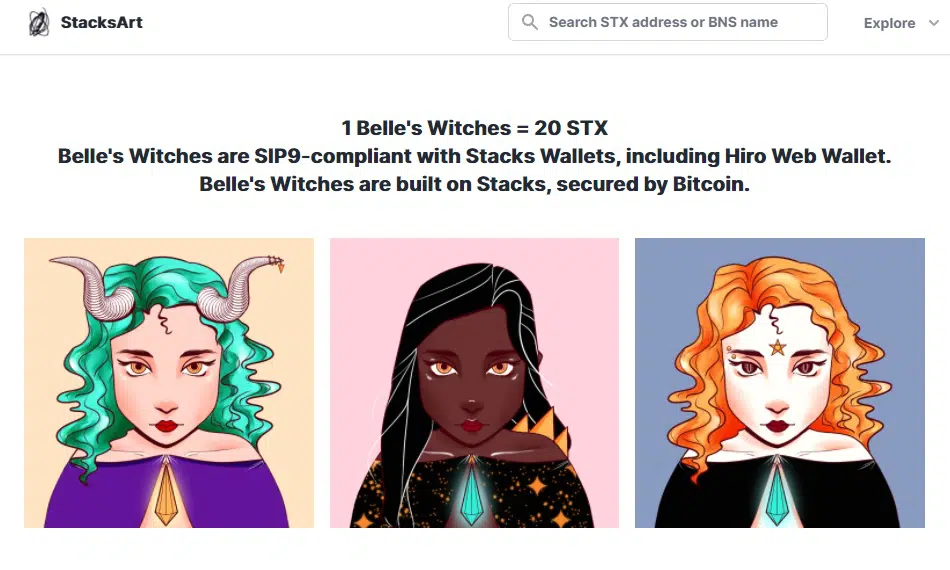 Isabelle recalled that this was her first digital collection, as she had already sold other arts before that in physical media. Thus, NFT for her has advantages over physical art, due to the potential that the artist has to be found by anyone in the world.
"It's all very new, but it's very promising. I was one of the first and now there are a lot of people, so it's already booming".
How much does it cost to publish an NFT on Stacks, Bitcoin's smart contract network?
In conversation with the Livecoins, Isabelle Parra also explained some technical details about the publication of NFTs on the Stacks network.
Regarding costs, if it is a singular NFT only the transaction cost (around 0.1 STX), today there are platforms that help in the creation of NFT's (boom.money), for larger collections, usually the markets themselves (stacksart.com, stxnft .com or byzantion) bear the publishing costs (deploying the contract on the blockchain and hosting the images).
As for network rates, these range from 0.05 STX to 0.5 STX, which Isabelle considers very low compared to Ethereum, for example. She recalled that Stacks currency can be purchased at Binance and OKEX, which already accept up to PIX from Brazilians, but the currency is not yet available in Real pairs.
About the time to publish an NFT, Isabelle recalled that she did everything for the market, so "Everything was very fast and transparent for us, but to get an idea, a transaction takes an average of 10 minutes (of course with exceptions that can take up to 1 hour and a half)". This is also the estimated time to lie new art over the network, said the artist.
About wallets to interact with Stacks, the most reliable and recommended by the community is the Hiro Wallet (hiro.so/wallet) with browser or desktop support. The main website of Stacks there's a lot of information about the blockchain and how it all works, it's in English, but the documentation is very complete.
Regarding the doubts for beginners, Isabelle Parra explained that "It is important to know how the blockchain works, what non-fungible tokens are, how to make transactions on the network using the wallet and if you want to make a collection, you will need a little programming to ensure the uniqueness of the created pieces".
Regarding the precautions when evaluating an NFT available for purchase, the Brazilian artist believes it is important to research beforehand about the collection and the artist, if there are future advantages for the user with that NFT, size of the collection and how much has already been lied, price of the mint and whether the market you are buying from is reliable.
She recalled that she doesn't see many Brazilians interacting with Stacks, with conversations always in English in the community.
To accompany Isabelle's work, she has her Instagram, Twitter and his collection on the Stacks profile, which is still available for mints.




livecoins.com.br