A 35% tariff on Russian fertilizer imports means farmers spent roughly $34 million extra last year on fertilizers
Article content
Financial Post writers went back to their notebooks to set the scene for budget 2023. Food reporter Jake Edmiston sees fertilizer costs as key for Canada's agriculture industry.
Article content
Canada's top agriculture lobbyists want the federal budget to compensate farmers for a spike in production costs due to Ottawa's decision to impose tariffs on Russian-made fertilizers.
Article content
The government slapped a 35 per cent tariff on imports from Russia — a major fertilizer producer — in response to the invasion of Ukraine in early 2022. The move meant farmers spent roughly $34 million extra last year on fertilizers.
The Canadian Federation of Agriculture wants the government to rebuild that money. The call for "immediate financial relief" from fertilizer tariffs was at the top of the CFA's 15-item wish list for the budget, which the group submitted to government last month.
"We expect something," CFA president Keith Currie said. "We just don't know what exactly that might look like."
Article content
Prime Minister Justin Trudeau made a surprise appearance at the CFA's annual general meeting in Ottawa earlier this month, where he hinted that relief on fertilizer costs could be coming soon. In a question-and-answer session, Trudeau said his government is trying to help Farmers, "whether it's looking at how we're bringing down the price of fertilizer or supporting you during this difficult time where the cost of Russian fertilizers have gone up because of their decisions to invade Ukraine."
We expect something. We just don't know what exactly that might look like

Keith Currie, president, CFA
Currie said he took the comments as a sign that the budget will include financial compensation for the impact of tariffs on fertilizer. The CFA wants that compensation to equal the government's revenue from the tariffs, according to the CFA's pre-budget submission.
Article content
Late last year, Agriculture Minister Marie-Claude Bibeau said she was looking at ways to "reinvest" the $34.1 million collected in fertilizer tariffs back into the sector, according to a report from Real Agriculture. Bibeau promised more details in early 2023, but warned that direct payments to farmers impacted by the tariffs wouldn't be possible. Bibeau's spokesperson, Marianne Dandurand, said any program to inject the $34.1 million back into the sector will focus on farmers , who were most impacted by the tariffs.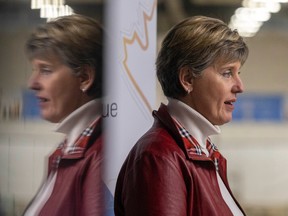 "Western Canada produces enough nitrogen for the entire country but Eastern Canada can bring it in cheaper by boat from Russia than we can bring it from Western Canada. So that's one issue they need to address," Currie said.
Article content
Government policy around fertilizer has become a touchy subject in the agriculture sector in recent years. On top of the tariffs, the government has signaled that it wants to reduce emissions from fertilizers by 30 per cent by 2030. Farmers and lobbyists feared that any sort of Mandatory reduction in emissions would force them to use less fertilizer, which would cut crop yields.
But Trudeau told the CFA meeting on March 6 that any government policy to reduce emissions won't be mandatory.
"There's a lot of disinformation and misinformation you may be reading online that's adding to your worries," Trudeau said. "We are consulting with farmers and the industry about a voluntary, not mandatory, reduction in emissions from fertilizers, not in use of fertilizers ."
Article content
Trudeau said the plan is to find ways to use fertilizer more efficiently, but stressed that Canada's agriculture sector can't afford a cut in yields. "The world needs to be able to have reliable sources of grain," he said.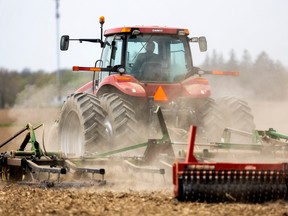 Canada's role as a major global grain exporter took on more importance last year in the aftermath of the war in Ukraine, amid concerns that the conflict would impact crop production and exports from the region. Despite pressure to "feed the world," Canada's rail infrastructure was initially slow to get grain shipments to ports and into global markets following a bumper harvest in the Prairies last fall.
Trudeau said the delays risk undoing the government's work on free-trade deals around the world and vowed to do more to establish "reliable" shipping and processing for Canadian crops.
Article content
"We've seen it time and time again where we work really, really hard to develop new markets and then a year or two in, there's a jam in the system and they turn away for another market and will never come back to Canadian produce ," he said. "That's why we're continuing to invest in transportation infrastructure."
For some of the industry's top leaders, however, infrastructure spending isn't the problem. John Heimbecker, the head of Parrish and Heimbecker Ltd., of one of Canada's top grain exporters, said last year that the real issue is bad government policy and power imbalances in the rail system, which is currently controlled by two companies, Canadian National Railway Co. and Canadian Pacific Railway Ltd.
The national supply chain task forceassembled by Transport Minister Omar Alghabra last year in response to the war, recommended in October that the government implement immediate policy changes that could speed up shipments by injecting more into the railway industry.
Article content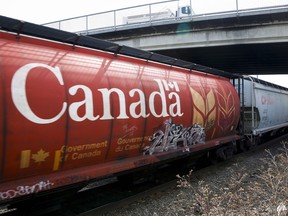 In its budget wish list, the CFA urged the government to act on the recommendation. The lobby group also asked the government to fund fertilizer storage bins, to avoid future price shocks. Currie said the bins would allow farmers to stock up on fertilizer when prices dip.
Farmers have blamed tariffs for driving major increases in farm input costs, which in turn fueled food inflation around the country. In the first quarter of 2022, fertilizer costs jumped by about 83 per cent compared to the same quarter in the previous year to, according to Statistics Canada's farm input price index. In the second quarter of 2022, year-over-year fertilizer costs jumped about 80 per cent.
Last fall, Freeland told the House of Commons that revenue from tariffs on Russian fertilizers were $34.1 million between March and the end of June last year.
Article content
Why grocery bills remain high even as inflation slows

What a $15 bag of romaine says about our food system

Ottawa can expect revenue windfall, but spending will determine deficit
Fertilizer Canada, a lobby group that represents importers, producers and retailers, said the $34.1 million in tariff costs doesn't represent the full cost to the industry. Some importers canceled their contracts with Russian producers after the government imposed tariffs, but still had to find other contracts for fertilizer on short notice in a tight global market, leading to extra costs, spokesperson Kayla FitzPatrick said.
• Email: [email protected] | Twitter: jakeedmiston




financialpost.com