Cameco is investing $2.2 billion for a 49% stake in Westinghouse Electric, which services nuclear reactors
Article content
Decarbonization could end up as a boon for nuclear power, which is capable of generating lots of energy while releasing no carbon dioxide into the atmosphere.
Article content
"They do what we don't do and what we want to do," Cameco chief executive Tim Gitzel said of Westinghouse, adding that one of those things is providing "very reliable revenue streams."
Since 2015, shareholders of Cameco, which mines uranium and turns it into fuel for nuclear reactors, have endured a 46-per-cent drop in revenues, to about $1.5 billion in 2021.
Article content
Much of that decline followed the 2011 earthquake off the coast of Japan, which lead to the Fukushima nuclear disaster. The country's government responded by eliminating nuclear power, upsetting the supply and demand dynamics for uranium.
With uranium prices in free fall, Cameco started reducing operations and shutting down mines, including the gem of its portfolio — MacArthur River, which it calls the world's largest high grade uranium mine.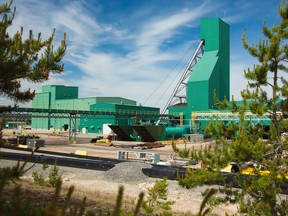 The supply outlook for Cameco has brightened in recent months, as countries have turned away from buying uranium from Russia following its invasion of Ukraine, and as global uranium stockpiles have slowly been reduced. But while Cameco has restarted its MacArthur mine, it is planning to operate at reduced capacity at least through 2024.
Article content
"We will not overproduce," Gitzel said. "We're not going to produce to just spray pounds into the spot market, that's why we had to shut down last time."
Instead, Cameco will only produce uranium for customers that sign long-term contracts, and that's where Westinghouse comes in.
By purchasing just under half of Westinghouse — through a joint venture with Toronto-based Brookfield Renewable Partners LP, which is buying 51 per cent for $2.3 billion — Cameco extends its reach into the nuclear reactor life cycle.
"They (Westinghouse) do work in Eastern Europe and so we haven't sold a lot of uranium there because that's been a Russian market," said Gitzel. "But now we're talking to those folks. So it just really opens up some new doors for Cameco and it's very complimentary to our business."
Article content
Only a small amount of uranium is mined in Russia. But Gitzel said Russian companies control almost 40 per cent of the world's enriched uranium supply, mainly through mines in Kazakhstan.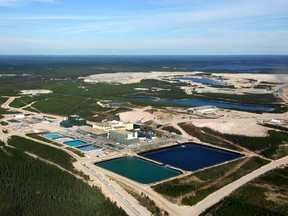 In the longer term, Gitzel noted that Westinghouse builds new nuclear reactors, which always need a fuel supply. That business could create a pipeline to feed what he called Cameco's core business — producing uranium.
"We see Cameco's acquisition of (Westinghouse) as a strategic move to diversify and vertically integrate along the nuclear value chain as a complement to" its uranium business, Ralph Profitti, an analyst at VII Capital Corp., the investment firm more widely known by its brand name Eight Capital, wrote in a note this week.
Article content
Still, Profitti wrote that the acquisition could end up being six- to seven-per-cent dilutive to Cameco's cashflow per share by 2027 under a number of assumptions, including higher uranium prices and full operations at its two largest mines, MacArthur River and Cigar Lake.
Since the deal was announced, Cameco's share price had dropped 15 per cent to $30.59 as of Wednesday afternoon.
It's a large acquisition: Westinghouse, at US$4.5 billion, not including debt, is almost half the size of Cameco, which has $9.8 billion in market cap.
Gitzel said the company has not yet disclosed how much money it estimates Westinghouse would contribute to the company's earnings — assuming the deal gains the necessary regulatory approvals and closes in 2023.
Article content
But he acknowledged that the past decade has been a "tough run" for Cameco.
Hydro-Québec to buy Great River Hydro and its 13 hydropower stations for $2.7 billion

Alberta's new premier puts Ottawa on 'notice,' vows to defend provincial control of oil and gas

Ottawa to pour up to $222 million in Rio Tinto's Quebec facility
Now, Gitzel is banking on the idea that nuclear power will see a resurgence because of decarbonization efforts in response to climate change, combined with the enhanced focus on energy security following Russia's invasion of Ukraine. He pointed to France and South Korea as part of a trend of countries reconsidering nuclear energy, which could translate into a more balanced supply and demand picture for uranium.
Article content
Still, many countries had turned away from nuclear because of the catastrophic potential of nuclear radiation. In Japan, the Fukushima disaster forced the evacuation of tens of thousands of people and left questions about the future of an entire region.
Also, new nuclear reactors have traditionally faced cost overruns and construction delays.
This year, Cameco has signed longterm contracts to supply 50 million pounds or uranium and even more energy fuel, which Gitzel called a "good year." Still, Cameco plans to operate MacArthur Lake and Cigar Lake at reduced capacity — unless some more long- term contracts come along.
"Our core business, the Cameco business, is really making a great comeback," Gitzel said. "We will keep our eye open for where can we be."

• Email: [email protected] | Twitter: Gabe Friedz




financialpost.com