Kevin Carmichael: Bottom line — a soft landing is getting harder and harder to execute
Article content
Statistics Canada's consumer price index, the gauge the Bank of Canada uses to guide interest rates, surged to 8.1 per cent in Junethe biggest year-over-year increase since January 1983. Here's what you need to know:
Article content
Cooking with gas
The acceleration from May's 7.7-per-cent reading was mostly the result of gasoline prices, which increased 54.6 per cent from June 2021, compared with a year-over-year gain of 48 per cent the previous month.
Oil prices peaked in early June, and have since eased somewhat, suggesting the July numbers will be less severe. However, inflation has spread well beyond gasoline stations. When Statistics Canada subtracted gasoline from the consumer price index, it still came up with a year -over-year increase of 6.5 per cent, compared with 6.3 per cent in May.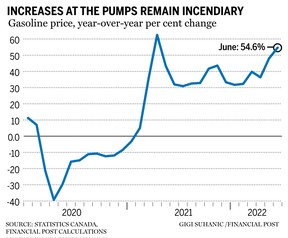 Seven of eight major components posted increases bigger than three per cent, which is the high end of the Bank of Canada's comfort zone for inflation. The central bank targets two per cent.
Article content
Governor Tiff Macklem won't be shocked by the new inflation numbers, as the Bank of Canada's latest forecast has the consumer price index averaging annual increases of eight per cent in the third quarter, and still averaging gains of about three per cent at the end of 2023. That's way off target, which is why policymakers increased borrowing costs by a full percentage point last week.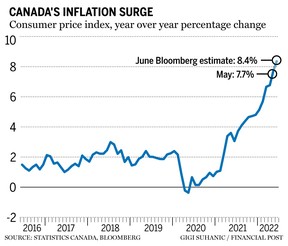 Mild relief
Some Bay Street economists were predicting even faster inflation. It might be too soon to say for sure, but the rapid cooling of the housing market could be offsetting inflationary pressures elsewhere. Statistics Canada's index of shelter costs increased 7.1 per cent in June, slower than the 7.4 per cent in May. The agency observed that real-estate agents are collecting lower commissions because prices have dropped.
Article content
In the near term, higher interest rates could exert upward pressure on shelter costs because mortgages will be rising. However, if home prices continue to fall, "this could lead higher rates to more quickly dampen high inflation in Canada relative to the US," Veronica Clark, an economist at Citigroup Global Markets Inc., said in a note to her clients. "This is a fundamental reason why we still think policy rates could reach a slightly lower terminal level in Canada than in the US"
Another sign that inflation could be peaking is a deceleration in the pace of increases from month to month. The consumer price index rose 0.7 per cent from May, considerably slower than the previous monthly increase of 1.4 per cent. Commodity prices are finally responding to gravity , and that could ripple through the cost of finished goods in the months ahead. The release "points to some potential positive news on the price front," Randall Bartlett, an economist at Desjardins Group, said in a note, before adding that the news wasn't so positive that it will keep the Bank of Canada from increasing the benchmark rate by either a half point or three-quarters of a point in September.
Article content
Tiff Macklem's soft landing could rest with business confidence

Exclusive: Tiff Macklem on the Bank of Canada's surprise rate hike, wrestling inflation and its forecast miss

What you should know about the Bank of Canada's 1% hike
Bottom line
The cost of living is increasing faster than wages, so something has to give. The economy is almost certainly headed for slower economic growth, as higher interest rates have triggered a correction in housing markets and surging food and fuel costs are draining disposable consumer income that might otherwise be used to buttress broader consumption. How much slower? The Bank of Canada predicted last week that gross domestic product will increase 1.8 per cent in 2023, down from 3.5 per cent this year. Bank of Nova Scotia's economics team said this week that it sees growth of 1.6 per cent next year, as pent-up demand from the pandemic offsets headwinds from higher interest rates. Royal Bank of Canada economists think we're headed for a recession. Regardless, a soft landing is getting harder and harder to execute. The central bank said last week that more interest-rate increases are coming, and the new inflation reading suggests it will be another supersized hike when policymakers next gather in September. That would push the benchmark rate above three per cent, which could be a challenge for consumers, executives and investors who had got used to borrowing costs closer to zero.
• Email: [email protected] | Twitter: carmichaelkevin
Listen to Down to Business for in-depth discussions and insights into the latest in Canadian business, available wherever you get your podcasts. Check out the latest episode below:




financialpost.com