Kevin Carmichael: If inflation wasn't so troubling, we'd be talking about the strongest labour market in memory
Article content
Canadian employers added 40,000 jobs in May, and the jobless rate dropped to 5.1 per cent. Here's what you need to know about such remarkable numbers.
Article content
Macklem gets his wish
Before fighting inflation became his priority, Bank of Canada governor Tiff Macklem mused about testing the definition of full employment. Canadian economists of his generation had always assumed a jobless rate of around six per cent was about as low as you could go without stoking runaway inflationary pressures. But ahead of the pandemic, the jobless rate had been running below six per cent for an extended period and inflation wasn't a problem.
Macklem and other central bankers talked of probing the bounds of the traditional definition of full employment by letting the economy run hotter than they previously thought possible, assuming inflation remained tame.
Then, inflation ignited, forcing Macklem to change his rhetoric and start raising interest rates. But a funny thing happened: the jobless rate kept falling anyway. It dropped to an unprecedented 5.2 per cent in April, and fell again in May to 5.1 per cent . However, the demand associated with an unemployment rate closer to five per cent appears to be more than the Canadian economy can handle. The Bank of Canada raised its benchmark interest rate a half-point last week, mostly to squelch the "excess" demand putting upward pressure on the cost of living.
Article content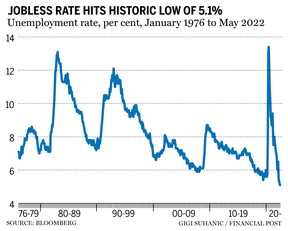 Wages rise
Perhaps the most important employment indicator is wage growth. The fastest and most persistent inflation since the early 1980s will be easier on households if they are making more money. At the same time, employers tend to dislike narrower profit margins, so if it's costing them more to hire and keep workers, they could look to raise prices to compensate. So, higher wages are also an indicator of whether inflation expectations are rising.
Statistics Canada said the average hourly wages of all workers increased 3.9 per cent in May from a year earlier, compared with a 3.3 per cent rise in April. That's a big increase based on recent history, and suggests the combination of inflation — the consumer price index increased 6.8 per cent year over year in April — and an extremely tight labour market — Statistics Canada said there were more than a million job vacancies in March — is causing wage demands to rise. That's probably all the evidence the Bank of Canada needs to raise interest rates again when they next meet to set policy in July.
Article content
Job seekers' market
If inflation wasn't so troubling, we'd be talking about the strongest labour market in memory. The net 40,000 jobs that were created in May were almost all full-time positions: full-time work increased by about 135,000 jobs, while part -time employment dropped by 96,000.
Statistics Canada's "adjustment" jobless rate, which counts respondents to the Labour Force Survey who say they'd like to work but didn't look for a job, declined to seven per cent, the lowest since at least 1976, which is as far back as comparable data extend.
Total hours worked were little changed from March, but about five per cent higher than a year earlier. The employment rate, which measures the percentage of the population aged 15 years and older that has a job, increased to almost 62 per cent in May, from 59.4 per cent a year earlier.
Article content
These are all remarkable numbers. If Macklem can restrain inflation without triggering a recession, Canada's economy would be about as strong as it's been in memory.
Some scars run deep
Macklem wanted to probe the definition of full employment because high-pressure economies shatter systemic barriers. When economic growth is only OK, employers tend to hire from the groups with which they're familiar. That sort of bias is rarely conscious, but it's real . But when the economy is hot, and vacancies become hard to fill, employers are forced to take chances on candidates they wouldn't normally consider. Statistics Canada observed that the employment rate of Indigenous women had increased more than 10 percentage points from May 2021 , to about 70 per cent. That's just one example. There's still distance to travel, but Canada's post-pandemic economy is becoming more equal.
Article content
Canadian inflation rises to 6.8%: What you need to know

Canadian job vacancies jump to record high ahead of patio season: What you need to know

Bank of Canada raises rate half a point to 1.5%, signals more hikes to come
However, one group appears to be falling behind. The number of people looking for work or on layoff for more than 27 weeks appears to have plateaued around 200,000, compared with about 150,000 in March 2020. "Long-term" unemployed represented almost 20 per cent of the total unemployed in May, compared with about 16 per cent before the pandemic. That's a concern because the longer people remain on the sidelines of the economy, the harder it becomes to get back in. Their skills atrophy and employers tend to prefer candidates with recent experience. Economists call it "scarring." As strong as the recovery from the COVID recession has been, the pandemic could yet leave lasting marks.
Article content
Bottom line
Bay Street is talking about a supersized three-quarter point interest rate increase again. The Bank of Canada opened the door to a steeper interest-rate path last week when it said it was prepared to act "more forcefully" if that's what it takes to cool inflation. A jobless rate of about five per cent suggests the economy is running hot. A half-point increase remains the most likely outcome at the next policy meeting, assuming increases in the consumer price index begin to slow. But a more aggressive move can't be ruled out.
• Email: [email protected] | Twitter: carmichaelkevin




financialpost.com