Retailers say they still expect the holiday shopping season to be busy
Article content
Canadian retailers say they still expect the holiday shopping season to be a busy one, despite mixed signals on how much cost-conscious consumers plan to spend.
The Retail Council of Canada, which represents retail businesses of all sizes, said that despite the growing financial pressures, 90 per cent of Canadian consumers still plan to shop during the holiday season, which kicked off this week with the launch of Black Friday sales.
Article content
"Of course, the rise in cost of living and inflation is having an impact but we believe, very similar to what we started to see last year during holiday shopping, that people still want to spend money," spokesperson Michelle Wasylyshen said.
The group's annual holiday shopping survey, conducted by Leger Marketing Inc., projected Canadians will spend an unprecedented $898 this holiday season, even though more people — 88 per cent, up from 83 per cent last year — will be proactively value-conscious in their choices.
Similarly, a 2023 holiday outlook released by PricewaterhouseCoopers (PwC) International Ltd. found 76 per cent of Canadians expect to spend the same amount or more this year as they did in 2022. Overall, each respondent expected to spend an average of $1,635 on gifts, travel and entertainment, up 13 per cent from 2022.
"Canadian consumers have entered the 2023 holiday shopping season saddled with cost-of-living concerns and a downbeat economic outlook. But they told us they won't let this unease spoil their holiday plans," PwC said in the report.
But other reports and forecasts from some retailers have been less optimistic, suggesting consumer demand overall is starting to slow.
Article content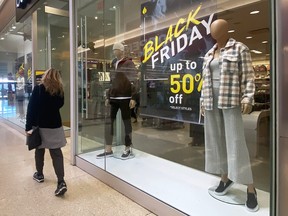 Electronics retailer Best Buy Co. cut its full-year guidance Nov. 21 due to "uneven" and unpredictable demand and a decline in big ticket purchases. Other large United States retailers, such as Macy's Inc. and Gap Inc., meanwhile, have reported declines in same-store sales in recent quarters.
Deloitte Canada forecasts Canadian holiday spending will be down about 11 per cent from last year to $1,347 — the lowest it's been in five years, according to the consulting firm's 2023 holiday retail outlook.
Marty Weintraub, partner and national retail leader at Deloitte Canada, said Canadians have less money to spend on gift giving this holiday season, with inflation straining household budgets. As a result, consumers will be cautious, savvy and selective with their purchases, a report released by the consulting firm on Oct. 17 said.
"We're not expecting the best holiday shopping season for retailers this year," Weintraub told the Financial Post's Larysa Harapyn.
He added that competitiveness between retailers is going to be high and being sharp on pricing and promotions is critical.
Article content
Competition between stores may be a welcome sight for consumers: Deloitte found Canadians' trust in retailers is faltering, with 73 per cent suspecting them of increasing prices unfairly.
In response to price increases, Deloitte's research said over 70 per cent of consumers will be shopping around for the best deals and looking for on-sale items, leading to more foot-traffic in stores.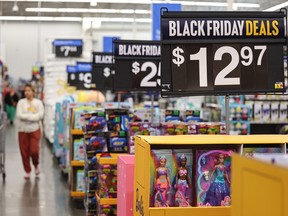 Retail analyst and author Bruce Winder said he also expects it will be a soft holiday season from a spending standpoint.
With elevated debt levels, high interest rates and the stickiness of inflation, it would make sense if Canadians end up shopping less, he said.
"All of this together is enough for consumers to say, 'You know what, I don't think I'm going to spend like I did last year. I think I'm going to spend less,' which means their behaviours will probably change," Winder said.
PwC's report said 91 per cent of those surveyed cited the importance of product prices this holiday season — the most-commonly mentioned factor affecting their shopping plans.
Economists at Canada's big banks also see signs of a slowdown.
Article content
The Royal Bank of Canada's consumer spending tracker, updated on Nov. 18, found consumers were cutting back on discretionary items, with restaurant and hotel spending in decline in October.
We expect Canadians will tighten their belts this holiday season

RBC consumer spending tracker
"As cumulative mortgage servicing costs continue to mount and renewals rise, we expect Canadians will tighten their belts this holiday season," the report said
A report released Nov. 8 by BMO Financial Group also noted that concerns about the economy are having a chilling effect on the holiday spending this year.
The BMO survey found that 78 per cent of Canadians plan on buying fewer gifts this holiday season, with 45 per cent planning to spend less on fewer gifts.
It said a quarter of Canadians will cut down the number of people on their gift list this holiday season, while over a third said they are not confident they will be able to afford every item on their holiday shopping list.
BMO analyst Simeon Siegel, who specializes in retail and e-commerce, said that while the results of surveys on holiday spending vary, "at the end of the day, like every year, the consumer is going to prove surprisingly resilient."
Article content
Certain companies will emerge victorious and certain companies will find themselves facing a much more challenging consumer, he said.
"The brands that know their consumers and offer compelling product are the ones that are going to be the strongest," Siegel said.
Related Stories
Big sales ahead for frugal holiday shoppers

Holiday spending plans hit new low point

Dollarama sales up as Canadians turn to value retailer for groceries
Wasylyshen said how retailers roll out their deals and promotions this year will be a big defining factor in how and where consumers choose to spend their money.
"It will be interesting to see where the deals come into play," she said. "We're hopeful that it's going to be a successful season."
— With additional reporting from Bloomberg and Financial Post staff
• Email: [email protected]
---
Bookmark our website and support our journalism: Don't miss the business news you need to know — add financialpost.com to your bookmarks and sign up for our newsletters here.


financialpost.com