But GDP shrank 0.1% in July
Article content
Canada's economy grew in the second quarter, but momentum is slowing, preliminary data show, amid a series of aggressive interest rate hikes from the Bank of Canada.
Article content
Gross domestic product from April to June increased at an annual rate of 3.3 per cent, compared to 3.1 per cent for the first quarter of 2022, Statistics Canada reported on Aug. 31. The agency's estimate for July showed the economy contracted 0.1 per cent in the month.
Article content
Here's what you need to know:
Is 3.3-per-cent growth considered good?
The Bank of Canada forecasted last month that GDP would grow by four per cent, annualized, in the second quarter. Bay Street economists expected quarterly growth to land at 4.4 per cent. So the economy grew less than both the central bank and economists expected.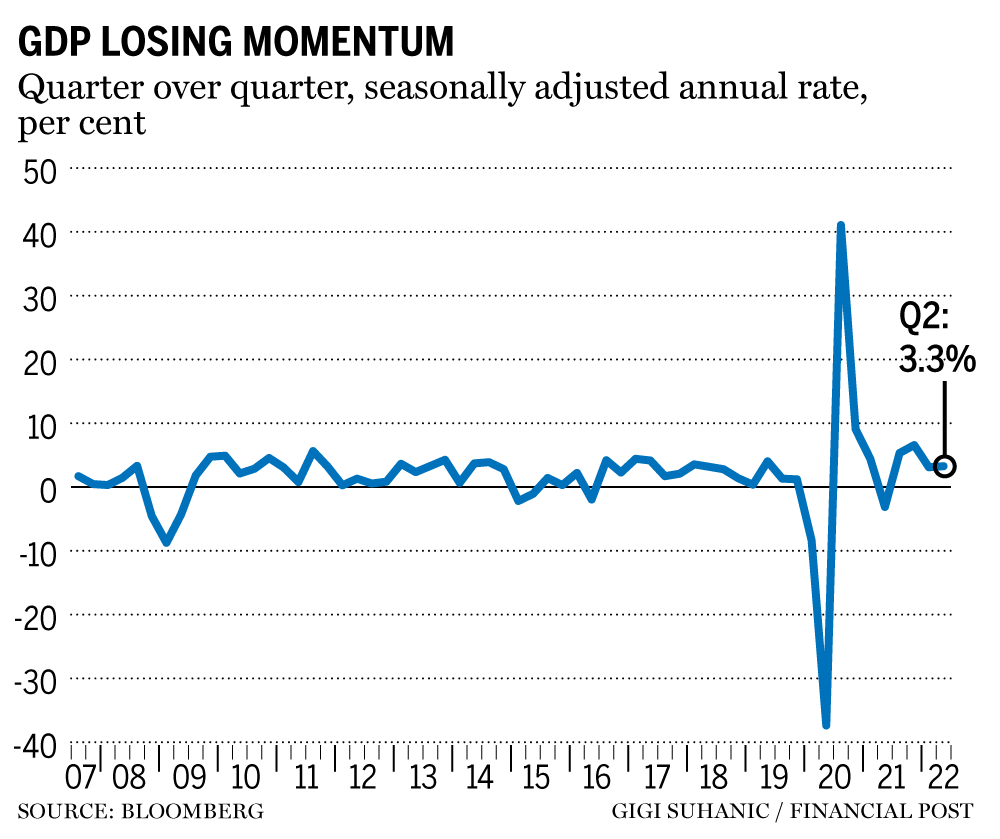 Growth in imports is partially to blame for the weaker-than-expected reading, Stephen Brown, chief economist at Capital Economics said.
Article content
"The miss was partly because net trade weighed more heavily on GDP than we assumed, as imports surged by 31 per cent annualized while exports rose by 11 per cent," he said.
Still, the data show the second quarter grew faster than the central bank's "potential" growth rate of two per cent, the threshold at which the economy can expand without fuelling inflation.
What drove the increase?
As in the first quarter, business investment and household spending, especially on services and semi-durable goods such as clothing, contributed to Canada's fourth consecutive quarter of GDP growth.
Rising incomes and a more open economy led more people to travel and dine out, activities that were at times banned during the height of COVID-19 lockdowns. The statistics agency said elevated travel demand also contributed to 4.5-per-cent growth in business investment in machinery and equipment for the quarter.
Article content
What does it mean for inflation?
GDP expanded slower than forecasters' expected, but the economy is still too heated for the Bank of Canada's liking.
Governor Tiff Macklem kicked off an aggressive rate-tightening cycle in March to stamp out inflation, which is at levels not seen in decades. Last month, the Governing Council issued a rare, 100-basis-point increase after the consumer price index reached 8.1 per cent in June. CPI receded to 7.6 per cent in July.
Canadian job vacancies climb to new record, signalling more inflation pressure

Child care is getting cheaper, but it's not the inflation buster Ottawa says it is

Rising costs threaten small business recovery, CFIB says
Brace for more rate hikes. The central bank is "determined" to bring an end to high inflation and rebalance supply and demand, Macklem wrote in a column for the National Post. "We know our job is not done yet — it won't be done until inflation gets back to the two per cent target."
Economists expect the Bank of Canada to increase the interest rate by 75 basis points in September.
• Email: [email protected] | Twitter: biancabharti




financialpost.com