The Directorate of National Taxes and Customs of Colombia (DIAN) has begun "actions aimed at supervising taxpayers" who operate with cryptocurrencies such as bitcoin (BTC). The measure targets those people who have not declared their income from this activity in the Income Tax and complementary.
The objective of the Colombian government is to fight against tax evasion, money laundering and the financing of terrorism. At Press release Through which it expressed its position, the DIAN explained that operations with crypto assets, which are "a reality worldwide due to the rise of cryptocurrencies," will be closely followed by the agency.
For it, will be assisted by the Organization for Economic Co-operation and Development (OECD), an international organization dedicated to promoting policies for the well-being of people, according to its website. Through an agreement between the parties, Colombia can exchange fiscal and tax information with Finland.
These new measures of the DIAN related to bitcoin come to complement others already taken in the past. Among them, the Colombian tax office claims to have issued "official documents related to tax management and the correct declaration of crypto assets."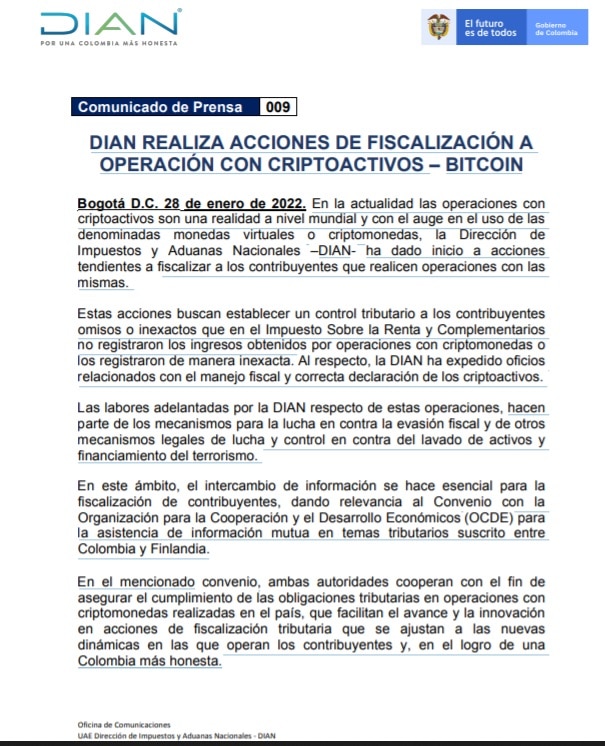 Colombia is one of the countries most interested in bitcoin
The interest of the Colombian State in regulating cryptocurrencies it has to do with the high adoption of bitcoin and its peers in that territory. As CriptoNoticias reported, it is the third country in the world with the highest growth in the adoption of the cryptoactive.
According to a survey conducted by an Australian consultancy, 14.5% of internet users in Colombia claimed to have some kind of cryptocurrency in December 2021. In the previous consultation, in October of that same year, the figure reached 7.7%. Norway and Russia led the ranking, while other Latin Americans that appeared were Mexico (15.2% of users), Argentina (15.2%) and Venezuela (14.6%).


www.criptonoticias.com