A new study charges that renewable energy credits are leading businesses to overestimate their carbon emissions cuts.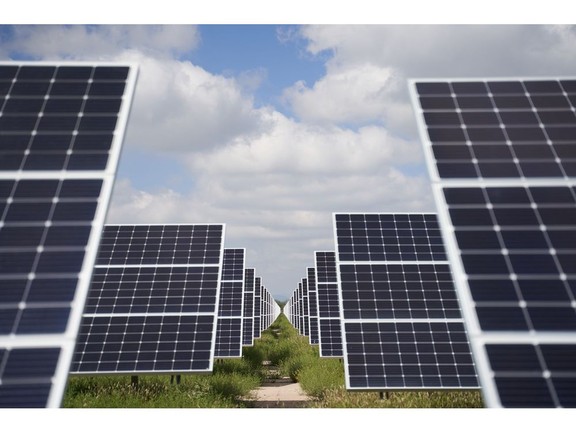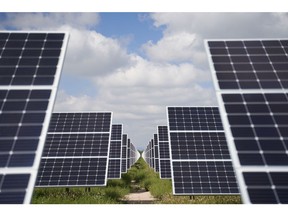 Article content
(Bloomberg) — To neutralize their carbon dioxide emissions, many companies buy certificates from clean power providers, called renewable energy credits, allowing them to claim they're using carbon-free power. A new analysis finds that when those credits — which have come under heavy scrutiny — are removed from companies' carbon accounting, many businesses are no longer on track for meeting climate goals pegged to the Paris Agreement's aims of limiting global warming to 1.5° or 2° Celsius.
Article content
Renewable energy credits (RECs) for years have been an attractive way for companies to shrink their carbon footprints without necessarily contracting directly for clean power or installing solar farms and wind turbines. Instead, they buy RECs and subtract an equivalent amount of fossil-fuel- powered electricity from their climate ledgers. The analysis suggests that because RECs are a lower-cost alternative to making emissions disappear, the ability to use them encourages companies to set more ambitious targets.
The authors of the new study, published in the journal Nature Climate Change, only consider corporate emissions related to the purchase of electricity — also known as Scope 2 emissions. When including RECs in their carbon accounting, the 115 companies studied reduced their Scope 2 pollution by 31% from 2015 to 2019. Without the RECs, their emissions fell by only 10%.
Article content
"The widespread use of RECs raises doubt on companies' apparent historic Paris-aligned emissions reductions, as it allows companies to report emission reductions that are not real," they write. And going forward, "nearly half of future scope 2 emission reductions reported by companies with SBTs [science-based targets] would not be real."
Without a change to accounting methods, 42% of pledged Scope 2 emission cuts will not reflect an actual reduction in atmospheric pollution, the authors write.
The Science Based Targets initiative is the gold standard for corporate climate goal-setting and can be helpful in identifying greenwashing. A partnership among several leading nonprofits, the project has helped 1,442 companies set up goals that are in line with scientists' recommendations, and 1,111 companies have committed to reach net-zero emissions. It's SBTI's expertise and framework that companies rely on to craft their climate goals, and the initiative that's admonished in the study's title, "Renewable energy certificates threaten the integrity of corporate science-based targets." The SBTi did not respond to requests for comment.
Article content
(Disclaimer: Bloomberg LP, the parent company of Bloomberg News, has an SBTi target that includes sourcing 100% of its power from renewables by 2025. SBTi receives funding from Bloomberg Philanthropies, the philanthropic organization of Michael Bloomberg, the founder and majority owner of Bloomberg LP.)
The skewed Scope 2 emissions data, according to the study, mean that some companies that believed they were on track to meet the lower Paris Agreement goal of 1.5°C of warming are "only barely" compliant with a 2° trajectory. Companies purportedly on track for a 2°C world may not be aligned with Paris targets at all.
Of 77 companies that buy RECs and appear to be on track for goals consistent with 1.5°C, just 38 may actually be on target.
Article content
North American and European companies made up 88% of the total companies reviewed. Without RECs, the North American companies together appear to be on a trajectory consistent with a 2°C world, and European companies overall are out of step with the Paris Agreement.
"If you take out the chunk of the reported emissions reductions based on these certificates that are likely not to actually have an impact on emissions — well, what is the actual emission reduction that was left? That was the study in a nutshell," said Anders Bjørn, lead author and a postdoctoral fellow at Concordia University in Montreal.
Some big companies have recently said that they will shift from buying RECs to clean electricity that is confidently linked to lower emissions, such as long-term clean power purchase agreements or renewable generators on site.
Article content
JPMorgan Chase & Co. has declared its operations to be carbon neutral, relying on 100% renewable energy. The finance giant says it wants 70% of its renewables to come from long-term power agreements or on-site renewables by 2025. That would be up from about 20% in 2021.
This study arrives as corporations are rethinking ways to cut their Scope 2 emissions. In an interview in early June, Brian DiMarino, head of operational sustainability at JPMorgan Chase, said that while his bank has relied heavily on RECs in the past, it is looking to do more deals that lead to more renewable projects being built. "We've been learning a lot along the way," he said.
Cisco Systems Inc. set a goal in 2017 (later approved by SBTi) to reduce its Scope 1 emissions, or those from its own facilities, and Scope 2 emissions 60% below a 2007 baseline by 2022. One of its biggest impacts has come from buying RECs: nearly 1 million of them in the US in 2020.
Article content
Mary de Wysocki, Cisco's vice president of corporate social responsibility and sustainability, said in an interview about renewable energy earlier this month that she expects long-term power contracts and on-site renewables to win out as time goes by. "Can we invest in long-term contracts that are really adding renewable energy capability?" she said. "That's our preference. You're going to see us continuing to move in that direction."
The Nature Climate Change paper is quite important, said Michael Gillenwater, executive director of the Greenhouse Gas Management Institute, a nonprofit that works with carbon-accounting professionals. He has written critically with one of the new study's co-authors about the practice of using RECs to substitute for emission cuts.
Article content
"Some actions are completely without impact, but they're all treated the same in carbon accounting," he said. "The rules let you say you're not emitting, whether or not it's true."
The new paper's authors make recommendations to fix the problem. The SBTi could change its guidance to exclude accounting that relies on RECs. That might have the downside, though, of leaving renewable valuable power-purchase contracts unacknowledged. Or the SBTi could amend its accounting to demand that companies claiming RECs demonstrate that they will result in the emissions cuts, an approach favored by a UK Green Buildings Council method. The organization that writes and maintains carbon-accounting guidance, the Greenhouse Gas Protocol, has not built this demand into its Scope 2 framework, the authors write.


financialpost.com