Key facts:
It is no longer the NFTs, now it is the SHIB trade volume that raises the fees.

More than 9% of Ethereum transactions are related to the Shiba Inu token.
Ethereum commissions have risen almost 40% so far in November. This as activity grows on the network, now that the cryptocurrency registered a new all-time high in price, exceeding USD 4,800. However, the attention that Shiba Inu (SHIB) is attracting would be influencing the prices of transaction fees.
During the last week more than 650,000 Ethereum addresses have been activated daily and during that time network commissions ranged from $ 26 to $ 50.
The Etherscan statistics indicate that at the time of this writing the commissions exceed USD 20 per transaction. However, transferring Ethereum-based tokens and exchanging them using a smart contract is substantially more expensive and right now, doing so requires a commission payment in excess of $ 60.
Even with these high fees small transfers under $ 100 are starting to decline that many users no longer perform, as noted by Coin Metrics in its most recent report on the state of the network.
Three months ago, the boom in projects based on non-fungible tokens (NFTs) such as CryptoPunks and Play to Earn games such as Axie Infinity, were largely responsible for the momentum that Ethereum fees had taken. At that time, the trading volume of the collectible tokens had risen more than 300%, as reported by CryptoNews.
However, things have changed lately, which is why analysts at Coin Metrics they dismiss that NFT's trading volume is driving up the value of commissions. Above all, because in the last week there was an average of 67,000 daily transfers of these collectible tokens, a figure that is well below the peak of 200,000 per day that was recorded at the beginning of September.
Fees remain untamed on Ethereum as Shiba Inu jumps
The number of commercial transactions is the most likely to influence the price of transaction fees and therefore analysts suspect that part of the recent increase in network activity and fees is related to "the latest coin craze. of memes surrounding Shiba Inu, "the report added.


On October 28, more than 100,000 Ethereum addresses interacted with SHIB, while 133,000 transactions involved the token that day. That is, more than 9% of the 1.5 million transactions registered that day on the network, the analysts detail.
High network usage has ultimately been a double-edged sword for Ethereum – it's a sure sign that there is high demand for Ethereum block space from users, but scalability limits on the Ethereum layer 1 quickly begin to slow down.

Coin Metrics report on network status.
What happened to Ethereum's commission burn?
The Ethereum Enhancement Proposal (EIP) 1559 was activated at the beginning of last August with the expectation that the commissions paid for each transfer on the network will be reduced, but so far it has not reached its goal.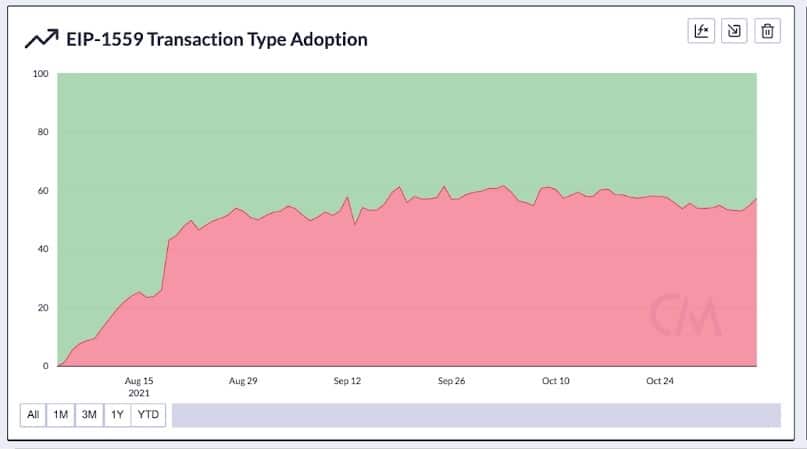 Surely it is because not everyone is taking advantage of it as CriptoNoticias reported recently. This is due to the fact that the number of transactions that implement EIP 1559 rates is still 60%. It means that around 40% of the transfers that are made in Ethereum are paying higher commissions than required.


www.criptonoticias.com