Discount upstart faces steep challenge in airspace dominated by two giants
Article content
Flair Airlines Ltd. is clearly relishing this moment. The upstart carrier prevailed in a recent ruling by Canada's aviation regulator that deemed the company sufficiently Canadian to continue flying domestically. Flair responded with a flash seat sale, discounting fares by 50 per cent, and let loose a blast of triumphant tweets: "We're here… still," the company cheekily wrote. "Blue skies ahead."
Article content
It wasn't obvious a few months ago that Flair would still be flying this summer.
The discount carrier's future looked anything but assured in April when it became clear that an investigation by the Canadian Transportation Agency (CTA) had raised serious questions about the airline's relationship with its American backer, private-equity firm 777 Partners Ltd. The CTA first suggested in March that Flair could be in violation of Canadian foreign ownership rules, and, as a result, faced the potential loss of its operating licence.
In the intervening weeks, Flair scrambled to overhaul its shareholder agreement, stripping 777 of unique veto rights and pledging to boost the number of Canadian directors on its board. The Edmonton-based airline also amended a loan agreement with 777 in a bid to decrease the American investor's ability to exert control over Flair.
Article content
"Though we never doubted it, it's still amazing for us to stand here today and say that Flair is Canadian," chief executive Stephen Jones told reporters at a press conference staged at an Edmonton airport hangar. "The question has been answered. It's done."
As a result, the upstart carrier is set to continue its aggressive expansion in Canada's duopolistic market, using the ultra-low-cost carrier model perfected by the likes of Ryanair Holdings PLC and Wizz Air Hungary Ltd. in Europe and Spirit Airlines Inc. in the United States. The company is emerging from the pandemic with 14 aircraft, plans to add five more to its fleet by July, and have 30 by mid-2023.
But to understand how close Flair came to being grounded by the CTA, it's worth looking at the risky partnership it struck with its American backers when Canadian capital to support the scrappy airline failed to materialize. The partnership rescued the company from the brink of financial ruin, but put it squarely in the crosshairs of the Canadian regulator.
Article content
'They made Flair beg for every penny'
There used to be a wall at WestJet Airlines Ltd.'s corporate headquarters in Calgary that displayed the names of airlines that had failed or gone bankrupt in Canada over the years, a stark reminder that the airline business is tough for an upstart carrier, as WestJet once was, and a reminder to its employees never to take success for granted.
"It's just a market where it's hard to make money," said Karl Moore, an associate professor at the Desautels Faculty of Management at McGill University in Montreal. "Particularly against strong competitors like Air Canada or WestJet that can, to some degree, sit on you a bit by running multiple routes and doing things like that."
Industry experts point to the significant stumbling blocks for new carriers such as Canada's vast geography and a regulatory environment that has protected Canadian control of the domestic sector while blocking the kind of competition that could drive down fares.
Article content
In recent years, Air Canada and WestJet have controlled roughly 85 per cent of domestic seat capacity. The lack of competition has meant fares to some U.S., Caribbean and European destinations are sometimes cheaper than flights within Canada.
Into this duopolistic environment emerged Flair Airlines in 2017 with big ambitions to take on the major carriers.
The company launched in 2005 in Kelowna, B.C., as an operator of charter and cargo flights, but armed with a modest investment from its original Canadian backers, the carrier made a huge bet it could expand and capture market share with cheap fares and no-frills service to airports in secondary markets.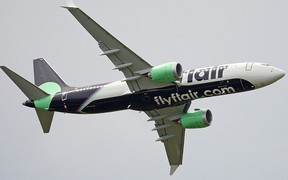 But by 2018, Flair was in dire financial straits and at risk of joining the scrapheap of defunct Canadian commercial airlines if a financial lifeline couldn't be secured. Flair reached out to 777, and the Miami-based firm came on as an investor, eventually taking a 25-per-cent stake in the airline — the maximum allowed for any single non-Canadian entity.
Article content
Emails viewed by the Financial Post show just how dire the situation was in the spring and summer of 2018 as the Miami-based investment fund was coming to grips with the full extent of the airline's problems.
The airline was losing money every month and underperforming on key metrics.
Senior members of 777's investment team wrote to former Flair chief executive Jim Scott and former chief financial officer Jim Young in July 2018, questioning how the company was managing while sustaining monthly financial losses of between $2 million and $4.8 million: "How has Flair been funding this loss since last time 777 wired funds to Flair on June 1st?" one 777 executive asked in an email.
The emails suggest 777 helped keep Flair solvent during that period and provided performance targets and strategy. At least one 777 employee also appeared to negotiate on behalf of the airline with airports and other companies.
Article content
In one email exchange about finding ways to make Flair profitable, a 777 employee said he planned to meet with Edmonton International Airport vice-president Myron Keehn to discuss fuel vendors. The same email also indicated the employee intended to join in discussions between Flair and partner airline Bradley Air Services Ltd. (operating as Canadian North), from which the discount carrier leased aircraft.
"We must not forget that we owe a huge debt for the support of 777 in taking on Flair and being our backer. Everyone in 777 is invested in making Flair a success," Timothy O'Neil-Dunne, a former 777 principal who also served as chief commercial officer of Flair at the same time, said in a subsequent August 2018 email to staff.
Article content
"That is not about control — it is about a great amount of resources that they have available and we can use … Remember, they are as much of our team as anyone."
One former senior employee at Flair, who did not want to be identified, said the airline frequently struggled to pay its bills and depended on cash from 777 to stay afloat.
"They made Flair beg for every penny that they got, but almost every month they had to shell out money to Flair," the employee said. "Every single month just to make ends meet."
Flair declined to comment on 777's prior involvement in the company, suggesting only that the matter is now closed.
"Flair Airlines is firmly focused on a future where we will bring low fares to Canadians coast to coast," Jones said in a statement. "I encourage those who are new to Flair to visit our website to see for themselves."
Article content
Big in soccer, not airlines
Flair has also declined to publicly disclose just how much money the airline currently owes to 777, though previous reports suggest it sat at $129 million in late 2020, according to the Globe and Mail. In April, it reported it had succeeded in refinancing around $80 million of its debt from 777.
In its recent decision, the CTA said that Flair is now cash self-sufficient, but continues to be financially dependent on 777 for a number of aircraft leases and for about 70 per cent of its debt financing at a high rate of interest.
The American private-equity firm has a large portfolio of investments, including aviation software and startup airline Bonza Aviation Pty Ltd. in Australia, but 777 is not chiefly known for its work with airlines.
Article content
Instead, 777 has become known for a high-profile string of investments in professional sports teams, including storied soccer teams such as Sevilla Fútbol Club in Spain and Genoa Cricket and Football Club in Italy. It also recently took a controlling stake in Club de Regatas Vasco da Gama, a second-tier team in Brazil.
But 777 has its origins in a business called SuttonPark Capital LLC, a wholesale purchaser of structured settlements and issuer of asset-backed securities. Similar to companies such as J.G. Wentworth Co., SuttonPark and its subsidiaries offer lump sum cash to people to buy future payments from annuities, legal settlements — typically the result of a personal injury or medical malpractice — or lottery payouts.
Article content
SuttonPark was also named in a 2020 U.S. lawsuit alleging the company used unlawful and predatory practices to get a vulnerable young woman to sell her annuity from an insurance settlement. The lawsuit, which is still in progress, alleges the company had violated the Racketeer Influenced and Corrupt Organizations (RICO) Act in the United States by using kidnapping and drugs to get the brain-damaged woman to sell a $1-million annuity for $274,000. None of the allegations have been proven in court.
SuttonPark is still owned by 777, which did not respond to requests for comment about the lawsuit. But it did respond with a statement about its involvement with Flair.
"777 Partners has been an investor of Flair Airlines for years, contributing to its transformation and growth as Canada's leading ultra-low-cost carrier," the company said in an email.
Article content
"777 Partners continues to believe that the presence of a dynamic and competitive ultra-low-cost carrier is absolutely essential to the Canadian aviation sector. Flair's mission of providing affordable air travel that connects travellers to the people and experiences they love continues to bring much needed change to the Canadian aviation market."
Flair distances itself
To hold onto its Canadian licence, and to address the CTA's concerns about who is controlling the company, Flair has distanced itself from its U.S. backers.
The airline reconstituted its board of directors to ensure Canadians would be in control going forward and stripped 777 of some of its unique shareholder rights, including the right to veto the sale, purchase or lease of aircraft. The Canadian regulator had previously suggested that Flair's dependence on 777 for the provision of aircraft was a strong indicator of "control in fact."
Article content
Flair is still in the process of seating seven new Canadian directors, and will have a total of nine directors including two from 777. Earlier this year, the airline's board had three directors from 777, including the Miami investment firm's founders, Steve Pasko and Josh Wander, and 777 principal Juan Arciniegas, alongside just two Canadian directors: former Flair chief operations officer Bill Hardy and Toronto lawyer Muneeza Sheikh. Under Canadian law, at least 51 per cent of a company's voting interests must be owned and controlled by Canadians.
Jones told reporters earlier this month that Flair and 777 had made "significant concessions" to dispel doubts about the airline's Canadian ownership. The company is also forecasting a sunnier financial outlook, according to the CTA decision, with plans to expand its fleet and offer new flights from Lethbridge, Alta., Hamilton and London, Ont., to destinations including Puerto Vallarta and Tucson, Ariz., later this year.
Article content
There are clear signs that the travel industry is picking up again after more than two years of COVID-19 disruptions. There has been an upswing in demand for air travel and new entrants in the sector such as Calgary-based Lynx Air, which launched this spring. But airlines say they're also contending with high fuel prices and fears that a recession on the horizon could curb appetite for travel.
Flair Airlines can keep flying in Canada, regulator rules

Flair Airlines' fate hangs in the balance as regulator set to rule on licence

Flair Airlines' future in Canada remains up in the air until June 1
The new players, including Flair, will face tough odds, said Fred Lazar, a professor at York University's Schulich School of Business.
Article content
"I'm surprised they survived this long. I think the only thing that enabled them to survive this long is in the past few years, given the liquidity in financial markets worldwide, they were able to tap into some investors that were willing to put money into their company," he said.
"Can any of these startups find something exclusive? Find some markets where they're going to face limited competition? Highly unlikely, but that's what they have to search for."
Still, there may be a path for an ultra-low-cost carrier, according to Moore at Desautels, if it can fill a niche in the Canadian marketplace with routes linking underserved second-tier airports in places such as Abbotsford, B.C., and Hamilton, Ont.
"I think there's room for an ultra-low-cost carrier, there's demand there," he said. "There's something that's missing in the marketplace. I think Canadians will respond well."
The former Flair employee who spoke to the Financial Post on the condition of anonymity said most employees believe strongly in the airline's original mission despite the volatility that has characterized the company's dealings.
"At its core, we believed that there was a market for and also a benefit to introducing those low fares," the employee said. "It was tough to compete against WestJet and Air Canada, but we did it and we soldiered on. Was it pretty the way we did it though? No, not at all."
• Email: [email protected] | Twitter: mpotkins




financialpost.com