The year 2021 was marked by the listing of cryptocurrency ETFs in several countries, the highlight being Brazil and the USA. Another good surprise is that four Bitcoin and Ethereum ETFs are among the 5 with the best performance this year, listed on the Brazilian stock exchange B3.
Expected since 2013, speculation of the approval of a Bitcoin ETF in the US has made its price soar. Despite this, as warned by the CEO of Pantera Capital, the price of BTC fell again after approval.
However, it is worth remembering that the American ETFs are for futures, that is, there is really no BTC purchase. The next step is to convince the government to pass a cash ETF, which could push Bitcoin to the targeted $100,000.
ETFs de Bitcoin e Ethereum
These cryptocurrency ETFs, acronym for index funds, allow institutions to have exposures to these assets. One reason for this is that they are traded on traditional exchanges.
In the US, the first order for an ETF was placed in 2013 by the Winklevoss twins, owners of the Gemini exchange. Despite this, it was only in 2021 that the SEC approved the first Bitcoin ETF, and continued to approve others.
Meanwhile, Brazil already had Bitcoin ETFs and also the second largest cryptocurrency in the market, Ethereum. The good news is that among the five most profitable ETFs this year on the B3, four of them are cryptocurrencies.
In first place is QBTC11, BTC ETF, with gains of 81.7% since its launch, followed by QETH11, ETH ETF, BITH11, another BTC ETF, IVVB11 which is a replica of the S&P 500 and by ETHE11, another ETF ETF.
Good year for cryptocurrencies
Despite being composed of the same assets, as in the case of QBTC11 and BITH11 or QETH11 and ETHE11, the difference in earnings above is related to their debut date on the stock exchange.
Earnings for those already exposed to these two cryptocurrencies since January 1st are even greater. Bitcoin (BTC) increased by 80.9% in this period, while Ethereum rose by 478.5%.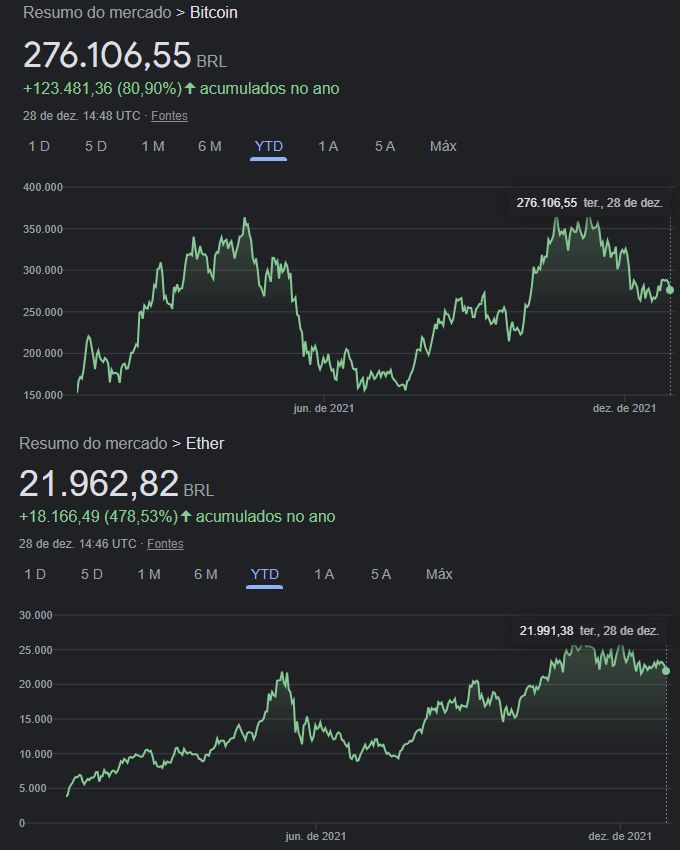 Without a doubt, ETFs helped the two biggest cryptocurrencies break price records this year. After all, this is a positive sign from regulators regarding the cryptomarket and also indicates that they have no plans to ban such currencies.
Finally, Americans are now waiting for a spot Bitcoin ETF to pass, which could drive the price of BTC even higher. According to Rudá Pellini, president of Arthur Mining, this approval could be one of the high points of the market in 2022.
"I imagine that with a bitcoin spot ETF approval still in the first half, we will have a big step forward with CBDCs, probably with major countries launching their beta versions. This can drive the adoption of DeFi protocols by financial institutions, contributing to the development of technology and new solutions".
Despite that, for now the SEC is not very willing to do that.




livecoins.com.br