Bidding wars are now common in a city where rents have skyrocketed 20% in one year
Article content
Shivin Kaul and his three friends have been looking for a house to rent in Toronto since July. The group of young professionals has found several that fit their needs, the only problem is they keep getting outbid — three times in a single week, at one point.
Article content
"(We're) getting tired of viewing about 10 houses, liking a couple of them and then losing out on the ones you like to someone who outbid you for $300 or $400," Kaul said, explaining that he and his friends have started to overbid listings in an attempt to secure a place they can move into by September.
Last week, Kaul's group told a landlord they'd be willing to pay $4,000 for a three-bedroom house that's listed for $3,600 plus utilities per month after being asked for their "best offer." The rental ended up going to someone who offered $100 more.
Overbidding for rent is not new but it has become more common with the current hot market, in which rents have surged by more than 20 per cent in some cases since this time last year.
Article content
Conrad Rygier, a Toronto real estate broker with Right At Home Realty, said in the past month he's seen overbidding for rental properties "at least 90 per cent of the time."
Landlords are being super, super picky on who they accept because it's a landlord's market

Conrad Rygier, a Toronto real estate broker
Market watchers, such as Rygier, say that with interest rates rising, many Canadians who were planning to buy homes are now either thinking twice due to market uncertainty or realize they can no longer afford to buy and are flooding back to the rental market. This Surge in demand has caused "absolute havoc" in the rental market, Rygier said.
"What I've seen in 14 years of doing this, these last couple of months have been the worst, craziest (time) to represent a renter," said the broker, who works with both renters and landlords. "It's been great for landlords, horrible for renters."
Article content
Rygier called it a "frustrating period" for renters, who are being forced to take risks by submitting offers based on photos — without even seeing the property in person — because so many get rented on the same day they are listed. Often, they are competing against a number of different offers for the same property.
"Landlords are being super, super picky on who they accept because it's a landlord's market," he said, adding that he's represented "excellent tenants" who were rejected because the landlord was looking for "something else."

Often, that means tenants with six-figure incomes and impeccable credit scores, leaving those with less-than-perfect credit and even high five-figures incomes — not to mention those with pets — in the lurch.
Article content
Picky landlords aren't the only hurdle facing tenants: they also have to pay the rent.
The prices seem to be going up every month

Karen Yolevski, COO of Royal LePage Canada
The average rents for one- and two-bedroom apartments in Toronto are now both at record levels, while average condo rents are up by double digits annually for all bedroom types, according to recent rental market data released by the Toronto Regional Real Estate Board ( TRREB). Meanwhile, rental listings on the board's MLS system have dropped by almost 30 per cent year-over-year, giving renters less choice.
Those looking to rent a bachelor or one-bedroom apartment in the Greater Toronto Area have to pay at least 20 per cent more than they would have a year ago. The TRREB report found that rent for bachelor apartments now averages $1,829, up from $1,462 a year ago, while one-bedroom apartments averaged $2,269, up from $1,887. This rate of increase surpassed the previous peak in the third quarter of 2019.
Article content
Agents with Royal LePage Real Estate Services, which is owned by Bridgemarq Real Estate Services Inc., have also been watching the rental market tighten, chief operating officer Karen Yolevski said in an interview.
"The prices seem to be going up every month," Yolevski said.
She added that the company's list calculations show an over $400-per-month increase in Toronto rental prices on all types of properties this year — not far off from the real estate board's numbers in June.
Yolevski said there are more renters than properties on the market. She attributed the increase in demand to the number of people returning to major urban centres as they go back to working in the office, as well as immigration numbers rebounding after tight COVID-19 restrictions .
Article content
While demand is surging, there seems to be little hope that supply will fill the void.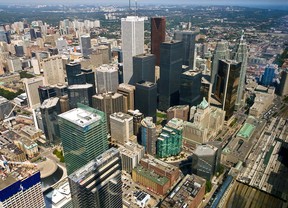 A recent report from CIBC Capital Markets, citing data from real estate market research firm Urbanation Inc., found that project delays and cancellations amid the rapid increase in interest rates, surging construction costs and a lack of available labour were actually reducing the pipeline of potential units.
Urbanation found that out of about 35,000 new condo units that were supposed to launch in the Greater Toronto Area this year, at least 10,000 units will instead be put on the shelf.
"So, when the fog clears, the units that were supposed to be built now will not be available — making a tight rental market even
tighter," CIBC deputy chief economist Benjamin Tal wrote in the report. "And that's the opposite direction of where we should be heading."
Article content
In an interview, Tal said investors were also starting to shun the market because of higher interest rates and the potential for negative cash flows. Declining ranks of investors can limit or even eliminate the supply of new rental units, especially in markets such as Vancouver and Toronto, where about half of new condo sales go to investors who then rent out those units, he said.
"I think rent inflation will continue to be a major factor," Tal said.
Trouble in 'mortgage land' as higher borrowing rates weigh and refinancings dry up

Prices are falling but rents are rising in Canada's paradoxical housing market

Toronto rents soar 20% to record amid high demand, fewer listings
With rent controls in provinces such as Ontario tied to inflation rates, Tal said the central bank's efforts to control inflation will be "extremely important" to keeping the rental market from becoming less affordable.
For many renters, like Kaul, purchasing a house instead of renting would be preferable if it wasn't so out of reach. For now, they'll have to compete in the tight rental market until they're able to save enough to buy .
"I don't see myself buying a house for the next seven or eight years considering how the prices are going up," Kaul said. "Just trying to rent a house is the goal for all of us."
• Email: [email protected] | Twitter: denisepglnwn




financialpost.com