Key facts:
The "travel rule" requires all cryptocurrency platforms to identify their users.

Several self-custody wallet providers have retracted from implementing the "travel rule".
These days, many self-custodial bitcoin (BTC) and cryptocurrency wallets have caved in to community pressure to eradicate AOPP protocols for transaction tracking. In this context, the blockchain analysis company, Chainalysis, recounts the possible paths to be followed by crypto asset platforms, which are required to comply with the "travel rule".
The article was published on January 28 on the official blog of the Chainalysis firm, just one day after it was revealed that wallets such as Trezor and Blue Wallet implemented AOPP protocols. This implementation was short-lived, as they retracted and decided to remove this protocol from their software from the next updates.
Currently, Chainalysis has its own transaction tracking tool known as Chainalysis KYT that has been made available to the different exchanges and platforms that need to adhere to the regulation. Quite criticized, it must be said, because it calls into question the right to privacy of users.
In this sense, the firm has compiled enough information that allows them to know what the possible future of self-custody wallets that do not adhere to this regulation could be.
What is the "travel rule" and how does it affect bitcoin users
In mid-2021, the Financial Action Task Force (FATF) published a series of recommendations for cryptocurrency platforms. These indicate that you must apply what is known as KYC user verification (know your client by its acronym in English). The measures recommended by this transnational group reach such a point that they even indicate that they should be applied in decentralized exchanges (DEX).
As a result of this and other FATF "recommendations", the well-known "travel rule" was applied. For the European case, this regulation establishes that, every time a money transfer is made (this includes cryptocurrencies) greater than EUR 1,000, the issuer's data must "travel" along with the transfer. That is, information must be shared from one platform to another.
It should be clarified that the tracking and application of the "travel rule" is directed at exchanges and other cryptocurrency platforms which are called "virtual asset service provider" (VASP, for its acronym in English). However, in said law, the Achilles heel were the self-custody purses, since its use does not require KYC user verification.
Scenario #1: Track deposits and withdrawals to exchanges
To try to comply with the travel rule, as Chainalysis notes, the information will be collected by the exchange in question, which must require each user to undergo mandatory identity verification. Tracking protocols will attempt to identify the destination or origin of funds within each withdrawal or deposit from an exchange. This will allow identifying which addresses belong to each user.
Because the tracking policies will be linked to the monitoring of transactions, it is possible that, in an exchange of funds, a user receives cryptocurrencies from some illicit act, which can lead to the freezing or even seizure of their funds. This, as happened recently with some Binance user accounts from Colombia, due to an investigation by the Dutch authorities.
The "travel rule" has been repeatedly criticized. Coin Center, an organization that defends the rights of users of open cryptocurrency networks, commented that this tracking policy is an attack that violates the privacy of users, and that data collection by VASPs will "destroy users' privacy."
Scenario #2: Prohibit the use of self-custody wallets
With the VASP app seeing a hiccup by being pulled from several self-custody wallet providers in recent days, one possible path, envisioned by Chainalysis, is in prohibiting the use of this type of wallet for deposits and withdrawals on European exchanges.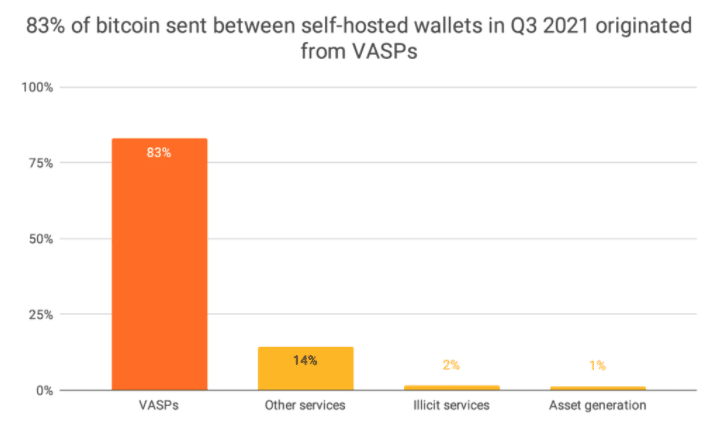 However, the figures seem to show that doing so will not be necessary, because, if the transaction tracking allegation is based on cryptocurrencies being used for illicit activities, less than 2% of bitcoins transferred from a VASP were used. for criminal acts, the Chainalysis article shows.
Another interesting fact about users who use self-custody wallets is that, for the most part, deposits are kept for long periods of time, this suggesting a long-term investment behavior on the use of bitcoin.
Likewise, the Chainalysis article also shows how 71% of the bitcoins that are withdrawn from a VASP were deposited again in another VASP, with only 18% being kept in self-custody.
Bitcoin is not anonymous, its use is
Despite the efforts of the FATF and the different regulatory entities to track the use of bitcoin, it is still elusive to this type of policy.
In the words of Andreas Antonopoulos, a famous promoter of Bitcoin technology, "Bitcoin is anonymous, as long as it does not interact with the fiat system". If a person wants to buy a coffee and uses their self-custody wallet to pay with bitcoin, and the local uses these BTC to pay their employees to their self-custody wallets, as long as there is no interaction with the fiat world, the bitcoins will remain anonymous. This is the example that Andreas gives in an interview for CriptoNoticias.
VASP's application, for now, has only been applied to exchanges and centralized platforms. The use and exchange of bitcoin through self-custodial wallets can be considered anonymous, as long as none of the bitcoins exchanged have interacted with the fiat system through any exchange that operates with VASP mechanisms.


www.criptonoticias.com