Michael Saylor, the founder and CEO of Microstrategy, the publicly traded company with the largest amount of bitcoins in the world, recounted his bad experience with his money in Argentina in an interview on Wednesday, January 26, with the American program UpOnly.
Microstrategy, which has been providing business intelligence software since 1989, has offices in the United States, Poland, and Argentina. That is why, Although Michael Saylor is American, he knows very well the economic difficulties that the South American country is going through.
The businessman He said to the interviewers on the show: "I literally remember when 1 peso was worth 1 dollar -from 1991 to 2002- and if you google blue dollar right now, you'll see that it's like 210 Argentine pesos (ARS) or something like that."
Next, they searched live for the price and found that it was 221 ARS, to which Michael Saylor, almost as if he were Argentine, reacted by saying: "Oh, what a pain. It was like 209 ARS a week ago and now 221 ARS". Seeing this, he showed that bitcoin became his solution to not lose purchasing power.
The businessman revealed that at the time of 1 to 1 he had around ARS 1 million in Argentina, which was equivalent to USD 1 million. At that time, he asked the finance people of his company to put the money in a US bank inside Argentina for a reason. He clarified: "I do not trust Argentine banks."
However, that decision did not allow him to cover himself from what has happened in the country, since government policies also affect international banks in Argentina. An example of this is the inability he has had to keep his money in dollars and the difficulty in getting it out of the country.
"The government converted all our dollars to pesos and the worst thing is that it was devalued from 10 to 1," he declared in the report, recalling the corralito of 2001. Basically he went from having USD 1 million to approximately ARS 100 thousand, he clarified disappointed commenting that he had to keep your money in the bank.
He explained that This type of scenario continues to be experienced in Argentina with other restrictions. He confessed: «I read the newspapers and think "oh, I'm going to lose all my money in Argentina again". There's like 40-30% inflation per year." "You can see that in the last 20 years the increase is brutal," he told the interviewers and showed that only from 2018 to 2022 the dollar went from being worth 20 ARS to 221 ARS.
Microstrategy transfers the money from its treasury to bitcoin
Michael Saylor recounted that he has faced difficulties on multiple occasions in withdrawing his company's profits from the country. Regarding this, he declared that he consulted his advisers: "Can we get my money out of Argentina?" To this they answered no and then asked them: "can we buy USD 2 million in gold and take it to the airport?" or "can we buy a yacht and sail to the Caribbean and sell it there?". To this, they said: "No, we would be arrested."
Comically, Michael Saylor mentioned that the finance people and the lawyers of his company made a kind of intervention for him to understand how things work in Argentina. "They were scared as if they were facing a powerful boss saying 'no, you can't do that,'" faced with their different imaginary alternatives on how to get the money out of the country, he said.
«I don't know if there is something illegal in the fact of buying a yacht in Argentina if you are a company. I mean: what is illegal about buying a boat? But I guess they were worried about a boating accident," he joked, remembering the talk with his advisers.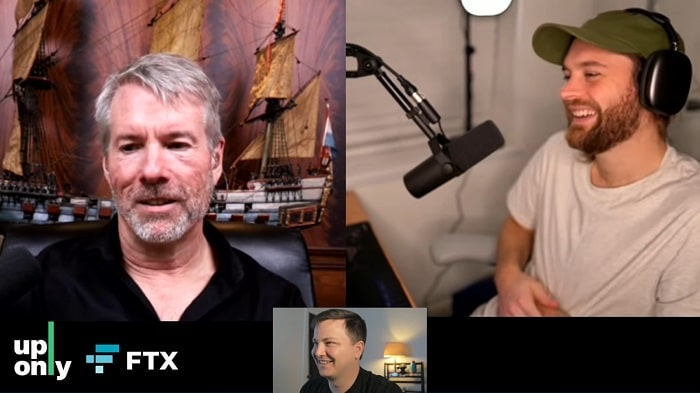 "Eventually I gave up and our solution was to buy some bonds," he said, noting that this move caused him to lose almost 20% of his money, but at least it allowed him to take his money out of the country little by little. "That's my experience with that currency," he said, referring to the Argentine peso.
"It's crazy," replied one of the American interviewers stunned by Argentine politics. The creator of MicroStrategy declared that this problem was "a superficial wound" anyway, because he had approximately 95% of his assets outside the country.
However, facing these difficulties motivated him to adopt the main cryptocurrency in the treasury of his company. Although he has been a bitcoin supporter since 2013, as he stressed that demonstrates a Tweet that he published in such a year, only in August 2020 did he decide to buy it for the first time.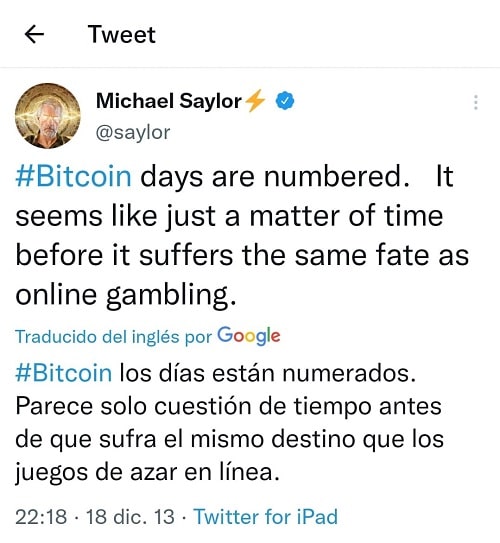 "Bitcoin is the gold of cryptocurrencies and we started this journey by deciding to buy $250 million worth of bitcoin," he said. As of today, MicroStrategy has 124,391 bitcoins, which is equivalent to USD 4.7 billion according to the current price revealed by the CriptoNoticias calculator. This figure makes it the company listed on the stock market with the most bitcoins in the world, as pointed out by CriptoNoticias in the top 5 of the companies with the most bitcoins.




www.criptonoticias.com