The American economy is dimming the prospects for a soft landing in Canada
Article content
US GDP has now contracted for two consecutive quarters suggesting the American economy is in or near recession and dimming the prospects for a soft landing in Canada.
Article content
US gross domestic product shrank 0.9 per cent year-over-year in the second quarter, following a 1.6 per cent decline in the first quarter, according to data released Thursday. Two straight quarters of decline are the rule of thumb for determining a recession, though an official ruling won't be made for several months.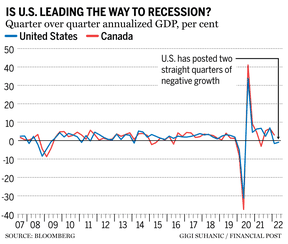 Sal Guatieri, senior economist at the Bank of Montreal, said that given how closely the economy here is tied to that of our southern neighbour, the odds are that Canada — which reports GDP for May on July 29 — will not escape whatever fate befalls the US
"If the US does officially contract, it would be very difficult for Canada to avoid a recession," said Guatieri. "We're not officially calling for a recession in either country, but it's basically a coin flip at this stage and both economies are very vulnerable."
Article content
It's basically a coin flip at this stage and both economies are very vulnerable

Sal Guatieri
Worse still, high inflation is eating away at consumer spending power at the same time higher interest rates are weighing on borrowing demand, which could grind even further on the economy. Guatieri noted that both economies have yet to see the full brunt of the aggressive rate -hiking path as monetary policy changes tend to take some time before working their way through the system.
"We do expect the Fed and Bank of Canada to raise rates further in the second half of this year before moving to the sidelines," Gautieri added, noting these rate hikes are weighing on mortgage and other loan demand. "So, there's still more economic pain to come."
While the latest GDP figures have the US economy meeting the definition of a technical recession, Guatieri and other economists argue that it is premature to declare an official recession, which usually entails a prolonged downturn. The BMO economist said other shoes need to drop, including negative data on employment and consumer spending.
Article content
There's still more economic pain to come

Sal Guatieri
Economists at Desjardins Group echoed this sentiment, saying it is too soon to say the US has reached recession territory.
"The American economy contracted for a second consecutive quarter, but don't call it a recession," wrote managing director and head of macro strategy Royce Mendes in a note to clients shortly after the data was released. "Without weakness in employment or consumer spending, it's difficult to justify calling this a recession. Still, it does seem like businesses are setting up for a tougher second half, which could begin to affect hiring plans and by extension consumer spending."
Mendes added that the Federal Reserve will remain focused on its fight against inflation with higher interest rates and the GDP figures would not push the policymakers off-course.
Article content
Canada has followed its biggest trading partner into virtually every recession save for the mild US downturn sparked by the 2001 dot-com crash.
Canadian job vacancies climb to fresh record, signalling inflation pressure

Chances of recession rise as US economy shrinks for second straight quarter

US Fed hikes rates by 75 basis points to double down on inflation
While Guatieri largely expects Canada to face the same economic fate as the US, he acknowledged that there are a few factors that could shield Canada from the worst of it.
"I think there's a couple things that might keep Canada onside – even then, I would stress the word 'might'," Guatieri said. "Commodity prices are still pretty elevated, despite pulling back from their highs, in particular energy prices… And the second factor is we have a relatively weak currency against the US dollar… which is a weight on the US economy. "
Article content
Guatieri also pointed to Canadians' excess household savings, which could act as a buffer to protect against more severe downturn scenarios. Despite GDP contractions, Guatieri believes there is still a slim chance central banks around the world can pull off the soft landing they have been targeting.
"We still think that countries can avoid an official downturn," Guatieri said. "If we do slip into a recession, it will be more mild as opposed to a great recession, simply because households do have those excess savings. As the economy weakens , we should see inflation falling over the next year or so, capping how high policy rates go."
• Email: [email protected] | Twitter: StephHughes95




financialpost.com