The adoption of non-fungible tokens (NFT) in Venezuela is growing. Right now, it is among the top 10 countries that most acquire this type of collectible digital art. The trend is upward and it is likely that, in the not too distant future, that South American country will be one of the nations with holders of these assets.
This was revealed by the report of the firm Finder.com, which highlights that, currently, 10.6% of 1,003 Venezuelans surveyed, has an NFT. It is a figure that is a little below the world average, which is set at 11.7%.
Based on the sample consulted by the firm in September of this year, it can be said that, according to Finder, more than 106 Venezuelans have at least one NFT. Currently, the Caribbean country ranks ninth on the list of countries with the highest adoption of NFT, according to Finder.com.
Finder, which surveyed more than 28,000 internet users, indicated that 13.5% (135) of the Caribbean have in mind to have an NFT in the future, which that would expand the adoption rate to 24.1%.
More women than men adopt NFT
A curious fact that Finder's research shows is that, contrary to the world estimate, in Venezuela more women have or plan to have an NFT. According to the firm, Venezuelan women are 11.4% more likely to acquire a collectible token. Men, in contrast, they represent 9.8%.
In fact, worldwide, men are typically 2.7 percentage points more likely to have a NFT than women, "which means that Venezuela contradicts the trend and women are approximately 1.6 percentage points more likely to own at least one NFT, "says Finder.
Another interesting fact that they throw in Finder is that people between 25 and 34 years old are the most likely to buy or own an NFT in Venezuela, with 13.4%. This, in addition to adults over 65, who are the second most vulnerable to NFT adoption. According to the firm, 13.3% of these have in mind to acquire a digital collectible.
"A conservative prognosis"
The entire trend reflected in the new Finder report represents, in the words of the agency's cryptocurrency editor, Keegan Francis, a "conservative forecast" for the adoption of NFT in Venezuela, the seventh country in the world with the largest presence of cryptocurrencies, according to Chainalysis. .
According to Francis, approximately a third of all Venezuelans know NFTsTherefore, they consider that adoption "grows with awareness."
Francis, who commented on the Finder.com study, said that NFT adoption is "much higher" in countries where workers have low average wages, as is the case in Venezuela, where the legal salary is equivalent to almost USD 2 per month, according to data official.
"In some of these markets, people are quitting their jobs because they can make money by trading NFT or by winning it at games. NFTs can be an excellent gateway to cryptocurrency ownership, especially since many NFT games do not require identification.

Finder.com cryptocurrency editor, Keegan Francis.
That reminds case reviewed by CriptoNoticias, of the Venezuelan Alfonso Morales, an accountant by profession, who through the NFTs was able to save his life, after having suffered from a chronic illness whose expenses it cost him a lot to cover.
The artist now recognizes that his life has improved, something that would not have been possible without entering this new world, which now opens new doors for him, once he has regained his good physical condition and he has much better income than as an accountant.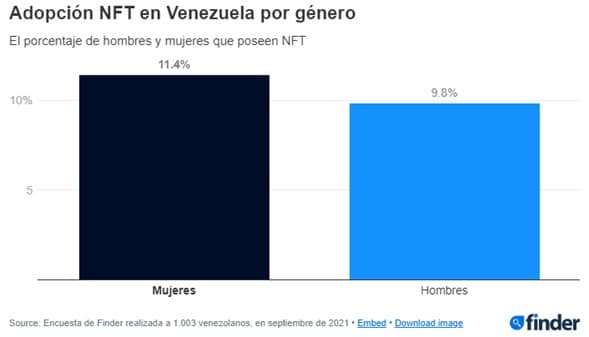 What are the countries with the highest adoption?
According to the Finder.com report, the Philippines is currently the country with the highest number of NFT owners, with 32%, versus about 20 nations compared.
In the list shown in the report, Thailand ranks second, with 27%; and Malaysia in third, with 24%. The United Arab Emirates follows the list with 23% and then Vietnam with 17%.
'At the other end of the spectrum, Japan has the smallest percentage of adults with NFT (2%), followed by the United Kingdom and the United States (3% each), Germany (4%), Australia (5%) and Canada (6%) ", they indicate.
But not everything is positive. Finder.com reveals that NFTs still have a 'long way to go»Because, although adoption is expected to grow, there is still a large number of people who are unaware of these assets.
For example, Japan has the largest percentage of people who do not know what an NFT is, with 90%. It is followed by Germany, with 83% and the United Kingdom, with 79%.
"There is a strong correlation between those who know what NFTs are and those who own them. This suggests that ownership will increase as people learn about NFTs, "says Finder.com.

Google Survey, the pollster
Knowing the number of people who are related to NFTs is not an easy task. For this reason, Finder.com relied on the Google Survey tool, through which surveyed 28,723 people in 20 countries.
In Venezuela, for example, sand interviewed 1,003 people, while the United Kingdom, 2,003 gave statements. The same happened in Colombia, where 1,500 people were surveyed.
"Due to the varied infrastructure of Google in each territory, not all surveys were nationally representative," says Finder.com, which, in response, used a sample of natural / convenience drop.
"For this, Google did not use stratified sampling, but applied weights to the survey results if the demographics of the respondents did not vary too much from the demographics," they comment.
And they specify, moreover, that the high percentage seen in some countries has its origin, probably, in the NFT-based games, like Axie Infinity or Plant vs. Undead, "where investors can pay Internet users to play on their behalf."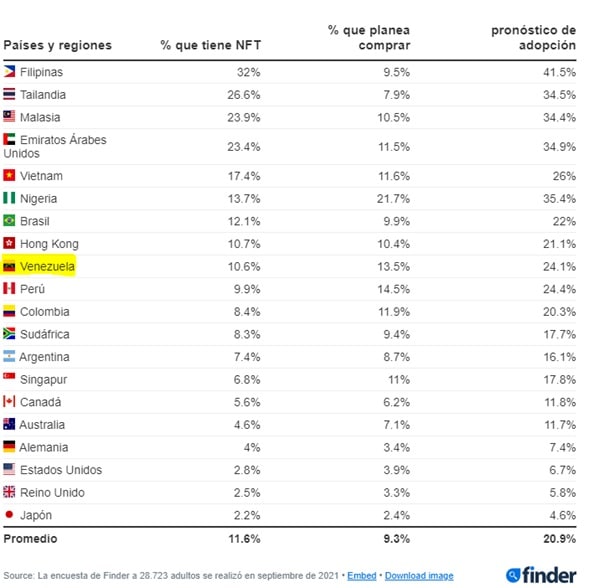 Venezuela, a milestone about to be set?
The need has stimulated the use of cryptocurrencies in Venezuela. The population of the Caribbean country, which is going through the worst economic and political crisis in its history, has seen a light in virtual assets.
The NFTs are a clear example. Many, faced with the situation, have taken advantage of the games based on the revolutionary technology to make some money and survive against the relentless inflation, which although it will close this year at lows not seen since 2016, it persists hitting the pockets of Venezuelans.
What Finder.com shows attests that, in essence, and if the crisis persists, a milestone will be marked in Venezuela, as one of the countries that suffered the most economically and that they saw in the new economy, based on NFTs and games. Play-to-Earn, a scape valve that allows them, at least, survive.


www.criptonoticias.com