Federal budget 2022: The Liberal government is marginal banking on subsidies to reduce the impact of inflation on people's lives. However, most of the measures are marginal
Article content
Poor Tiff Macklem! With Canadians hit by rising prices for food, shelter and many other products, the Governor of the Bank of Canada will have to hike interest rates even more this coming year after Thursday's federal budget. While federal Finance Minister Chrystia Freeland proudly boasts that the economy is roaring back, so is inflation that we have not seen so high in 40 years. This federal budget will just add more fossil fuel to the fire.
Article content
Why is that the case? In part it is due to more federal spending pushing up the economy's demand for goods and services. It is also due to new tax and regulatory measures that will further add to supply shortages. It does not take an economics degree to figure out that more demand and less supply means higher prices, which we can expect during these turbulent times.
At first blush, the federal deficit in 2021/22 has come down, which is good news. For the 2021/22 fiscal year, the deficit is predicted to be to $114 billion, far less than $327 billion in the previous year. In the coming 2022/3 fiscal year, the deficit is expected to decline to $53 billion. A smaller deficit indicates that the federal government is pressing down less heavily on the accelerator but continuing to do so even though inflation has hit six per cent and the economy has surpassed pre-COVID GDP.
Article content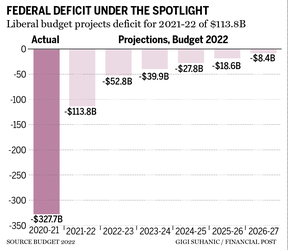 Federal spending has ballooned compared with pre-COVID times. In this fiscal year, it topped out at $488 billion, almost a third higher than federal spending before the pandemic hit. By next year, the budget predicts spending will drop to $452 billion as most COVID relief spending is no longer with us. However, even next year, this level of federal spending remains $90 billion or 25 per cent more than pre-COVID days.
The federal government is introducing a host of new spending programs with five-year costs including dental care ($5.3 billion), defence commitments ($9.4 billion), climate change subsidies for electric vehicles and tax credits for clean technology ($12.5 billion), housing ( $10 billion), reconciliation ($10.5 billion) and various corporate welfare programs ($5.5 billion). These new programs are on top of programs announced in 2021 of which their full cost will be realized in the next few years, such as childcare subsidies. Nor does it include spending growth of existing programs such as provincial transfers to the provinces, businesses and individuals.
Article content
The government is undertaking a strategic policy review with the aim of cutting $6 billion in spending but most of it is loaded towards the end of the five years, which even goes beyond its current political life.
It is surprising that the 2022 budget forecast for the deficit for the 2022/23 fiscal year is almost the same predicted by last year's budget. With so much new spending introduced in this budget, one would expect the next deficit to grow. The luck is with revenues that have been pouring into the Treasury far better than expected. The federal government is effectively spending all the newly found money.
Philip Cross: Those 'working hard to join' the middle class betrayed by Liberal budget contradictions

Trudeau takes aim at foreign home buyers, promises supports for young Canadians in federal budget 2022

Terence Corcoran: Liberal budget has Canada roaring backwards
Article content
The federal government will boost those revenues with net tax increases, totalling $8.6 billion over the next five years. While some new measures like the Tax-free Home Buyers Savings Account and small business tax relief will be welcome, it will be more than offset by the discriminatory tax increases on financial institutions. Further tax increases are being planned with the adoption of global minimum corporate income tax (which probably won't raise a lot of revenue) and a revised minimum tax on high-income taxpayers. These and other tax increases will do little to grow the economy's potential.
On top of this, little effort is undertaken in this budget to reduce the cost of regulation, especially reducing bureaucratic processes that make it difficult to start up new projects. An effort will be made to accelerate public investment by requiring the provinces to commit their remaining funds by March 31, 2023. However, other measures such as mandating the sale of medium and heavy electric vehicles by 2030 will be a challenge with existing technologies.
Article content
The federal government is banking on subsidies to reduce the impact of inflation on people's lives. However, most of the measures are marginal. It is hoped that 100,000 homes will be built in the next five years to quell housing costs but that is a drop in the bucket compared with what is needed for new supply, which is best encouraged through deregulation. While new home buyers get some tax relief, it is small compared with the current cost of housing.
Instead, this budget is about bigger government and continuing deficits. It will be inflationary. The federal government is on course to make the Bank of Canada's life harder, not easier.
Financial Post


financialpost.com