Key facts:
CoinX claims to have artificial intelligence bots and traders for constant profits.

In the opinion of many, the company's actions resemble that of a Ponzi scheme.
Argentine deputy Javier Milei, from the interblock La Libertad Avanza, has received numerous criticisms on social networks in recent days for the support provided to CoinX. This is a company that attracts investments in cryptocurrencies and offers returns of at least 5% per month.
Weeks ago, Milei uploaded a video to her Instagram account in which she was shown with the team of the aforementioned company and invited to follow the account of that company. Recently, after the comments received —largely by members of the bitcoiner community in his country— he removed the publication.
According to perception of many, CoinX would be a Ponzi scheme. CriptoNoticias, in the corresponding section, defines these schemes (also known as "pyramid schemes") as a fraudulent financial operation. It is detailed there: "in this type of fraud, those who enter first obtain interest on the investment of the newest participants." For that it is necessary that new participants enter until, eventually, the system collapses.
How does the CoinX investment platform work?
A few days ago, in dialogue with the news channel All News (TN), the investment director of CoinX, Juan Manuel Malaspina, briefly explained the operation of the investment platform:
"People don't have to be aware of market volatility at any time, or whether a price is going up or down because, for that, we have a team of technical stock analysts who help us maintain a constant profit. (…) We also have artificial intelligence, different algorithms that take into account thousands of variables in real time, which allow us not to suffer the falls that, for example, bitcoin has ».

Juan Manuel Malaspina, chief investment officer at CoinX.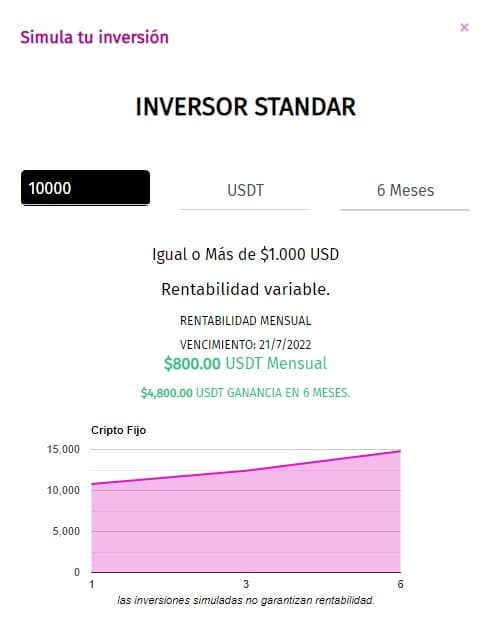 Malaspina details: "what we do is retain the initial capital for a minimum of 6 months to be able to guarantee the interest rate month by month"
The website of CoinX explains: "we invest for you in cryptocurrencies and on Wall Street with cutting-edge technology, artificial intelligence, bots and a team of expert traders." The page adds an investment simulator that shows, for example, that for an investment of 10,000 USDT, a profit of 800 USDT per month will be obtained and 4,800 USDT at the end of the minimum blocking period, which is 6 months. One disclaimer clarifies that "simulated investments do not guarantee profitability".
Bitcoiners suspect possible Ponzi scheme
These high investment returns, the capital block for 6 months and the incorporation of non-auditable elements such as artificial intelligence, a team of traders and bots, they arouse suspicion in many bitcoiners.
For example, for Franco Amati, one of the co-founders of the NGO Bitcoin Argentina, Is conviced that CoinX "is just another Ponzi." the bitcoiner puts it in the same category than companies like Generación ZOE and Vayocoin.
For him, the three are "pyramidal scams (Ponzi schemes) of Argentine origin with a Latin American scope, which are spread by "celebrities" and other mercenaries." According to Amati, these companies "simulate some activity related to digital currencies and promise returns of 8% per month in USD or similar."
On Milei's involvement in promoting CoinX, Amati says he is convinced that the economist and deputy "did this for a few mangoes [N.d.R: unos pesos] with total ignorance that it was a scam, but it serves as an example of the failed credibility of the academic certificate endorsed by the State».
Another comment related to the matter did Fernando Dalmau, prosecutor of the Public Ministry of the Accusation. According to his observation, each one of "the financial companies that offer high returns" capture clients of a particular political ideology: "Adhemar Capital, with more followers within the PJ – Kirchnerism; Zoe Capital, more aligned to the opposition; and CoinX, sponsored by Milei, with the libertarians."
CoinX defends itself against the accusations
To all this, CoinX has not remained silent in the face of the accusations it received on social networks. One release published by the company details that they provide "advice in the financial field and traditional and non-traditional investments."
Regarding the investments in cryptocurrencies offered, they indicate that "they are backed by the regulations of El Salvador." The company informs: "we have a headquarters in that country. At the national level, our company is registered with the AFIP and we are in the process of registering it with the National Securities Commission (CNV) and other autarchic entities.
By last, the company defends itself by denying that they guarantee returns in a pre-established way. That, although it is also clarified in the investment simulator, contradicts the words that Malaspina pronounced before the cameras of TN, in which – as can be read a few paragraphs back – he talks about guaranteeing a month-to-month rate.
To this day, the company continues to offer its investment services. His last post on instagram assures that they have the solution for those who are thinking of quitting their jobs because they are tired of working so many hours a week.




www.criptonoticias.com