'The pillar of shame', the work of the Danish sculptor Jens Galschiot which remembered the victims of the Tiananmen Square massacre in Beijing (1989) at the University of Hong Kong, has been withdrawn by the Chinese authorities. The eight meter high complex, erected in 1997, was then recognized as "proof of the guarantee of human rights and freedom of expression in Hong Kong" and has now been removed from its location behind the back of its author. "When you have a lot of friends and contacts in Hong Kong, as is my case, you hear things and they tell you right away. They had been asking me for days what I thought they wanted to remove the statue from their
location and didn't have an opinion because I didn't know anything about it. I really didn't really know until a couple of hours after it had passed, which was what they were looking for, "says Danish sculptor Jens Galschiot in a telephone conversation with ABC. "They did it in the middle of the night, at the University of Hong Kong there are at least eight thousand students, but they chose the days of Christmas, when they go home for vacation, and there was no one left there. They showed up with 60 cars and construction personnel, they wanted to do it at night so that there would be no record, but they made a lot of noise and the game went wrong, there were those who noticed, warned, there are even photos, "he says with regret.
A pyramid of corpses
Tiananmen Square was turned into a symbol of violent oppression on the night of June 3-4, 1989, when the Chinese army was ordered to forcibly disperse student protests that had lasted for seven weeks against the absence of freedoms under the communist regime. Once Deng Xiaoping's hard line was imposed on the Communist Party, the Chinese People's Liberation Army advanced towards the square, firing on the way at civilians in its path. An official number of victims was never made public and the survivors assure that they could be "hundreds or thousands".
«I built a pyramid with more than sixty corpses to make a statement against crimes against Humanity, so that we would always remember what had happened there, because it is important to remember that massacre, and to send a message to the Chinese Government and society china, so they understand that such a government can make a decision like that again », Galschiot describes the motivation behind the sculpture and the spirit that led to its creation. "Actually, that work could be anywhere … The first time I presented it, in fact, it was in Rome and a German saw it there who asked me if I had been to Auschwitz", he points out about its meaning and symbolism.
Unanswered
Galschiot denounces the violation of his private property from Denmark and reports that three months ago, given the rumors of the transfer of the work, he wrote to the University of Hong Kong expressing his desire to get her back should it be removed from its location. However, he received no response and his repeated attempts to contact the university authorities were unsuccessful. "The sculpture is my property, it was there on loan for exhibition, but despite the attempts of my lawyer in Hong Kong since October 12, no one responds," he explains, "I have even offered to travel to Hong Kong to get it back, but they don't give me that opportunity. "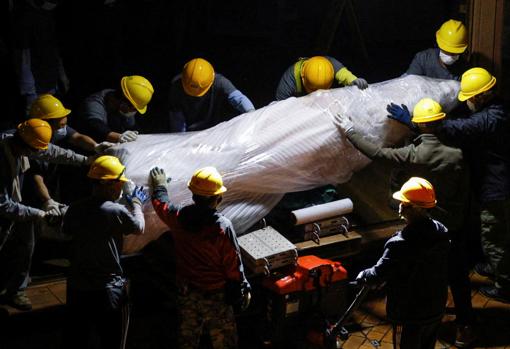 The Chinese media have not reported on the dismantling of the sculptural group, but images have appeared on social networks in which it is appreciated how the work was covered by scaffolding and an opaque cloth, before being divided into parts and disappear completely, an operation in which several vehicles and machines participated in addition to at least a dozen people.
In an open letter to the Hong Kong authorities, Galschiot has requested to travel to the city to collect the remains of his work there, "but in order to do so, I must have security guarantees for myself, for my staff and for those with whom I work in Hong Kong, if I don't get arrested. ' And he does not lose hope: "A spokesperson for the University of Hong Kong did not respond directly but told the Hong Kong Free Press that they are still seeking legal advice and seeking how to handle the matter in a reasonable way. '
The sculptor admits that he is bothered by the attitude of the European countries that will attend the Winter Olympics in Beijing, given that it is a country in which human rights and the most basic freedoms are not respected, "but I don't believe that a boycott is the correct answer, "he adds," the Chinese people should not see us as opposites but as friends. "


www.abc.es