The underwater world was a mystery to humanity until Jacques Cousteau began exploring its depths in the mid-20th century, bringing its splendor to every home in the world through his films and television series. Today, Colombian artist Jessica Angel is repeating the feat of the marine biologist in the blockchain ecosystem, creating an immersive experience that transports humans to the digital world.
Just as Cousteau traveled aboard the ship Calypso to go on his legendary expeditions and discover the secrets of the ocean floor, Jessica Angel created the Voxel Bridge project. This is the public work of art that transformed the area under the Cambie Street Bridge in Vancouver, a city located on the Pacific coast of Canada.
There, the Colombian based in New York used a public structure to create a bridge between the physical and digital world. It's about a artistic project that visualizes the metaverse And, to achieve this, the artist uses a blockchain as a support, which is combined with augmented reality technology.
The Voxel Bridge work is one of a kind. It measures nearly 1,800 square meters and was created with the backing of the Vancouver Biennale. It had the technical support of the Spheroid Universe platform, based on non-fungible tokens (NFT) and the multi-chain network Kusama.
Those who visit the Voxel Bridge work, at first glance, can see a huge two-dimensional mural that surrounds the pedestrian walkway. However, with the use of the Vancouver Biennale app, which can be downloaded free of charge for iOS and Android devices, visitors tour the mural and use their cell phones to immerse themselves in an interactive digital paradise.
In addition, Jessica Angel uses her work to show how a blockchain works, and to achieve this, she creates a direct projection in real time of the Kusama network. In this way, allows this abstract technical concept to be appreciated and better understood by the general public.
On the other hand, as a kind of optical illusion, viewers can feel as if they are floating on the sidewalk or as if they are literally part of a network that is embedded in the city.
«For me it was very interesting to include in my work something as dreamy or as ethereal as digital, that one cannot really touch, but that we can experience together with the space that is tangible. Create a union between these two apparent opposites that are the physical and the virtual ", said Jessica Angel in an exclusive interview with CriptoNoticias. You can watch the video by clicking on the featured image or on the CriptoNoticias YouTube channel.
The digital world as the new reality
After graduating as a Master in Plastic Arts at the National University of Colombia, in 2005, Jessica Angel began a broad journey presenting her works in renowned galleries in her country and the United States.
In some of his paintings he had been inclined to show that the contemporary will always have to look to the past. However, in the year 2017, Jessica begins to look to the future in a more direct way with the work «In front of the Hyperstructure», which he exhibited at the Abroms-Engel Institute for Visual Arts in Birmingham, England.
«This work has to do with bringing that digital experience, in an analogous way, to a physical space. And I say analogous because each of the pixels are adhesive vinyl squares that were cut by hand and glued onto the mural ", said the artist.
His interest in blockchains started from this first experience in which he represented the digital world. He says that, on that occasion, he met a mathematician with knowledge in cryptography, who upon seeing his work expressed that it transferred him to the ecosystem of blockchains. This is how he aroused his curiosity and he became interested in learning about this subject with the idea of ​​introducing it into art.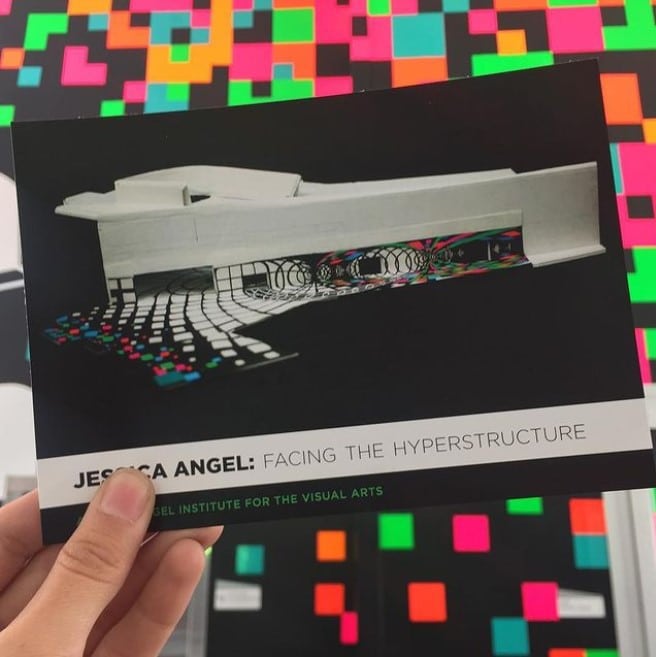 I frequently invite musicians and other artists; or I invite scientists and philosophers with the idea of ​​encouraging interdisciplinary discussions or creating community around art. And it was in this search that Voxel Bridge emerged, which is my work with the greatest interaction with people from other disciplines, such as virtual reality application developers.

Jessica Angel, Colombian artist, creator of Voxel Bridge.
Explain that Voxel is a type of digital art that uses 3D pixels to create illustrations, animations, and video games. It is like pixel art, but in 3D. So instead of having flat pixels, 3D units are added to the metaverse.
He details that Voxel Bridge granted him the opportunity to work with the Vancouver Biennale. Is about the organization's first exhibition to include blockchain-based technology in a work of art.
Furthermore, it is the first large-scale public work of art developed by a highly regarded organization.
With this bridge we are joining the physical and the digital, although we tend to believe that there is a very big difference between both worlds and in reality this difference does not exist that much. They are not so opposite worlds because they rather always walk in a kind of dance, in which I have the computer, it is physical and I touch it, but at the same time we can have conversations through it, when we move to the virtual world. Therefore, the truth is that the physical needs the virtual and vice versa, they are not so opposites.

Jessica Angel, Colombian artist, creator of Voxel Bridge.
The artist believes that the ecosystem of blockchain and art based on NFT are part of a multiverse that is generating a paradigm shift regarding how humans interpret what is real. "We have this conception that the physical is the real and that suddenly the virtual is not so real, but it really is not so because there is really a change taking place from what we believe to be real," he explained.
From his perspective, the boom of the digital age, in which unique and collectible pieces are possible thanks to NFTs, is already disruptive in relation to how humans interpret the real. In addition, it will influence the way in which the real is valued.
A Colombian explores in the continent where everything is possible
Jessica Angel talks about exploring the digital world as if it were a new continent that is available to all human beings. "We all belong to him because in this new world there are no divisions between nations, nor do you need a visa to travel." comments.
In this virtual world, she doesn't feel like a Latina woman creating art in North America, but as a designer of the matrix where humans will inhabit in the near future.
I feel that I am helping to prepare people, because I am creating an introduction to this digital world, in which there is augmented reality that also interacts with public spaces that we can feel as part of the physical world. That is why we have also created 20 interactive images that have information for people to learn about blockchain. And that makes it an educational display, ready to take everyone, almost hand in hand, on this dimensional journey for them to enter and explore.

Jessica Angel, Colombian artist, creator of Voxel Bridge.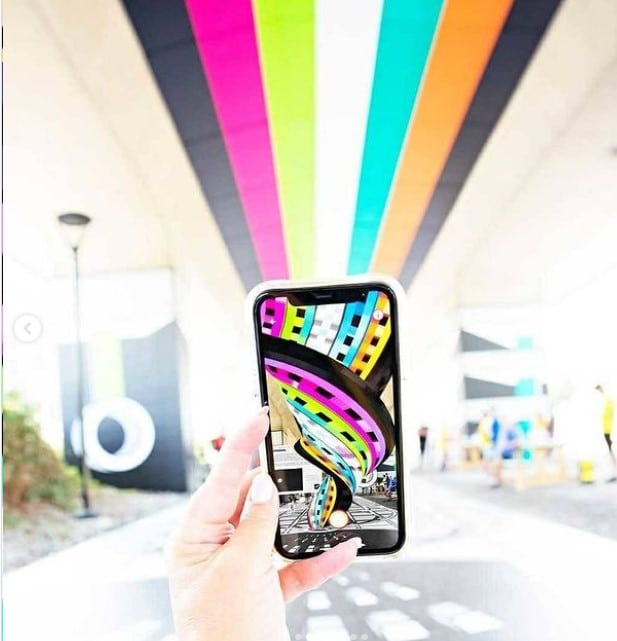 The artist adds that she will continue to explore in this metaverse, for sContinue discovering a world that is not yet well understood by most. Diving into the Bitcoin blockchain and showing all of its workings is something that you would find fascinating to do.
I would love to work with the Bitcoin blockchain, especially since I am going to continue working on projects that include educational elements. It seems very interesting to me that art has this power to offer information. I'm definitely going to jump in and swim in there.

Jessica Angel, Colombian artist, creator of Voxel Bridge.
However, for his next challenge he will continue to be hand in hand with the team of Spheroid Universe, With which works on the development of an application to visualize augmented reality NFT. With this, he will once again embark on an adventure to discover unexplored territory, as part of the digital world where imagination comes to life and everything is possible.




www.criptonoticias.com