Fossil fuel-producing nations and Big Oil executives are punching back at the COP27 climate gathering in Egypt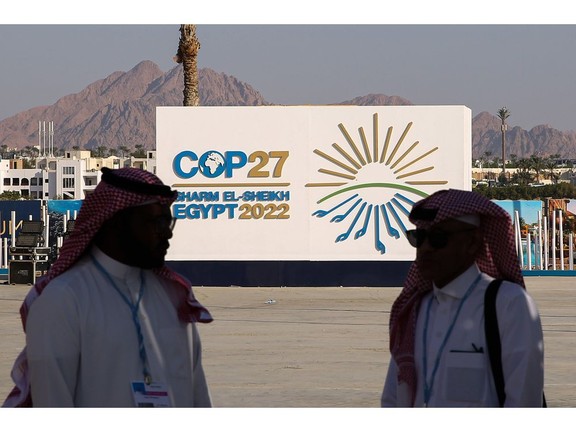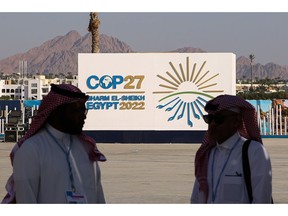 Article content
(Bloomberg) — The two giant green domes standing out against the desert landscape house a dazzling display of high-tech gadgets and world-changing technologies interspersed with lush vegetation and light wood furniture.
Article content
They're a stunning testament to the bright future that awaits those who join the fight against climate change at UN-sponsored talks known as COP27. But they were built by Saudi Arabia, the world's biggest exporter of oil. Producers of the fossil fuels respond for warming the planet are shifting gears, veterans of the annual gathering say. In the space of a few months, they've gone from slowing down and blocking climate action in high-level talks behind closed doors, to setting up giant pavilions next to the COP venue in Egypt and deploying an army of lobbyists with a new message, one that seeks to embrace a clean future without giving up on the dirty fuels of the past.
Article content
"We can do both," Adel Al-Jubeir, Saudi Arabia's climate envoy and Minister of State for Foreign Affairs, said on the sidelines of COP27. Pump oil "and at the same time reduce emissions."
Article content
Saudi Arabia and the United Arab Emirates, which is hosting next year's climate summit, have committed to eliminating their net emissions of planet-warming gases by 2060 and 2050 respectively, and are investing billions of dollars in renewable energy. Once ins seen as the climate meetings, their fortunes have changed since Russia's invasion of Ukraine sparked a global energy crisis. The very countries that made them feel welcome at last year's COP26 summit in Glasgow, are now pressing them to pump more oil and gas to fill the plunging Russian supplies. That's driven up prices and filled their coffers just as consuming nations struggle with rising inflation and slowing economies.
"Oil producers felt unwanted in COP26, felt like we were in a corner," UAE Energy Minister Suhail Al-Mazrouei said in April. "Now, we're like superheroes."
Article content
Middle Eastern oil and gas exporters have their eye on long-term dynamics too. At COP26, almost 200 countries pledged to phase down unabated coal power. India, with backing from the EU, UK and small island states, is pushing for that pledge to be extended to all fossil fuels in the final agreement for COP27.
Saudi Arabia is opposed to that approach, Prince Abdulaziz bin Salman, the energy minister, said in an interview in the domes last week. The kingdom plans to keep producing hydrocarbons until the end of the 21st century because the world needs "all sorts of energy ."
"They are moving from a defensive policy to an offensive one," said Laurence Tubiana, Chief Executive Officer at the European Climate Foundation and architect of the landmark 2015 Paris Agreement that saw world leaders commit to keeping global warming below 2C by the end of the century. "It signals that they are anxious."
Article content
Inside Saudi Arabia's green domes, giant screens show slick videos of plans to restore forests and reintroduce turtles and baby ibex to their natural habitats. Visitors sink into bean bags and sip fruit juice as they learn about the country's different initiatives.
Those accredited are treated to a buffet that included salads, pasta, meat and multiple types of bread. It's a stark contrast to the Egyptian-run COP27 area where, for the first few days, bottled water was scarce and food consisted of pricy smoked chicken and salmon sandwiches.
"They're pedaling the false notion that the key to energy security is increasing the dependence on fossil fuels rather than rapidly moving away from that," said Alden Meyer, a senior associate at E3G and a climate veteran who has only missed one COP meeting in the last three decades. "This meeting has turned into a fossil fuel festival, a trade show and a place to make deals."
Article content
At least 14 gas announcements have been made in the run up to and during COP27, while the number of lobbyists from fossil fuel industries has soared. A total of 636 lobbyists attended COP27, 100 more than last year's meeting, according to environmental non-pro Global Witness. Among them was BP Chief Executive Officer Bernard Looney, who got accredited through the Mauritania delegation.
Lobby PowerTaken as a group, fossil fuel lobbyists are larger than any single national delegation besides the UAE, host of COP28. The UAE delegation has grown from 176 delegates in 2021, to 1,070 this year.
"Egypt as a fossil fuel producer has been hosting a number of events featuring some of these folks and talking about the need for natural gas to be a transition fuel," Meyer said. "It's concerning that the current and the incoming presidency are saying we don't rapidly need to shift away from fossil fuels."
Article content
Lobbyists won't divert the EU from its goal of reaching net zero emissions by 2050, the European Commission climate chief Frans Timmermans told reporters in Sharm el-Sheikh on Tuesday, shortly after announcing that the EU would tighten its emissions target.
"As long as you see them with clarity and you make sure you're not steered by them, I don't see a problem," Timmermans said. "Excluding them might mean they'll go somewhere else and try to exert their influence there."
Oil and gas producing nations are already preparing to push back against a final COP27 statement that calls for the phase down of fossil fuels. The Like Minded Developing Countries, a coalition including Saudi Arabia, China, Iraq and Iran, also wants the statement to " take note" of rather "welcome" the latest report by the Intergovernmental Panel on Climate Chang, which says limiting global warming will require a substantial reduction in fossil fuel use.
"I think it's very sad when we have fossil fuel corporations dominating the space in the COPs because it's the very industry that's fueling the climate crisis," said Vanessa Nakate, a Ugandan young climate activist. "If you're going to discuss about malaria , don't invite the mosquitoes — I don't know who said that, but we keep hearing it at this COP."
—With assistance from John Ainger, Akshat Rathi and Oscar Boyd.


financialpost.com