The Minister of Economy of El Salvador participates in an event in Brazil on the subject of Bitcoin. One of the smallest countries in Latin America ended up showing the courage of being the first in the world to legalize Bitcoin as a legal tender. This El Salvador initiative was quick and surprised governments and central banks around the world.
Before Bitcoin, El Salvador already used the Dollar as its national currency, now having two options since September 7th.
Certainly, all this experience in passing the Bitcoin Law draws attention, with an event organized in Curitiba this Thursday (25th) ready to clarify some points.
Last week, María Luisa Hayem had already participated in La Bitconf, where she spoke a little about the Bitcoin reality in the country.
Salvadoran Economy Minister to explain Bitcoin Law in Brazil
Vale do Pinhão is an innovation ecosystem from Curitiba that seeks to better understand technologies to improve the applications of a smart city.
This Thursday, through the official channel of the YouTube, members of this innovation ecosystem will speak with María Luisa Hayem, Minister of Economy of El Salvador. In addition to her, Víctor Lagos, Embassies of El Salvador in Brazil, participates in the debate, as well as Cris Alessi, President of the Curitiba Agency for Development and Innovation.
With the event open to the public on YouTube from 5 pm, the theme will be how El Salvador has used Bitcoin and promoted an innovation for a digital nation.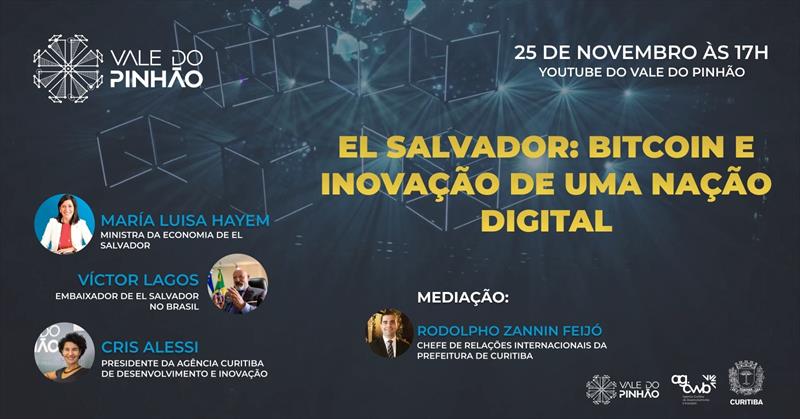 According to Vale do Pinhão, one of the most striking points in El Salvador's development itinerary is the recent announcement of Bitcoin City ("Bitcoin City"). This city that will still be created by the small country will be financed with Bitcoin, using the energy generated by a volcano to supply the consumption of the population that will live there.
This environment of innovation is one of the highlights of the event in Curitiba, the capital city of Paraná and considered a reference in urbanism in Brazil. To moderate today's event, the Head of International Relations of the City of Curitiba, Rodolpho Zannin Feijó was chosen.
This is the first public event in Brazil by officials in conversations with government officials in El Salvador since the Bitcoin Law was passed in that country.
We invite you to learn about the digital agenda, the benefits and business opportunities generated in El Salvador after the adoption of the #Bitcoin as legal tender.

Enter here the day of the event: https://t.co/AbT7PC6Dc0 pic.twitter.com/UMYIHQ3oU8

– Embassy of El Salvador in Brazil (@EESAenBrasil) November 24, 2021
In this way, it will help members of the public sector to understand more about the details of the innovation, seeking to create a similar program in Brazil.




livecoins.com.br