Guido García has not seen his grandmother for two Christmases due to the pandemic. He lives in Valladolid and she in Basauri (Vizcaya), and before Covid-19 they always got together to celebrate the holidays with the rest of the family. In addition, communication between them is complicated, because she does not even want to hear about mobile phones, the Internet or any other electronic device. For this reason, his grandson, who is a telecommunications engineer, has devised a device to being able to send photos easily and cheaply via Telegram and that they arrive on paper.
"This Christmas I made a pot to send photos to my grandmother, who doesn't have a cell phone or internet. The requirements were to dedicate little time (less than 20 hours) + that you could plug it in and go + no maintenance", explains Guido himself on his Twitter account, in a thread that went viral in no time.
To do this, he has used a thermal printer connected to a raspberry pi and a connectivity card, in which he has inserted a SIM card that gives the set access to mobile networks. On the raspberry you have executed a bot that connects the device with Guido's mobile through a Telegram chat, and that orders to print any photo that you send through that channel.
In this way, the homemade device that he has created receives the information from the internet without the need for his grandmother to do anything and prints all the photos that Guido sends, in such a way that the woman only has to pick up the paper snapshot. "I didn't want her to have to worry about anything, I wanted something that was to plug in and forget about it," Guido explains to Xataka.
With hardly any maintenance
So that his grandmother does not have to worry about anything, Guido chose a thermal printer similar to those used by any business to print purchase receipts. These devices stamp the information on the paper using heat, so they do not need ink, and they use long rolls, in the case at hand about ten meters, so the woman will only have to change it every so often. According to the creator's calculations, every 100 or 200 photos.
However, these types of printers have a drawback: they are designed, above all, to print text, not images. "This caused me a lot of doubts, because I didn't know if I could take photos with enough quality to recognize the image. But the source code I use to connect Telegram with the printer solved this for me in part, since it includes a series of algorithms that convert the image into black and white dots to make it look better. To that I did add a small improvement in contrast and sharpening, so that the edges are better defined, "he explains. Finally, the result has been more than acceptable.
The device is connected to the electrical network and, according to Guido, consumes about 26kWh per year and hardly heats up. When a certain amount of time passes without printing, the printer goes into standby mode to save energy.
When he already had all the elements connected and knew how much they took up together, he discovered that he did not have a suitable container to put them in, so he looked at home and used the only thing that suited his needs: a box of strawberries. "The idea is to make a wooden box something more serious in the future, that can resist if one day it falls to the ground, that it does not scratch the furniture and that it has beautiful finishes. Although there are those who have told me that they like the box of strawberries", he points out, amused.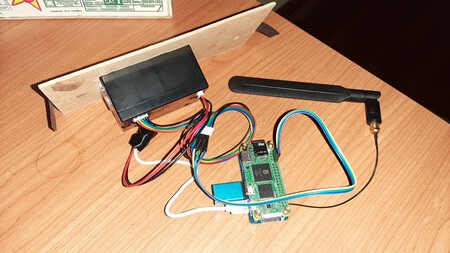 More compact and cheaper
Guido explains that the device could have been cheaper and more compact, but that pulled the components closest to hand and that they were easier for him to combine, to do it in the little time he had free. In total, the set has cost about 180 euros -50 euros for the printer with the roll of paper, 20 euros for the raspberry, 70 euros for the communications board, etc.- and it weighs about 300 grams.
Nothing like it on the market
This Valladolid engineer devised the device to be able to communicate with his grandmother because, he assures, There is no such device on the market., with which to establish multimedia connections with receivers that do not have mobile phones or computers. The only similar thing he remembers is the Yayagram, a homemade device that a grandson devised for his grandmother to send and receive text and voice messages, but not photos.
"The Yayagram is more powerful than what I have done, but it is not commercialized, its situation was similar to mine: a person did it to a relative", he explains. Thus, both he and the creator of Yayagram have devised devices to solve a lack of the technological market: devices to connect the elderly who do not use mobile phones with family and friends who do use them.
To minimize maintenance I chose this thermal printer https://t.co/MPKRMtiStb, without ink. It eats rolls of up to 10 meters of paper (about 150 photos for 1 euro) and the USB connection seemed comfortable, although in the end I didn't use it. pic.twitter.com/2xbDRTsHjO

– Guido (@palmerabollo) January 10, 2022
"The technology not intended for the elderly, because, as it is not profitable, resources are not dedicated, and there are people who are displaced by this. It's a problem," he says.
However, thanks to Guido's ingenuity, his grandmother you will soon be able to receive all the photos your grandson wants to send you like someone who receives a message by WhatsApp or Telegram, although on paper. Of course, he has not yet been able to take it to Basauri and it is a surprise: we ask for your discretion.




www.xataka.com