Key facts:
The daily trading volume reached more than USD 260 million on January 9.

OpenSea, a platform created in 2018, hosts, on average, some 24 million NFTs.
OpenSea, one of the largest non-fungible token (NFT) marketplaces, hit a new record in its monthly trading volume this week. It exceeded $3.7 billion for the first time, a feat fueled by the growth and expansion of digital art.
According to market analysis firm Dune Analytics, this market has traded, so far as of January 2022, $3.74 billion. This is a figure never seen before and that exceeds the records seen in December and August 2021, when it traded $3.24 billion and $3.42 billion, respectively.
This makes sense considering that, according to blockchain analytics firm Chainalysis, OpenSea was the marketplace with the highest movement during the year just ended, registering up to USD 16,000 million in sales.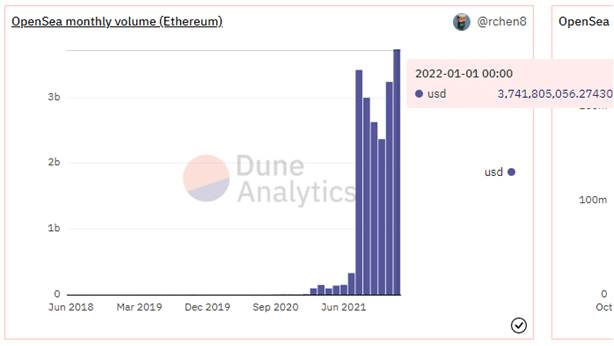 OpenSea, a platform created in 2018, hosts, on average, some 24 million NFTs. It is considered a decentralized application (DApp), and all the transactions that are made within the platform are registered in the Ethereum blockchain.
Data from Dune Analytics also shows that the trading volume on OpenSea exceeded, until January 17, USD 100 million per day.
For example, during yesterday's session, January 17, USD 192.74 million were negotiated. Two days before, at least USD 226 million were moved and only on January 9, the highest daily trading volume ever seen was recorded: USD 261 million.
Advertising

Regarding the number of users, the firm reveals that some 390 thousand people are in charge of marketing the non-fungible tokens, always active on the platform.
OpenSea, a reference
The numbers shown by Dune Analytics confirm OpenSea as the reference for the sale of collectible tokens, even compared to its competitors, such as LooksRare or Rarible, which they also concentrate a part of the trade volume.
The influence of the commercialization of NFT has been so great that this platform has contributed to the burning of ethers (ETH), the cryptocurrency of the Ethereum network, as reported by CriptoNoticias.
As another sign of OpenSea's preference, even alleged criminals have seen in that marketplace a way to make moneyeven to the detriment of other people. This was the case of the Venezuelan plastic artist, Eduardo Sanabria, who denounced a scam with false NFT of his works, an event reported by this medium.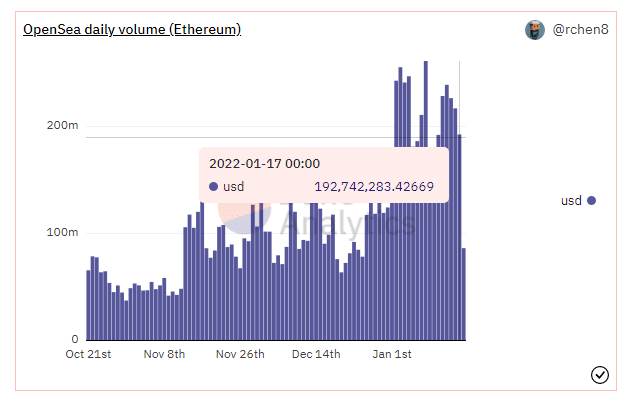 The fact is that NFTs were the assets that flooded the most industries during 2021, with up to $46 billion used for token sales, demonstrating broad sustained growth since January last year.
For this reason, and even with 12 days left until the end of the first month of 2022, the trend seems to be bullish and the NFT market is following that path. It is expected to be seen further growth of that industry in the weeks to come.


www.criptonoticias.com