Nvidia is also betting everything on the metaverse. Or as they call it, Omniverse. During the GTC 2021 conference, its CEO, Jensen Huang, has confirmed the company's plans to create your own metaverse to be able to replicate our world in a virtual way. But unlike Meta, on Nvidia have been working with 500 companies since last year and they have presented dozens of tools and development kits to build this "omniverse".
Along with the augmented and virtual reality proposal, Nvidia has unveiled numerous functions of this Omniverse, from completely believable avatars until autonomous car utilities, going through the development of virtual cities for the study of the 5G network or how there are already those who use these virtual worlds for road prediction in forest fires. Here we explain them what Nvidia proposes with its Omniverse and what tools will it offer to build it.
3D avatars, synthetic expressions and virtual replicas of the physical world
The Omniverse platform was already available, but Nvidia has shown a whole series of novelties to expand its possibilities, at the same time that it has incorporated technologies such as ray tracing to improve its graphical results.
As Nvidia describes, the Omniverse development kit has been downloaded more than 70,000 times by designers from 500 different companies. As of November of this year, Nvidia has created a Omniverse Enterprise subscription, available from $ 9,000 per year and focused on companies.
Another service shown by Nvidia is Omniverse Avatar with which to create photorealistic avatars. The platform combines voice recognition, synthetic speech, facial recognition and 3D animation to generate a replica of the person that can be used virtually and is also capable of adapting in real time to different languages.
Using this technology, during the presentation a virtual assistant was shown speaking to a couple through a food vending machine. The power of that assistant is that interacted with customers by looking into their eyes using face-tracking technology.
It is in this combination between the physical world (clients) and how programs understand what is happening around them (through sensors and facial recognition) where one of the powers of this metaverse that companies are proposing would be found.
Another aspect of the Nvidia Omniverse is digital clones or twins. It is about creating digital replicas of objects or spaces in the real world, to be able to study it in detail and see how they would behave in certain situations.
One of the examples that Nvidia explains is with BMW, with whom they have collaborated to make a complete digital replica of one of its factories. In a video They show us how the company has used this tool to study where they could place new machines or how to improve distribution.
Another example is with Lockheed Martin, where together with the Forest Service of the US Department of Agriculture and the Colorado Fire Prevention and Control service they have developed a digital twin of a real forest to study the impact of a possible fire and help predict their paths.
Also together with Ericsson they have created digital twins of cities to study coverage and how to implement 5G networks. The power here is that these digital twins include everything from buildings to trees. An enormous level of detail that allows certain implementations to be studied quite successfully.
The number of companies already working with Nvidia for this Omniverse is huge. We have from creation studios such as Pixar o Epic Games even companies like Wacom, Acer, MSI or Dell, also passing through software companies such as Adobe or Autodesk that have introduced Nvidia development kits to produce the elements of the Omniverse on their platforms.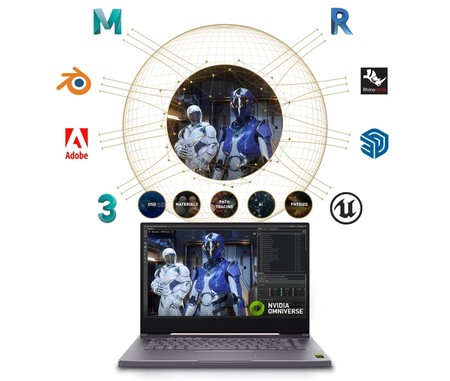 A more company-centric and concrete metaverse, albeit still far from the real world
Tools such as 3D avatars or the wizard capable of recognizing the environment are quite practical uses from a technological point of view, but they also raise many questions about privacy and usefulness.
Take the example of the vending machine assistant. As described by Nvidia, your response is less than two seconds. But a customer may wonder why, being able to simply select the product and get the result faster. It remains to be seen to what extent these techniques can be implemented in real use cases and deliver results that effectively go beyond what we have so far.
Both the Meta "metaverse" and the Nvidia "omniverse" are in an early stage. Still very far from having an impact in the real world and with many doubts about its implementation.
Although the approach is different from one to the other. While Mark Zuckerberg raised it from an experiential point of view, to enter these virtual worlds, from Nvidia they approach it as a tool, to build digital replicas that can be useful for studies and simulations. We'll see if they get it. What seems clear is that the tech giants have one of their new great obsessions in the metaverse.
More information | NVIDIA


feeds.weblogssl.com