As global liquefied natural gas prices nosedive, traders are bracing for the possibility that US cargoes will be canceled in the coming months.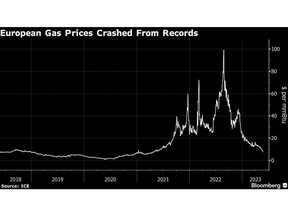 Article content
(Bloomberg) — As global liquefied natural gas prices nosedive, traders are bracing for the possibility that US cargoes will be canceled in the coming months.
Article content
Asian LNG spot prices are down more than 85% from last year's record highs, falling to lows not seen since May 2021. European gas prices have slumped 70% over the past year. Traders gathered at an annual energy fair in Essen, Germany y, this week debated whether slumping prices and lackluster demand could trigger a supply-side response.
Article content
If prices fall further, it may not make economic sense to export LNG from the US – a reversal of the situation a year ago, when prices hit record highs following Russia's invasion of Ukraine.
The market is "not that far from US LNG cargo cancellations," Gyorgy Vargha, chief executive officer at Swiss trader MET International AG, said in an interview in Essen. "We are not that far away from the bottom."
Article content
Should steep declines continue, then by September — when European storage sites are full — companies contracted for US cargoes may cancel scheduled shipments to avoid massive losses. This hasn't happened since 2020 when cargoes were refused in drive s and millions of dollars in penalties were paid out.
The impact could be significant – with gas trapped at home in the US, that could send domestic prices plummeting to fresh lows. For Europe, it would put at risk a fragile market balance after nations beefed up security of supply following the turmoil that followed R ussia's invasion of Ukraine.
To be sure, current price spreads to Europe and Asia still show wide enough margins to justify US cargo loadings. BloombergNEF data shows US LNG is still in the money through November, based on global spreads. Any tightening of global supply, such as from maintenance or the Atlantic hurricane season, could also contribute to keeping price spreads wide and justifying US loadings.
Article content
Cancellations are unlikely unless LNG spot prices reach the low single digits, said Kazunori Kasai, who leads the Singapore-based trading arm of Jera Co., one of the world's largest buyers of the fuel. The company currently isn't considering the cancellation of shipments, he told media in Tokyo on Friday.
Supply Response
LNG traders in Europe and Asia echoed that sentiment, saying prices need to fall below $5 per million British thermal units before scrapping scheduled US deliveries comes into play. Prices are presently about $9 per million Btu, after soaring above $71 in August.
Contract notice can vary but typically, purchasers must provide two months' advance notice to LNG producers such as Cheniere Energy Inc. for any cargo cancellations by the 20th of the calendar month. This means that any decisions around September loadings would be made in the month of July.
Article content
European gas prices are now more likely to get close to the levels needed to shut in US LNG by late summer, consultant Energy Aspects Ltd. said in a note, though that isn't its base case.
While US LNG is in focus, it's possible that a supply response may also be seen elsewhere.
Export projects from Australia to Malaysia may use this period of lower prices to schedule maintenance, and thereby effectively tighten global supply, traders said. Reduced supply could act as a floor, helping to keep prices from plummeting further, they added.
"As the prices are going down so strongly, I am wondering will there be a point at which LNG suppliers start scaling down production?" Andy Sommer, head of fundamental analysis and modeling at Axpo Solutions AG, said in an interview in Essen.
"American suppliers are most visible but this would not be exclusive to US LNG plants if prices continue in this direction."


financialpost.com