While Royal Bank might be the best placed to make the acquisition, that doesn't mean its CEO will do so
Article content
HSBC Holdings PLC's Canadian unit has become the belle of the ball on Bay Street, as the country's financial services heavyweights consider whether they want to become even bigger by taking advantage of HSBC's announcement earlier this month that it's open to selling is Canadian assets.
Article content
Each of the Big Six banks has had an initial meeting with HSBC to discuss the possibility of acquiring HSBC Bank Canada, which ranks behind them as the seventh-biggest lender, the Globe and Mail reported This week, citing two unnamed people who the paper said had knowledge of the process.
Article content
However, while each lender is hugely profitable, not all of the banks are well-positioned to win the British financial giant's hand, leading to a debate over who is most likely to come out on top, assuming HSBC opts to proceed with a sale.
Bank of Nova Scotia analyst Meny Grauman published a report Oct. 21 that argued that as it stands, the only Canadian bank currently suited to absorb the potential $10-billion price tag is Royal Bank of Canada, the country's largest lender. "The other banks would need to raise significant amounts of capital in order to fund this transaction," Grauman wrote.
Article content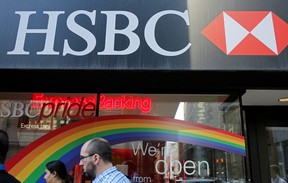 Grauman and fellow analyst Felix Fang speculated that Toronto-Dominion Bank could do so by selling its roughly $24-billion stake in Charles Schwab Corp. However, they questioned whether TD would be motivated to make a big acquisition, considering it's in the process of expanding its US footprint through its US$13-billion purchase of First Horizon in February. Same for Bank of Montreal, which made a splash late last year with its $16.3-billion acquisition of BNP Paribas SA's Bank of the West operations.
To be sure, while Royal Bank might be the best placed to acquire HSBC Bank Canada, that doesn't mean CEO Dave McKay will be motivated to do so. His bank already holds a leading market position in Canada, and therefore might decide there would be little to gain from adding HSBC's assets to his portfolio. There could also be antitrust concerns he would rather avoid.
Article content
The bank that might have the most to gain from buying HSBC's Canadian assets is also the one that might have the most difficulty raising the cash, Grauman and Fang wrote. Montreal-based National Bank of Canada, which they described as a "super-regional" " lender, has the most to gain strategically, as it could expand its reach into Western Canada, especially British Columbia, they said. However, the Scotiabank analysts estimate that National Bank would need to raise $8.9 billion in equity to get any deal past the finish line, which is a lot for a company with a market capitalization of $30 billion.
Big Six banks likely to kick tires in sale of HSBC's Canadian unit, but not all a fit

Big Six banks' price targets slashed by Bay Street analyst

Banks continuing to put faith in Canadian consumers, despite growing economic headwinds

'A fine line': Canada's big banks have long stood by the oilpatch, but ESG pressures are changing things
Article content
The Globe shared speculation that National Bank could team with a partner to help it shoulder the cost. The Globe also reported that Bay Street expects a two-round auction and that initial bids were expected shortly.
Nigel D'Souza, financial services analyst at Toronto-based Veritas Investment Research, also mentioned Royal Bank as the most likely winner of an HSBC Canada auction, though macroeconomic headwinds and a growing drumbeat of recession risks may make it an awkward time for Canada's biggest bank to make that move.
HSBC Canada is scheduled to report earnings in the early morning hours of Oct. 25, providing more financial details on what financial services companies pursuing the Canadian segment stand to gain from its acquisition.
• Email: [email protected] | Twitter: StephHughes95




financialpost.com