Two of the largest countries in Latin America, Mexico and Brazil have the highest Bitcoin adoption rates among their population.
However, the Central American country has prevailed against the South American, according to a survey released by an Australian company, last October.
Despite the focus on the local market, the study revealed that 1 in 10 people in the world already have cryptocurrencies, with the countries with the highest adoption being Nigeria, Malaysia and Australia.
Comparing the reality between 22 countries, the study shows that men have 1.4 times more cryptocurrencies than women,
Mexico leads cryptocurrency adoption in Latin America, followed by Brazil
In October, Finder published a study on the adoption of cryptocurrencies and Bitcoin around the world, with some data reflecting in three Latin American countries, namely Mexico, Brazil and Colombia.
Thus, it is possible to identify that, in general, Mexico is the country in the region where more people have cryptocurrencies, with 12.1% of the population in the market. This data shows that adoption in the country is above average, currently at 11.4%.
Below the average then appears Brazil, with 10.2% of the population already possessing cryptocurrencies, according to the study that spoke to 41,645 individuals in 22 countries, in a survey conducted by Google. The number of Brazilians who participated was not informed by the company.
After Mexico and Brazil, Colombia registers 8% of adoption of cryptocurrencies by the population, closing the participation of Latin Americans.
Mexico beats Brazil in Bitcoin adoption as well, but loses in Dogecoin
after the study presenting the results in relation to cryptocurrencies in general, he compares the rate of adoption of just Bitcoin, among those who invest in cryptocurrencies.
Thus, Mexico is also the main Latin in adopting the main cryptocurrency, with 53.9% holding this currency, while 51.7% of Brazilians own the currency and 49.6% of Colombians follow the main currency.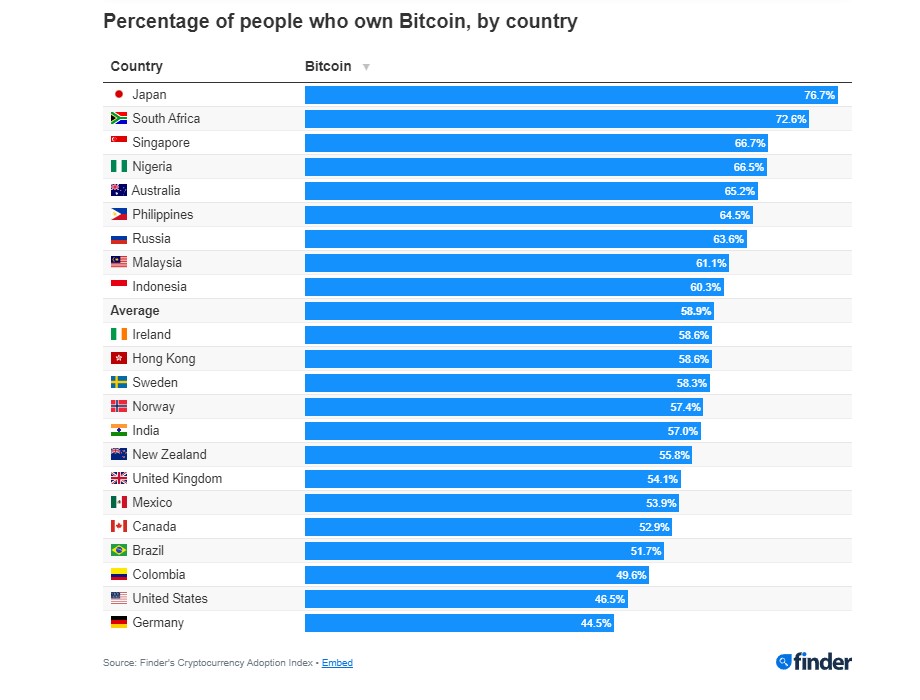 Mexicans still lead the rankings of the biggest holders of Ethereum, Cardano and Binance Coin. However, Brazilians are experts in Dogecoin, being the fourth country to adopt this cryptocurrency, with 26% of cryptocurrency investors having DOGE in their equity.
Mexico, the Philippines and Brazil are still the three main countries to have female investors in cryptocurrencies, with 53.7%, 48.5% and 48.3% respectively, data that draw attention to the large presence of women in the market, at least in the analyzed sample, estimated between 1 thousand and 2.5 thousand people per country, on average.
It is worth remembering that, according to Comscore data presented in June 2021, Brazil led the volume, followed by Argentina and Mexico.




livecoins.com.br