David Schwartz, chief technology officer (CTO) at Ripple, said this Thursday (30) that he has already worked on the Bitcoin code, making some improvements over mining pools in 2011. The following year, Ripple (XRP) was launched , being one of the first altcoins on the market.
Speaking of Ripple, Satoshi Nakamoto, creator of Bitcoin, stated in 2009 that he already knew Ripple. Despite this, the Ripple that existed before BTC was created was very different and its current model has many Bitcoin features.
As for the future of XRP, it's hard to get an exact vision. While some traders are confident the currency will return to a rally, an SEC lawsuit is still scaring off investors.
Ripple's CTO has already worked on the Bitcoin code
According informed by Ripple's own CTO, David Schwartz, he already worked on the Bitcoin code in 2011, a year before Ripple (XRP) was created. In other words, this is another example that Bitcoin is of interest to everyone in the community and truly decentralized.
"I did some code optimization work for mining pool applications in 2011."
This can be confirmed through Bitcoin's own GitHub, in which David Schwartz, under the nick of JoelKatz, proposes improvements related to mining pools, introduced in that year 2011, in the Bitcoin code.
"These are the same changes from my previous pull request. They have been broken down into individual commits by function, with a useful commit message. They optimize profile outliers under a specific test load which represents the load the software sees when it is used for pooled mining, that is, when it gets hundreds of RPC requests (mostly 'getwork') per second.", clarifies David Schwartz on the pull request.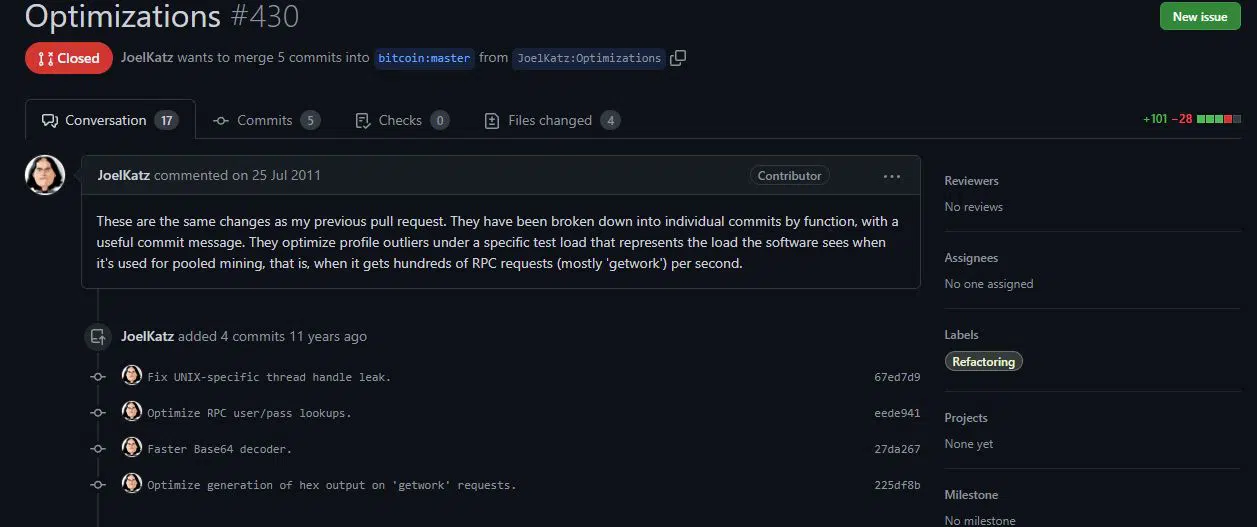 After conversations with other developers, your changes were accepted and, like all others from different users, made Bitcoin better as a whole.
Future of XRP
Few 2013 coins have survived the test of time and Ripple (XRP) seems to have been one of them. Alternating between second and third position for 7 of the last 9 years and still in the top 10 for the other two, it's interesting to note its longevity.
Despite this, the currency had its worst performance in 2021, most likely due to a US CVM lawsuit. After all, such a process may have generated fear among investors, throwing the coin to 8th place among the largest cryptocurrencies.
Still, some traders like The Wolf of Wall Street believe Ripple could go as high as $10. However, it is worth noting that this is a very optimistic forecast as each XRP is worth around USD 0.84 at the moment.
Bitcoin, on the other hand, as it is decentralized, does not have any legal impediment to stop its adoption. On the contrary, in 2021 we saw its all-time low rise 720% from the previous year, thanks to widespread adoption by individuals and institutions.




livecoins.com.br