Key facts:
Mónica has been taking care of cars in the parking lot of the Parador Mediterráneo in Miramar for 8 years.

People tip him for taking care of their car, and starting this summer, he started accepting bitcoin.
A 62-year-old lady named Mónica Beatriz Quiroga was noted on the Argentine coast for taking care of cars in a spa in exchange for tips in bitcoin (BTC). It is a new form of payment that was inaugurated this summer, after the recommendation of a tourist. This was revealed to the LM Neuquén news agency, which went to the beach to interview her.
The lady has been taking care of cars for eight years at the Parador Mediterráneo in Miramar, which is located 1 kilometer from the city's central avenue. It is precisely a 15-minute walk from Calle 21, the pedestrian street that distinguishes the city.
Until recently, this activity allowed him to earn 800 pesos per day (approximately USD 3.90), which was not much considering that it involves 13 hours of work. "I arrive in the morning, around 09:00, and I leave when the last car leaves, around 22:00", He said. Fortunately, he said that changed recently.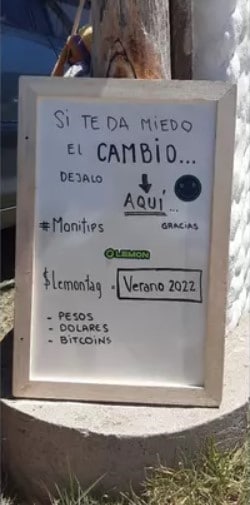 Everything changed when a tourist recommended him to accept bitcoin
The car caretaker said that her earnings have benefited since she accepts tips with bitcoin with the Lemon Cash cryptocurrency platform. Since then, the most she collected in a working day was 7,000 pesos and even representatives of the application went to meet her and mentioned her on Twitter.
About the Lemon team that visited her personally, she commented: "they told me that they really liked what I had done and what I am achieving". She also added that this would not have been possible without Agustín, a tourist whom she dubbed "her guardian angel", since he was the one who recommended her to do this and helped her to open the bitcoin wallet.
This case joins the stories that CriptoNoticias has reported about people who have seen positive results by making something everyday part of the cryptocurrency ecosystem. An example of this is Ghozali, the 22-year-old who last week earned USD 1 million for selling his selfies in NFT (non-fungible tokens).
Advertising





www.criptonoticias.com