Key facts:
Shiba Inu falls outside the top 10 cryptocurrencies with the highest capitalization.

It is also again below Dogecoin, the meme currency with which it competes.
The cryptocurrency meme Shiba Inu (SHIB), the new "crypto dog" that competes with Dogecoin (DOGE), has not had them all with him in the cryptocurrency market in recent days.
Within 7 days, SHIB has lost more than 20% of its trade price, despite the fact that the rest of the main currencies have a significant rise in the same period, in data from CoinMarketCap.
At the time of writing this article, the drop in SHIB is 21.91% in the last 7 days. Meanwhile, in that time, some of the main top cryptocurrencies, such as Solana (SOL), Binance Coin (BNB) or Cardano (ADA) have risen by almost 20%.
In fact, in that period, the two highest-priced cryptocurrencies on the market have broken their respective historical highs: bitcoin (BTC) and ether (ETH), the native currency of the Ethereum network. The first passed $ 68,000 on Tuesday, November 9, for the first time in its history. ETH, for its part, is approaching the $ 5,000 milestone, which it has never touched so far.
In contrast, SHIB's performance over the past few days has been quite negative. As these lines are being written, the coin is trading at $ 0.00005573, around 40% below its own historical maximum (0.00008854), registered on October 28.
On top of that, DOGE's competitor cryptocurrency fell below 0.000044 just 5 days ago. SHIB came with a very positive path in its own competition with the cryptocurrency meme Dogecoin, which it had even surpassed in the top capitalization. However, right now it is below again and is no longer part of the 10 cryptocurrencies with the largest market capitalization.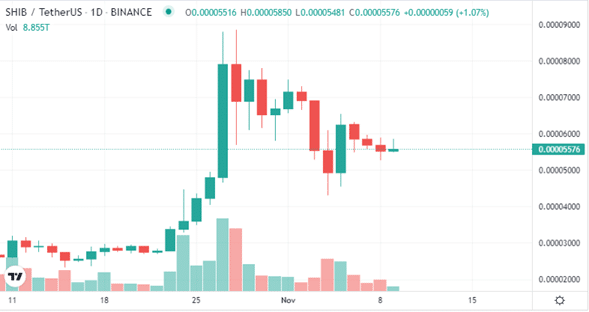 It is striking, as in the case of DOGE, that a meme coin, a joke in the world of thousands of cryptocurrencies, has taken the market as Shiba Inu has. Currently, although it was in the top 10, SHIB has a capitalization of more than 30,000 million dollars. Only 10 assets in this market exceed this figure.


www.criptonoticias.com