A new website that appeared on Google and hosted at Microsoft is promising Shiba Inu users for free.
As there is no such easy free lunch, the case ended up getting the attention of MalwareHunterTeam's digital security expert. Analysts of this Twitter profile follow the market for ransomware and malware, especially those that use cryptocurrencies in their scams.
It is worth remembering that the cryptocurrency market imposes on users a simple but complex task at the same time: taking care of their own assets. There is no support for falling into a cryptocurrency scam, so it's important to turn the alert on for new and suspicious sites.
Registered site offers free Shiba Inu (SHIB) but the danger lives there
In the cryptocurrency market, a common practice among companies in the sector is to give some coins to people to test their technologies. This practice is called Airdrop, common in alternative cryptocurrency projects to Bitcoin that are being launched on the market.
However, as it is common to give free cryptocurrencies to users, scammers create websites with deceptive airdrop offers, especially for projects that are hot on the market.
And this seems to be the case of the Shiba Inu (SHIB) cryptocurrency, which attracted attention in recent weeks by registering a rise in the market, of 79% in the last 30 days.
In recent days, the site "shibatokenclain" has been created by scammers, who promise free Shiba Inu to anyone who enters the domain. To "win" some SHIB tokens, interested parties must inform which wallet they use, such as MetaMask or TrustWallet.
After informing the wallet they use, users are taken to a screen that asks for their private key, with 12 words. This means of "earning" cryptocurrencies is nothing more than a scamming practice to gain access to the victims' wallets and steal all the funds present there.
Left even for Elon Musk
Asked recently whether to invest in Shiba Inu, Elon Musk denied believing in this token created by the Ethereum network, as a meme and copy of Dogecoin. Even so, the site created by the scammers uses his image to try to give legitimacy to the coup.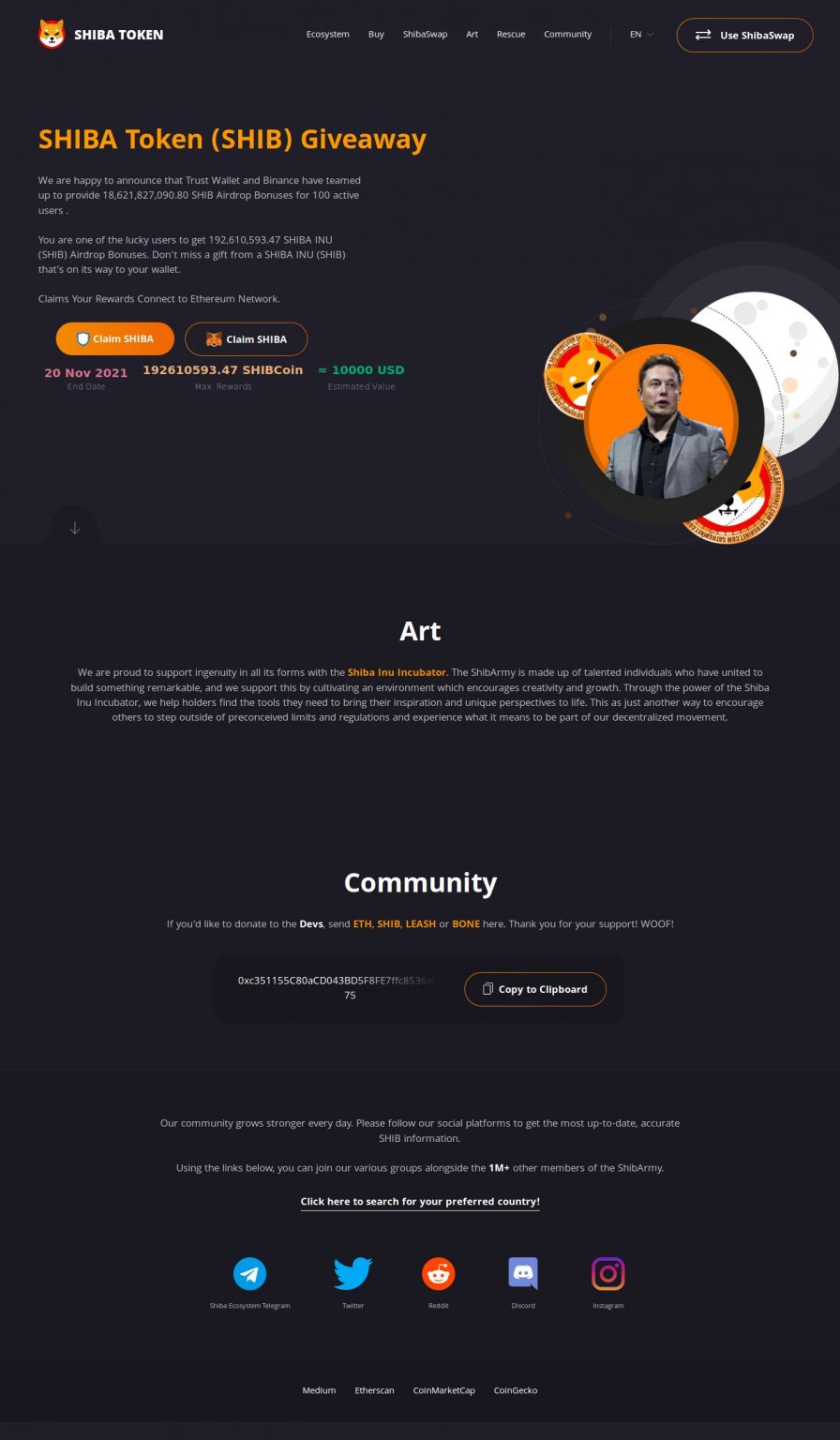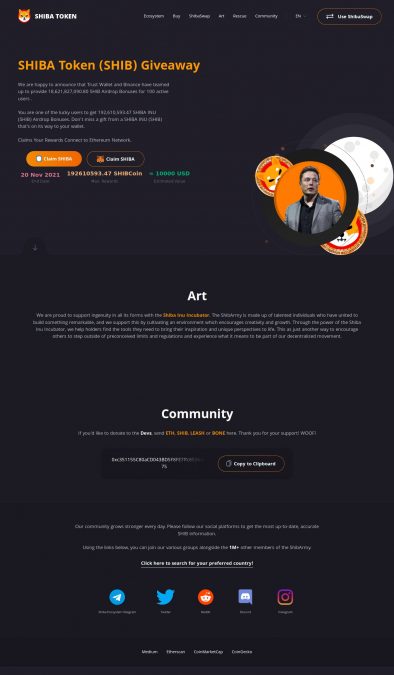 According to security experts at MalwareHunterTeam, this fake site is being publicized by Google and Twitter, after being registered with Microsoft. That is, the forgers are using the infrastructure of big techs to give simple blows to people, in case that draws attention.
As is common in scams, promises of easy money and sometimes associated with the image of famous people was what attracted the most attention on this site, which promises free cryptocurrencies, but actually steals inattentive victims.




livecoins.com.br