Juan Fernando Quintero, a soccer player for the Colombian national team and Argentina's River Plate, announced that he will have his collection of non-fungible tokens (NFT). These will reflect the most important moments of your career.
The novelty was announced by the footballer himself in his accounts of Twitter e Instagram. In the message that accompanies the video from Shirtum, the company that produces the tokens, "Juanfer" wrote: "I came home to write new moments. But by collecting my memorabilia like #NFTs you can relive the glory. Very soon fans!
Beyond the possession of the token, Shirtum expressed that buyers will also be able to access exclusive experiences in the metaverse or on Discord. To purchase the NFTs produced by the company, users must have their namesake token (SHI).
The "return home" that Quintero talks about has to do with his recent return to River Plate, after having played just over a year in the Chinese soccer league. The footballer is also a regular summoned to the Colombian team. With that cast, he played in the 2014 Brazil World Cup —he reached the quarterfinals— and the 2018 Russia World Cup —he fell in the second round—.
Surely, those moments will be included in Quintero's NFT memorabilia. In addition, the midfielder has the privilege of having marked one of the goals most important in the history of River, in the victory in the 2018 Copa Libertadores final against Boca Juniors, their classic rival. The Colombian converted the partial 2-1 for his team in extra time.
Shirtum, the company behind Juanfer Quintero's NFTs
This platform, which has among its founders and investors the midfielder of the Argentine national team Alejandro "Papu" Gómez, produces and markets non-fungible tokens. The company has contracts with important figures in world football, such as Ivan Rakitic, Rafinha, Marcelo Guedes, Paulo Dybala, Rodrigo de Paul and former Brazilian star Ronaldinho.
To have a reference on the value of the tokens, one of the 100 NFT of the Croatian soccer player Ivan Rakitic has a price of 3,737 SHI in the marketplace of Shirtum. This is equivalent to 321 dollars according to the price of the token in Coingecko at the end of this note. There are also more expensive ones — up to SHI 500,000 — and some cheaper ones.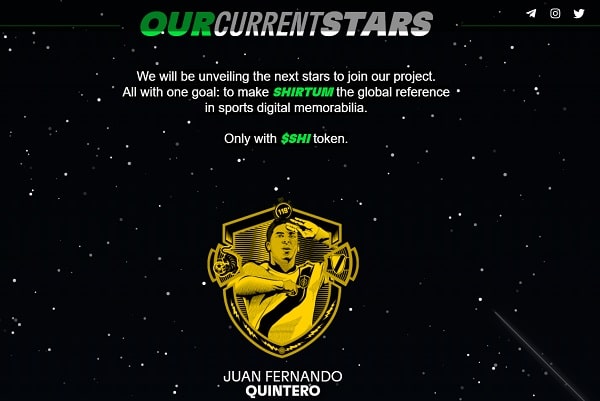 Likewise, there are sports institutions that will have their token on the Binance Smart Chain blockchain thanks to Shirtum. San Lorenzo de Almagro from Argentina and Galatasaray from Turkey are two of them.




www.criptonoticias.com